A-Z of Secret Glasgow: Britannia Panopticon
---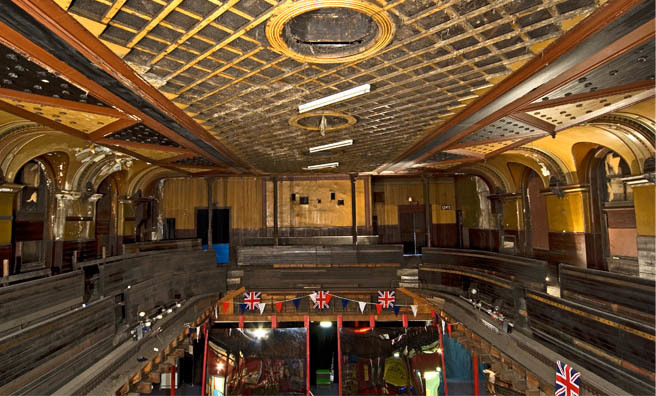 britannia panopticon
If you want to tread the very same creaky boards where Stan Laurel made his stage debut in 1906, and debonair, Clark Gable once danced, then head to this wonderful old theatre in the city's Trongate.
Built in 1857, it's the world's oldest surviving music hall and is open to the public.
The Britannia Panopticon is a living museum and an ongoing conservation project.
The friendly volunteer staff are happy to share the history of this atmospheric performance space. In its heyday an incredible 1,500 folk would cram into the tiny auditorium up to four times a day to be entertained.
NEXT:  Take a tour around Glasgow's Central Station and discover the secret Victorian village.
Acts which went down well were rewarded with thunderous applause and even foot stamping however, acts which didn't pass muster would often be pelted with shipyard rivets and even horse manure!
To make the Britannia a one-stop entertainment stop, the attic was even turned into a carnival and wax works museum while the basement contained into a zoo called, "Noah's Ark".
When cinemas replaced music hall as the favourite popular entertainment, the "Pots and Pans" as the locals nicknamed the place, became a tailor's workshop and even a WW2 chicken farm before lying hidden and derelict. It was rediscovered in 1997 and enthusiasts having been working tirelessly ever since to raise money and restore it to its former glory.
The place even has its own charity shop which is as photogenic and atmospheric as the theatre itself.
It's piled high with vintage clothing, books and film and theatre memorabilia and all proceeds go to the Britannia Panopticon Preservation Trust.
Admission is free. Open: 12pm – 5pm. Wed – Sat. April 9– November 1st.
Address: Britannia Panopticon Music Hall, 113-117 Trongate, G1 5HD.
---
More Secret Glasgow