A-Z of Secret Glasgow: Riverside Museum
---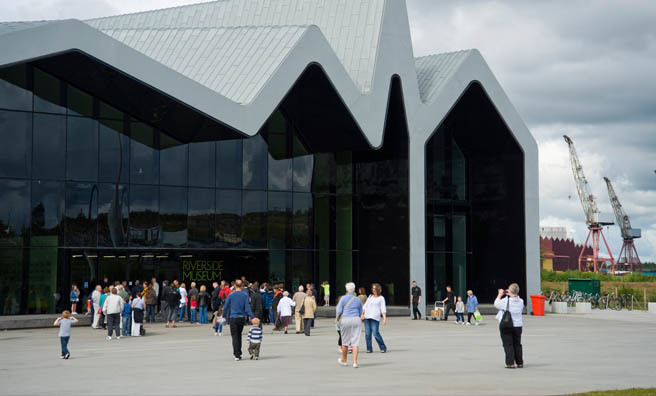 The Riverside Museum
Opened in 2011 and located on the banks of the River Clyde, the world-class Riverside Museum is a great day out.
The building was designed by acclaimed architect, Zaha Hadid.
Witty locals have already nicknamed it "Glasgow's Guggenheim."
It's interaction all the way here as you walk down an authentically recreated 1900s street, drive a locomotive and even tackle a tenement fire. Along the way you'll bump into artists and entrepreneurs, dancers and drivers, peace protesters and shipwreck survivors.
NEXT: See Glasgow's magical and macabre oddity.
With more than 3,000 objects on display –  from skateboards to locomotives, paintings to prams – it's fun for all the family. Moored outside is the 19th century sailing ship Glenlee so get your best Johnny Depp impersonation ready and climb aboard, me hearties!
Entry is Free. Open: Mon, Tues, Wed, Thurs, Sat 10am – 5pm. Fri & Sun 11am-5pm. Address: Riverside Museum,100 Pointhouse Place, G3 8RS
---
More Secret Glasgow