A-Z of Secret Dundee: Agacan
---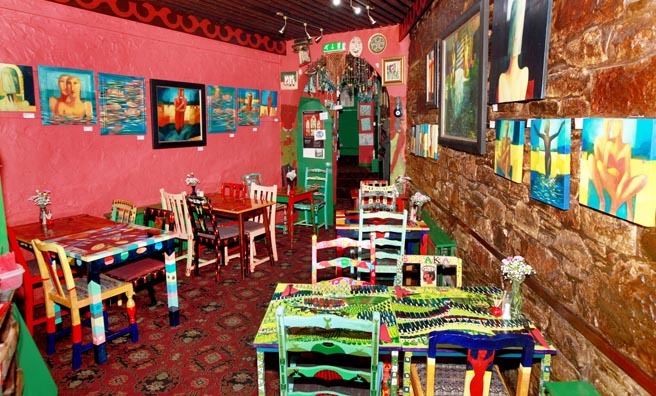 Interior of Agacan Turkish Restaurant
Forget the glaring strip lights and white tiles that adorn the majority of kebab restaurants – this Perth Road favourite is part art gallery, part restaurant, and all totally Turkish.
The walls are crammed to capacity with oils and watercolours, the tables and chairs are covered in paintings and even the doorstep and frontage are decorated with colourful mosaics – many of the tiles featuring local Perth Road worthies.
It's the perfect spot for a romantic dinner for two
Owner, Zeki, loves his art almost as much as he loves his iskenders! The restaurant has attracted an eclectic mix of locals since it opened in 1982 and with only a handful of tables, it's the perfect spot for a romantic dinner for two. The food, wine and beer on offer are authentically Turkish. Finish off with sticky, sweet baklava and coffee so strong that it doesn't so much pick you up, but rather throw you across the room!
Agacan, 113 Perth Road, Dundee, DD1 4JB. Opening hours: Tues-Sat, 5pm-9.30pm. 
---
More Secret Dundee