Bon Fire Night In Scotland
---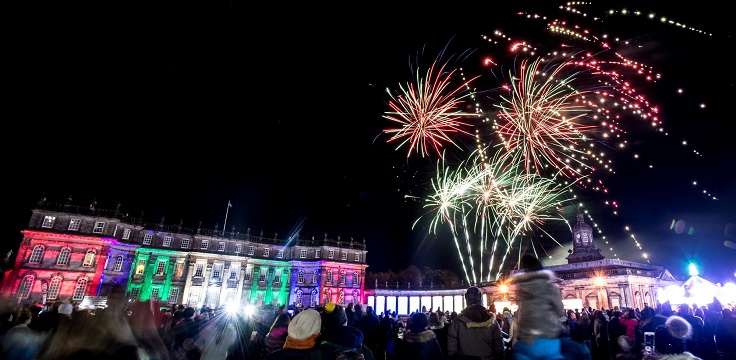 Hopetoun House Fireworks
Get set for a night of colour and explosion as the skies light up for Bon Fire night…
All events below are scheduled for Guy Fawkes Night, November 5.
Edinburgh – Hopetoun House  
After a two year break, the popular Hopetoun House Fireworks and Bonfire Night is back with a bang!
Enjoy a We Will Rock You musical spectacular with fireworks, fairground attractions and, of course, a bonfire.
Expect food trucks serving burgers, burritos, haggis, hot dogs, pizzas, plus hot chocolate and marshmallows. Camping chair and blankets are allowed, so get comfy!
Tickets must be purchased ahead of the event. Adults £17.38 per person; child  £8.90 per person. Children aged 3 and under go free.
More info: www.edinburgh.org/whats-on/hopetoun-house-fireworks-and-bonfire-night/Inverness – Bught Park 
Inverness – Bught Park  
Inverness Bonfire Night is the biggest fireworks display in the Highlands, attracting an impressive 10,000 or so people each year.
This year's display will be staged by the Award Winning Fireworx Scotland Display Team, and will start at 7pm.
This is a free event. However, charges apply at the funfair.
More Info: www.thehighlandtimes.com/big-bang-bonfire-for-inverness-in-2022/  
Perth – South Inch  
This Bon Fire night is run by Perth Strathearn 200 Round Table and all proceeds go to good causes. This charity event begins with the lighting of the bonfire at 7pm, followed by the fireworks at 7.30pm alongside a funfair.
Enjoy live music from local bands The Irritable Owls and Cover Daddy, performing from 6pm.
This event is free but donations welcome to Perth Strathearn Round Table.
More info: www.visitscotland.com/info/events/perth-strathearn-round-table-bonfire-night-p1671821  
Oban  
Expect a professional spectacle of fireworks across Argyle and Bute skies!
Hot meals and drinks will be on offer from local vendors and expect the evening festivities to carry on at the local hotels and pubs with more events and live music.
Take a wander down to the amusement park rides, and fully get into Guy Fawkes night!
More info: www.obantimes.co.uk/2022/10/27/fireworks-display-and-festive-lights-fundraiser/