Company Brings West End To Aberdeen
---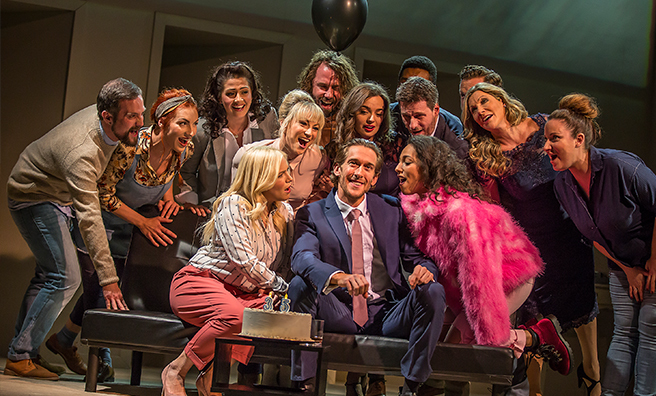 A new production of iconic Broadway musical Company is enjoying an exclusive run in the granite city
ON until February 10, Aberdeen Arts Centre's production of Company features a cast of West End stars.
Oliver Savile (Wicked, Phantom of The Opera); Anita Louise Combe (Gypsy, Chicago); and Ashleigh Gray, who played Elpheba in the UK tour of Wicked, star in this production with music and lyrics from legendary composer Stephen Sondheim.
I do enjoy a musical so I grabbed the chance to see a show by the man who wrote the lyrics for West Side Story. I headed off to Aberdeen for the opening night of Company.
"I'm very excited to have brought this unique musical to my hometown," says Aberdeen-born director Derek Anderson, who works across the UK and beyond.
"This is a wonderful opportunity to present Sondheim's masterpiece in Aberdeen and I can't wait for everyone to experience this production of Company."
Company revolves around New York bachelor Bobby's 35th birthday party and the relatively small auditorium helps me feel I've sneaked in to the celebrations.
Although Bobby – 'Never a father but seven times a godfather' – appears to have life well and truly sorted, his married friends reckon there's one thing missing: a Mrs Bobby.
Described as a 'trailblazing concept musical', Company gradually reveals that Bobby's love life doesn't quite live up to his friends' expectations and that his friends' marriages don't live up to his or their ideals.
For me, the highlight of the show is at the end of the first half when Amy (Ashleigh Gray) suffers a very bad case of wedding day jitters and ends up calling off her marriage to Paul (Arun Blair-Mangat) and turning down a half-hearted proposal from Bobby (Oliver Savile).
The lyrics are razor-sharp, and there are excellent bursts of choreography. The simple set design – a sofa bed, six doorways and a drinks trolley – is stunningly effective. However, although the songs are good, I feel they're slightly dated and I'm not sure I've grasped the concept of this concept musical.
Does Bobby want to get married? And why? Especially given the state of his friends' marriages – the happiest couple appear to be the ones who are happily divorced, while the many-times married Joanne (Anita Louise Combe) is clearly on the lookout for her next husband. She does get my vote for best outfit, though – great dress and fabulous shoes!
Personally, I wasn't sure why the women wanted anything to do with Bobby, anyway
"He's a player," my 18-year-old daughter whispers to me – but that doesn't stop the women on the stage attempting to stop Bobby playing. One way or another!
---
Tickets
Company is at Aberdeen Arts Centre until February 10, 2018. For more information,

click here.