10 Old Photographs Of Edinburgh – Discover 'Auld Reekie'
---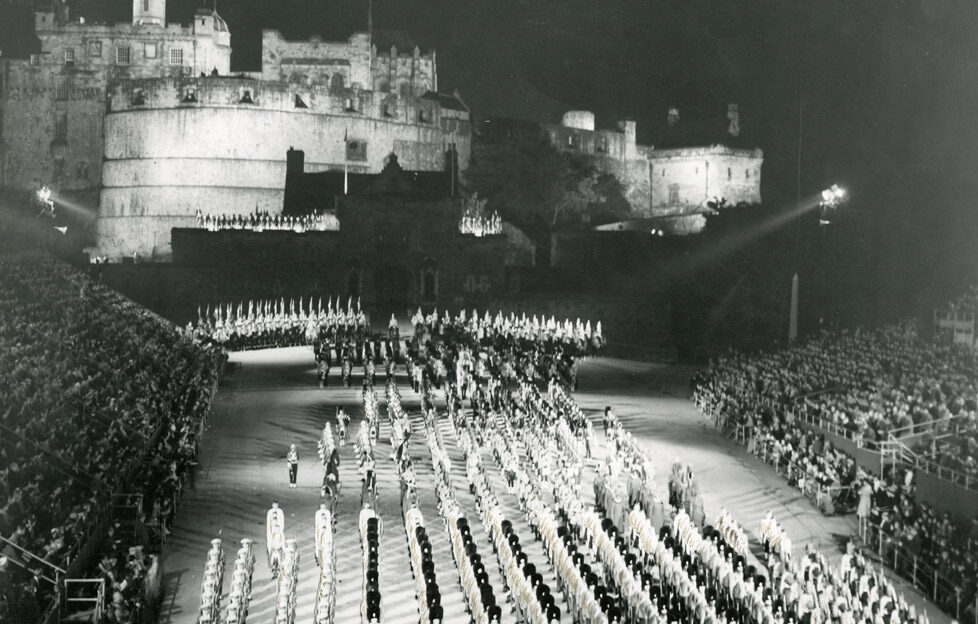 Explore 'Auld Reekie' with a selection of nostalgic photographs
Explore the iconic Scottish capital with today's selection of old photos of Edinburgh. Capturing 'Auld Reekie' in classic black and white, visit famous city locations as they stood decades ago.
1. Haymarket, 1955
The exterior view of Haymarket Railway Station in 1955 with trams still in operation. Ceasing operation a year later, trams were reintroduced to the city in 2014.
2. Princes Street, 1969
Large crowds watched in the bright sunshine as performers in the Edinburgh Tattoo parade along Princes Street in August 1969.
Named after King George III's sons, the Princes, this iconic street and gardens are must-visits when in Edinburgh.
3. Leith Street, 1955
Leith Street in 1955, featuring trams and pavement bustling with pedestrians.
4. Edinburgh Zoo, 1990
Feeding the Penguins at Edinburgh Zoo over thirty years ago! First opened to the public in 1913, the Zoo is perhaps best known for its penguins with the animals even featured on the Edinburgh Zoo logo.
5. Greyfriars Bobby statue, 1948
A key tourist stop, Greyfriars Bobby was a dog (breed and story have been debated in recent times) who famously watched over his master's grave for fourteen years until his own passing.
The statue was erected a year after his death. Tourists visiting the statue used to rub Bobby's nose for good luck.
6. Murrayfield Stadium, 1951
First opened in 1925, Murrayfield Stadium is photographed in the early 1950s. Renovated in the 1990s, the stadium is the largest in Scotland.
7. Waverley Steps, 1955
Festive shoppers navigate Waverley Steps in 1955 on a chilly and windy-looking winter's day.
That month, Dickie Valentine was number one in the UK charts with his hit "Christmas Alphabet".
8. Edinburgh Tattoo Finale, 1957
First taking place in 1950, this next photograph captures the 1957 finale of the Royal Edinburgh Military Tattoo.
Turkey performed for the first time that year, accompanying the Corps of Janissaries.
9. Calton Hill, 1958
Part of Edinburgh's UNESCO-listed World Heritage Site, Calton Hill offers wonderful views of the surrounding city.
10. Grassmarket, 1961
A traditional market area since the 1600s, Grassmarket was also a place of public execution up until 1784.
Taken nearly two centuries later, our featured photo shows Edinburgh Castle rising high in the background.
Discover more of Edinburgh's fascinating past
15 Old Photographs Of Scotland – Explore The Country In Days Gone By