Floors Castle
---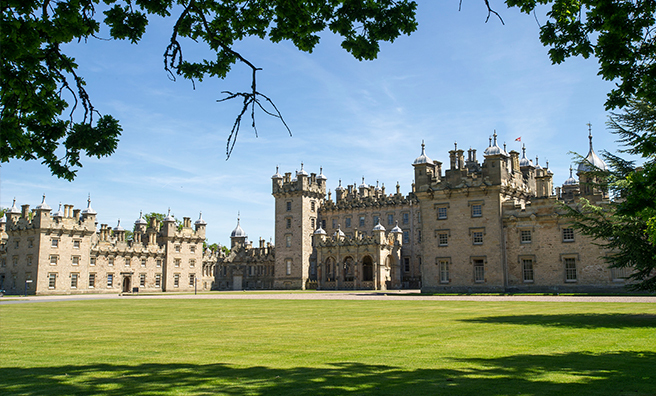 Pay a visit to Scotland's largest inhabited castle!
Floors Castle, on the outskirts of Kelso, has been the seat of the Duke of Roxburghe, since the 1720s.
John, Earl of Roxburghe, first commissioned architect William Adam to create at a fairly modest plain block with towers at each end. His descendant the Duke, James Innes-Ker, commissioned William Playfair to remodel and rebuild the castle into the form we see today.
You'll see that it bears a close resemblance in style to another of Playfair's work, Donaldson's college in Edinburgh.
The name is thought to be derived from the French fleurs (flowers) or simply from the floors or terraces on which the castle is built.
At just over an hour's drive from Edinburgh, a visit is recommended not only for the grand interior and the rooms' splendid collection of fine art, porcelain and tapestries, but for its surrounding landscape.
The gardens and grounds are an attraction in themselves and visitors can enjoy woodland walks in the estate. The woodlands are home to many magnificent mature oak, lime and beech. Don't miss the line of sweet chestnut which survive from Daniel Defoe's visit to the Estate in the 18th century.
It is one of the Borders' most stunning attractions, set on the banks of the River Tweed. Find out estate information and visiting times at www.floorscastle.com
For more ideas on the best
to see and do in The Borders,
pick up our November issue!