Cairngorms Focus: Loch Insh
---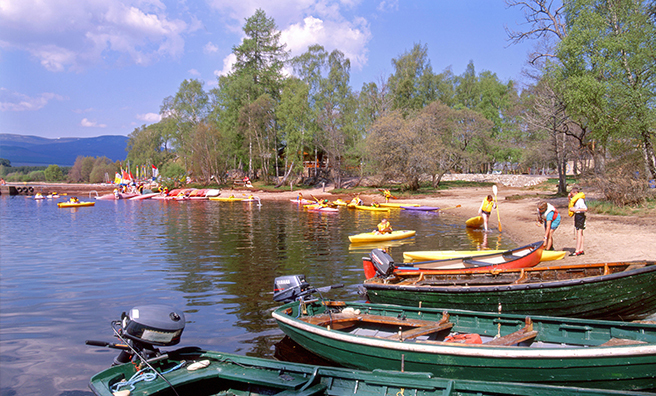 Loch Insh is the focus of our bonus article from February issue's 9-page guide to Aviemore and the Cairngorms – the Gateway to the Great Outdoors
Glenmore and Cairngorm Mountain can offer the best and huge variety of winter sports, but for shore-based or water-based activities – all year round – there's the best of centres only a few minutes' drive from Aviemore.
The list of activities provided by Loch Insh Outdoor Centre is seemingly endless. On the loch there's anything from paddle-boarding and kayaking to windsurfing and raft-building. And if you want to ensure you keep your feet dry, archery and mountain biking are both on hand, as are children's adventure play parks.
An Award-winning Activity Centre
Voted Scottish Hospitality Awards "Outdoor Venue of the Year" in 2016, the centre is situated in 14 acres of native woodland. B & B and chalet accommodation is available and there's a chance to enjoy a meal in the Boathouse restaurant.
As well as individuals, the centre caters for corporate events, families and Duke of Edinburgh expeditions – and it can even be used as a wedding venue! Conference facilities are also available in the Ptarmigan Dome which provides whitescreen and WiFi, and it can also be used as a party venue with fully-licensed bar.
The centre dates back to 1969 when Clive Freshwater, an instructor at Glenmore Lodge, purchased the beach at Loch Insh from the local church and set up the Cairngorm Canoeing and Sailing School. From then, the centre grew and grew to the highly-popular and well-run venue it is today.
Pick up our February issue for more on the best
to see and do in Aviemore and the Cairngorms