Lammermuir In Review
---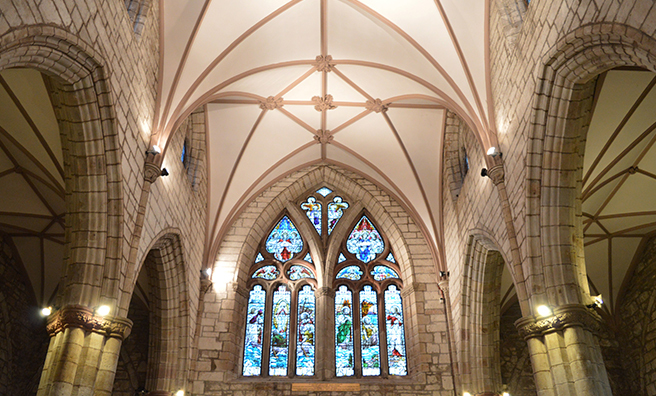 Garry Fraser gives us the lowdown on the
concerts at this year's Lammermuir Festival
Beautiful music in beautiful places is the catch-phrase of the Lammermuir Festival. I would say it's more or less spot on, but might add "unfamiliar" to the venue description, especially if you are a first-timer at this splendid array of classical music.
I was in that category last week and enjoyed three excellent concerts in one day, in venues I have never had the pleasure of visiting. Each complimented the music perfectly.
The Town House, Haddington, was where it all started with a concert of Haydn piano sonatas.
While Roman Rabinovich might not be the most fluent when it comes to introductions, there was nothing stilted in his performance.
The wide spectrum of colour and form Haydn portrays as he gets to grips with not only the sonata from but the differences in instruments he used – from harpsichord to fortepiano – was perfectly illustrated.
Rabinovich displayed a technical excellence, an intense interpretation and exemplary flair.
Coffee Concerts
The setting was perfect not only from an acoustic point of view but from the fact the Assembly Room in which the concert took place dates from 1788, the time Haydn was at the height of his powers.
These series of recitals are called Coffee Concerts, with coffee served at the interval. Interval goodies supplied by Falko Konditormeister, Gullane, were the icing on the cake, if you'll pardon the pun.
An afternoon of chamber music is not to be sniffed at, particularly if the performers are the Navarra String Quartet and that one of the items in the programme is the magnificent Beethoven op 131 quartet.
A Zany Candenza
The venue was Gladsmuir Parish Church, a first for the Festival, but it proved it had the ideal credentials for performances of this kind. Beethoven was given a superb performance, four of Dvorak's Cypresses – usually only heard as encores – were equally convincing, both passionate and effective.
It was left to the two "Bs", Brahms and Beethoven, to round off the day courtesy of the BBC Scottish Symphony Orchestra.
I had heard Beethoven's Violin concerto many times, but I'd never heard soloist Liza Ferschtman and Beethoven's own cadenza was also alien to me. What a performance from Ms Ferschtman – quite stunning on occasions – and the zaniness and unusual nature of the cadenza was something to savour.
The concert ended with Ilan Volkov and the BBC SSO delivering Brahms' third symphony. Even the most hard-to-please couldn't find anything to quibble about in this performance, ending my day at the Lammermuir on a perfect note.
The venue? St Mary's Parish Church, Haddington. It happens to be the longest church in Scotland and dates from 1380.
Beautiful music in a beautiful place? Nothing could be more certain!
---
More Info
The Lammermuir Festival takes place each year in the second week of September.
Look out for early bird
tickets for next year!