7 Old Archive Photographs Of Glasgow – Step Back In Time
---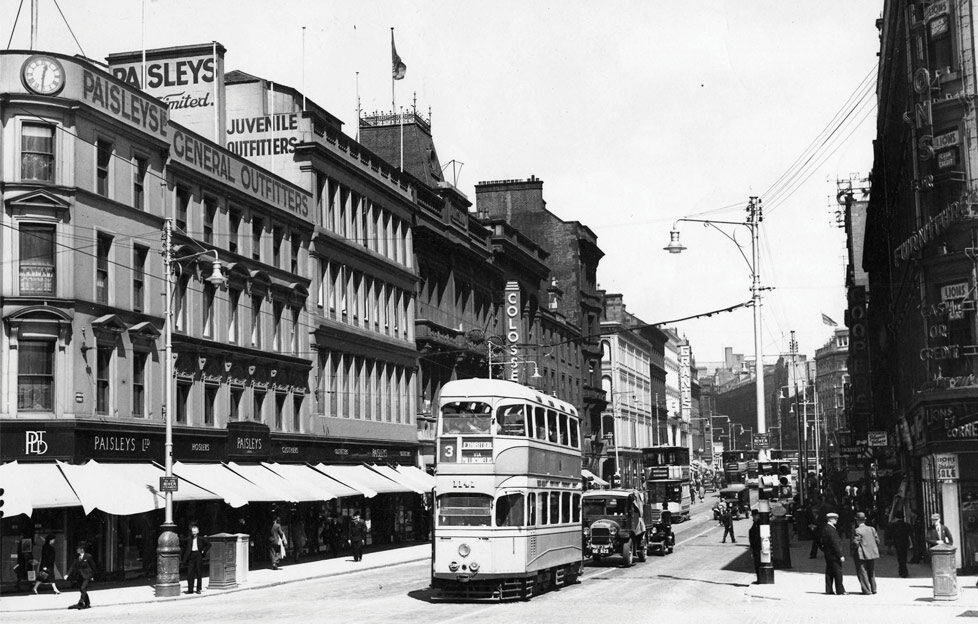 Look back at city life with these black and white photos of Glasgow.
Capturing Glasgow through the decades, browse 7 nostalgic archive photos of the city.
Visiting key landmarks and offering a look back at city life, our first photograph travels back eighty years.
1. Bellahouston Park, 1938
A huge crowd greets Queen Elizabeth, Princess Margaret and Princess Elizabeth at the Empire Exhibition Centre at Bellahouston Park in 1938.
The international exhibition, held from May to December that year, brought millions of visitors to Glasgow.
2. Jamaica Street, 1938
The number 3 tram travels down Jamaica Street, passing Paisley's department store in 1938.
Operating until the early 1960s, Glasgow's network of trams was one of the largest in Europe.
3. People's Palace, 1986
Elspeth King, curator at the People's Palace, poses with a Clydesdale horse and cart outside the museum in 1986.
Located on Glasgow Green, the People's Palace offers a fascinating glimpse into how Glaswegians lived and worked in days gone by.
4. Glasgow Golf Club, Killermont, 1957
The crowd at Killermont, home of Glasgow Golf Club in Bearsden, watch Bobby Locke drive off the first tee in 1957.
British Open champion on four occasions, Locke is one of golf's greatest ever players.
5. Sauchiehall Street, 1973
One of Glasgow's most famous locations, Sauchiehall Street is found in the city centre.
Closing ten years earlier in 1963, The Glasgow Empire Theatre once stood on Sauchiehall. Past performers included Bob Hope, Frank Sinatra and Dorothy Lamour!
6. PS Jeanie Deans, 1960
One of four paddle steamers still operating on the Clyde at the time, the Jeanie Deans took passengers on cruises sailing from Craigendoran.
Going 'doon the watter' was a popular Staycation option for many Glaswegians, steam boat travel offering the chance to visit destinations including Rothesey, the Kyles of Bute and Dunoon.
7. The River Clyde, 1972
A spectacular view from the south of the River Clyde in 1972. Did you know that Glasgow's oldest bridges were built in the mid-19th century?
Recent additions to the city include Millennium Bridge, Bell's Bridge and the iconic Clyde Arc.
Discover more of Glasgow's fascinating past