RLS Day 2015
---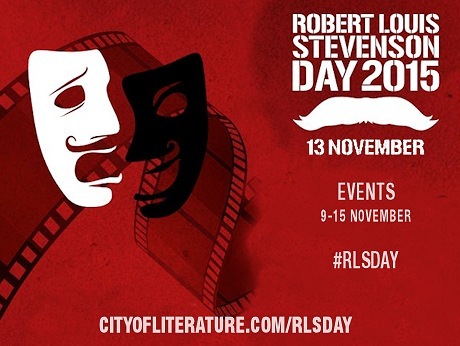 RLS Day 2015 is the fourth citywide celebration of Edinburgh's best-loved literary son, Robert Louis Stevenson, and there's something for everyone in this year's extensive programme
The author of Treasure Island, Strange Case of Dr Jekyll and Mr Hyde and Kidnapped was born on November 13, 1850, and 165 years later, the day is being commemorated with a week-long celebration of walks, talks, exhibitions, film screenings, performances, readings, tea parties and crafts at 23 venues across Edinburgh.
Stage and Screen is the theme for this year's event, commemorating Robert Louis Stevenson's childhood hobby of creating plays for his toy theatre,and populating it with paper cut-outs, which the author hand-painted himself.
Little did he know then that his plays would one day make it to life-size stages around the world and be performed long after he was gone.
This year's performances
The award-winning Edinburgh Living History group are hosting free dramatised readings from the works of RLS on Friday 13 and Saturday 14, at 1 and 2 pm, and on Thursday 12, The Laird of Samoa takes the audience on a pilgrimage through the life of the author, starring John Shedden as RLS.
Donald Smith's gutsy, exhilarating new adaptation of Kidnapped (Kidnapped: When Kilts Were Banned) will take to the stage on Saturday, November 14, and other live dramatic readings are available to book throughout the week.
Stevenson has influenced many authors over the years, and visitors can take part in lively discussions over the impact Stevenson's writing has made on the world. In the Central Library Professor Linda Dryden will discuss the author's influence on H. G. Wells' The Island of Doctor Moreau among many others, and at the National Library of Scotland Scotland's Gift To Hollywood explores the on-screen portrayals of Stevenson's best-loved characters.
Stevenson's Edinburgh
Talk a walk along the paths of Stevenson's youth with the RLS Way walk from Hawes Inn to Colinton, taking in the author's statues and places where he played as a boy.
Guided walks are available for the RLS Way and the Stevenson Poetry Trail, and Rebus Tours will also guide explorers through the New Town and Water of Leith and the life and times of Robert Louis Stevenson, uncovering the light and dark sides of Edinburgh and its writers.
After a walking tour, stopping for afternoon tea at the Edinburgh home of Stevenson is an absolute must, where Jeremy Hodges lifts the curtain on Stevenson's formative dramatic experiences.
There is an event to suit everyone's tastes on throughout RLS week, and even the local schools have been getting involved, too, by donning the trademark Robert Louis Stevenson moustache, and decorating Treasure Island-inspired pirate cupcakes.
To find out about any of the above events and more, visit the RLS Day 2015 website, here.