The Fairies of Skye
---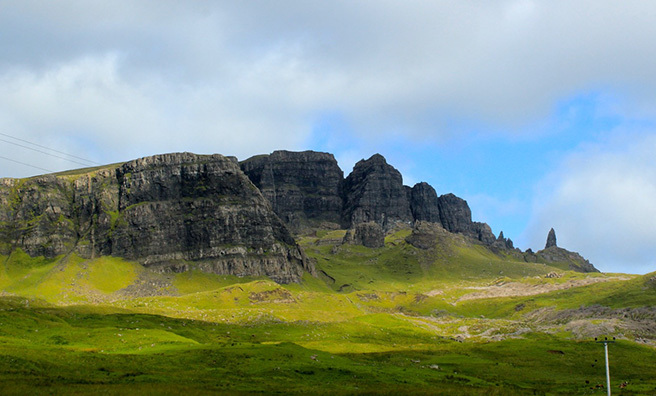 Our guest blogger Nicola found herself bewitched by the scenery on her first visit to Skye
I've had a busy few weeks since I last wrote for you. I've just returned home from three weeks in Florida, and to a beautiful autumnal Scotland full of burnt oranges, rustic reds and caramel browns.
Although getting on a plane when it's 35 degrees and landing the next morning having lost 30 of those degrees is a shock to the system to say the least!
Before Florida, as my fellow Scotlander Dougie Baird has written about here, we took part in an Isleathon with Caledonian MacBrayne Ferries.
I was lucky enough to visit the Misty Isle itself, the Isle of Skye. Although I know the east coast of Scotland like the back of my hand, I'm still exploring the west coast and Skye has been top of my list for as long as I can remember.
An island that captures the imagination
Many a story has been written about this island, and many an article I have read, so I was elated to be able to finally experience it for myself. Road-tripping it across Scotland from Fife we arrived in Malaig just as the sun was about to set, having driven along the Road to the Isles. If you're visiting Skye, definitely arrive via this road. The scenery is outstanding.
We quickly checked into Chlachain Inn, a lovely B&B a stone's throw from the ferry port, and headed down to the beach to catch the sunset over the islands of Rum and Eigg. The bustling little town is a place I'll make sure to revisit at a later date, but after a long drive and the gorgeous sunset I was ready for bed.
The next morning, after an early rise and a very welcome continental breakfast we caught the first ferry across to Skye, which leaves at 7.30 am and gave me a chance to catch the sun on its way back up, as it peeked through the clouds, basking Skye in a golden glow.
Before I go on any blogging trip I'll already have an itinerary and an idea of the blog or blogs I want. This way I don't miss the photos I need, and I know exactly where I need to visit and who I need to chat to.
A little slice of heavenly peace
I like to look for an alternative angle to write about and for Skye it had to be fairies! I also wanted to write about how to do Skye on a budget so with my itinerary, two sets of must-sees and my Tom-tom on standby we drove off the ferry and headed up through Broadford to Portree with its colourful harbour and picture-perfect little fishing boats.
Here we got out the portable cooker and had bacon butties on the beach with the aim of not spending any money for my budget post – not that I minded at all; the beach was a little slice of heavenly peace and quiet in this bustling wee town.
Refreshed once more we drove the winding road until the Old Man of Storr came into view. This section of road has some of the most  breathtaking and dramatic scenery I have ever seen. The sheer cliff drops, the surreal mountains, and the hidden views which can only be found by parking the car and walking the well trodden paths, this island was already more than living up to my expectations.
After getting photos we carried on to Kilt Rock before driving around the Quirang to Uig. Here I would discover the first of my fairy stops, the Fairy Glen, a mish mash of mini hills, waterfalls and glens, with little surprises around every corner.
This, they say, is where the fairies sleep, in little beehives, buried deep underground. We, on the other hand, slept blissfully in Kyleakin, with yet another beautiful sunset over the Skye Bridge.
Relaxing into "island time"
When I'm planning my itineraries I have a daft habit of always underestimating the distance between my stops, but in this case I was chuffed. We had managed to squeeze so much in the day before it meant I could relax a bit more on the Sunday and soak up some of the island's laid back attitude.
We made our way to Dunvegan Castle to see the famous Fairy Flag and the Bridge where it was handed over before ending our weekend at the stunning Fairy Pools, with cheese sandwiches and a flask of tea.
Nestled at the foot of the famous and awe inspiring black Cuillin mountains, this spell binding area, with turquoise blue pools that look like they belong in the Maldives, is where the fairies are said to play. I admit, even though I had full intentions to "play" in these freezing cold waters, I chickened out and didn't so much as dip a toe. I've heard it's an absolute must though, so maybe next time….
It was a busy weekend but I could certainly see why this island has been named the fourth best island in the world. The scenery is breathtaking and dramatic, and it's a place I'm not likely to forget in a while – in fact, I'm planning my next visit now.
You can read more about my visit to Skye on my blog at www.funkyellastravel.com. You can also follow my travels on Twitter, Facebook and Instagram.
---
More…
Planning your next trip in Scotland? You can find the very best of where to go and what to see on Scotlanders' Corner!