Scotland's First VegFest!
---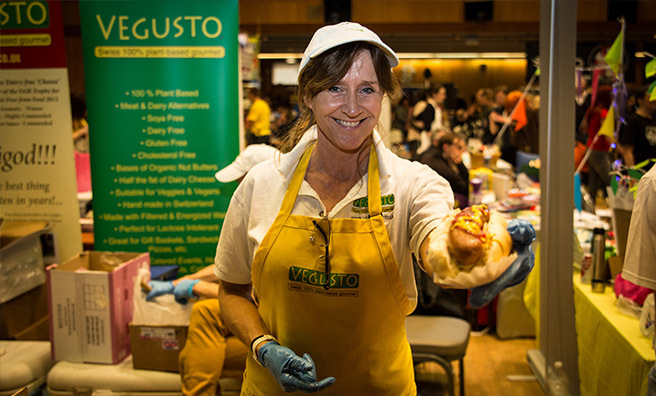 After 12 years of successful vegan shows in Brighton, Bristol and London, Vegfest is finally coming north of the border
VegFest Scotland 2015 is bringing 130 stalls, 12 caterers and a host of entertainment acts to Glasgow's SECC on Saturday, December 5, and Sunday, December 6.
As the hunger and demand for healthy and ethical lifestyles continue to grow across the planet, Scotland is embracing a whole new world of healthy living and cruelty-free vegan lifestyles.
Over 10,000 visitors expected
"It's such a privilege to bring Vegfest to Scotland," said Vegfest Scotland organiser Tim Barford. "To be able to bring the vegan message to the people of Scotland in such a fun, lively, colourful, passionate and inspiring way is a true honour."
"We have a lot of support from many people in Glasgow who have made it easy for us and helped massively – especially Craig from Mono, one of 5 vegan bars and eateries that he owns. The council, the authorities, the venue and many local business organisations and individuals have made us very welcome so far."
Have you read the event programme for @VegfestScotland yet? https://t.co/JPxQpdqjcd pic.twitter.com/3GBng6PlrZ

— Vegfest Scotland (@VegfestScotland) November 14, 2015
Over 10,000 visitors are expected over the weekend, to enjoy the mouth-watering menu of globally-inspired vegan food, and listen to talks and performances.
Vegan strongman Patrik Baboumian will be there to prove that cutting out animal protein doesn't mean losing your muscle strength, while physicians and nutritionists will be on hand to make health and ethics accessible to all.
Perfect balance between education and entertainment
The secret behind Vegfest's successful festivals south of the border is the balance between education and entertainment, with nutritional talks mixed in with comedy, kids activities and live music, making health and ethics accessible to not only health enthusiasts and animal lovers, but also festival goers and those just looking for a top day out with their families.
Children's activities include cookery classes and magic shows, while the Mature Zone provides a quieter area to sip coffee after a round of the merchandise and produce stalls.
Until December 3, those purchasing a ticket will get another for half-price! Click here to book.
Full weekend programme is now available here
---
Exhibitors
Bute Island Foods, Green City Wholefoods, Mono, Stereo, The 78, The Flying Duck, Koko Dairy Free, All Natural Me, ConsiderIt Chocolate, Humane Wildlife Solutions, Juice Warrior, Missy's Vegan Cupcakes, Raw Vegan Life, TheVeganKind, and White Rabbit Skincare.