Find Your Time in Scotland
---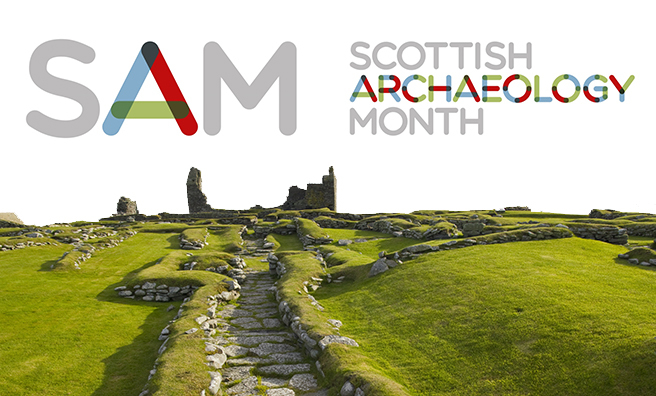 Scottish Archaeology Month showcases our rich
history through mediums to pique everyone's interest
What's your hobby? Do you like trains? How about castles?
Maybe it's a walk in the countryside that you enjoy – or cooking new recipes? Playing sport or reading a good book?
We all have that special something we love to do, and the amazing thing about Scotland's rich heritage is that there is something to tie in with everyone's tastes.
My name is Doug Rocks-Macqueen and I am an archaeologist. With a name that is pronounced 'Dug Rocks' Macqueen, my parents pretty much guaranteed that I was going to be an archaeologist, or, failing that, a geologist.
I help run Scottish Archaeology Month (SAM) for Archaeology Scotland, which is an independent charity working to inspire communities, amateurs and professionals to discover, explore and enjoy Scotland's past.
Scottish Archaeology Month promotes hundreds of events taking place all over Scotland from the end of August to the beginning of October that deal with history, heritage and archaeology.
From the Shetlands to the Scottish Borders, there are talks, family days, tours, exhibitions, and hands-on events.
The reason I do this job is because the amazing thing about Scotland's heritage is that there is something for everyone. It is easy to love your job when everyone else loves what you promote.
Archaeology For Gamers
For those who would rather be playing video games than looking at old dusty things, then Scotland's heritage has got you covered, because the folks at ImmersiveMinds are recreating the past in Minecraft!
They have rebuilt Penicuik House in Minecraft, a manor house that burned down over a hundred years ago, but hosted many of the leading minds of the Enlightenment era in its time.
You can explore the house in Minecraft as it would have looked before the fire. You can even try to recreate the events that led to it burning down. Was it a butler who dropped a candle stick that set the rug on fire? (It's always the butler who done it.)
Do you like cooking and trying new things? On the shores of Loch Tay is The Scottish Crannog Centre.
Crannogs are houses that were built out on our lochs more than 2000 years ago. Visiting the centre takes you back thousands of years and lets you explore how life was like in the past.
Now we turn a knob on the stove to light a fire for cooking our food, but at the centre you get to try lighting a fire the old fashion way, with two sticks and a lot of hard work. It's not exactly the Great British Bake-off, but you will have a blast trying to make you own oatcakes the way your great-great-great-great… great granny or grandad did.
Find The Time That's Right For You
This is why I think Scottish Heritage is worth celebrating and exploring, there is something for everyone, no matter what you like.
At first it might not seem like it – football for example. What does football have to do with the past? The Football Museum in Glasgow, of course!
All you have to do is find a time in the past that interests you. It can even been the very recent past – do you enjoy the music from the 1960s? That's the past. Simple as that: 'find your time'.
It's why that is the motto of Scottish Archaeology Month.