10 Must-read Scottish Books – Autumn Inspiration
---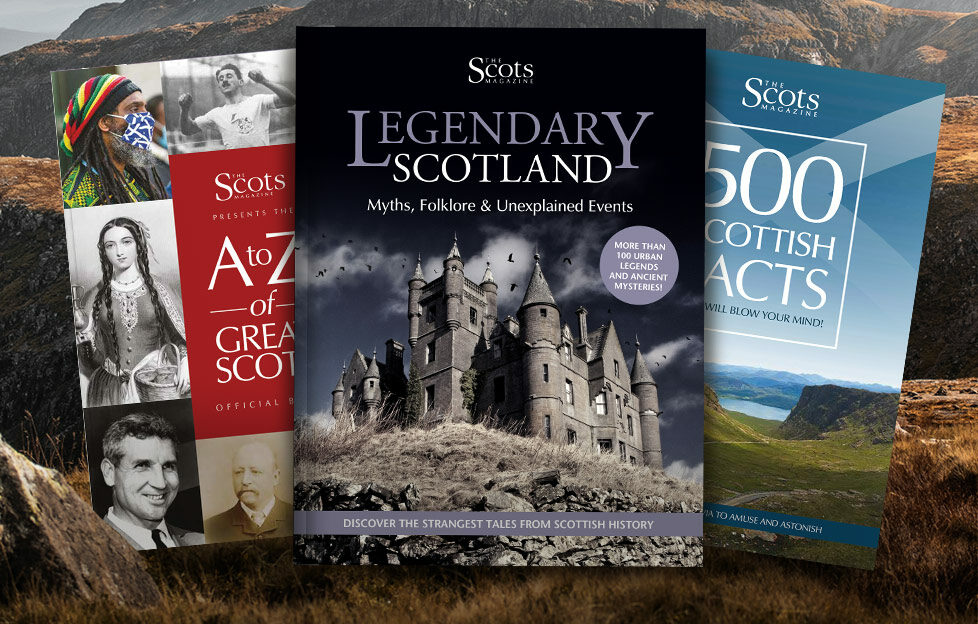 Stock up on essential Scottish reads with today's book selection
Autumn fast approaching, there is nothing quite like getting yourself cosy and enjoying a good book or two.
Offering a little reading inspiration, browse 10 Scottish books, starting with the most recent release from the team behind The Scots Magazine.
1. Legendary Scotland – Myths, Folklore & Unexplained Events
Digging deep into the archives all the way back to its first issue in 1739, the team at The Scots Magazine has brought together a collection of tales covering monsters, ghosts and goddesses that make Scotland truly legendary.
A slightly spooky selection of fascinating and strange tales from the past, Legendary Scotland features forgotten folklore, tales of witchcraft and terrifying hauntings – a must for fans of the supernatural and The Scots Magazine.
2. 500 Scottish Facts
A collection of quirky and fascinating facts all about Scotland, top up your trivia with this essential book packed with information.
3. A-Z of Great of Scots
A glorious guide to some of Scotland's great unsung heroes, A to Z of Great Scots celebrates the diversity and canniness of the country's people.
Read about William Kidd, inspiration for Treasure Island, Andrew Watson, the first black person to play professional football and more.
4. Explore the Munros
A celebration of Scotland's magnificent mountains, The Scots Magazine Editor, Robert Wight covers 50 of the country's best-known Munros.
Accompanied by spectacular photography, facts, tips and detailed information, this is a must for readers looking to start bagging Munros.
5. Billy Connolly – Windswept & Interesting
A Scottish icon, learn Billy's story in his own words. Welder, folk musician, and comedian, his life is a fascinating story.
Offering a little wisdom, plenty of hilarious tales and also covering his difficult childhood, this is a funny and frank autobiography from one of the world's most famous comedians.
6. The Doc Replies
Looking back at advice and answers put to "The Doc" in The Sunday Post newspaper during the 1950s; there are not many medical books quite like this!
A curated archive collection with modern comment from Dr. Lynda Morton, readers can expect plenty of wisdom, some common sense and plenty of questionable notions that belong firmly in the past.
7. Oor Wullie 2023 Personalised Annual
Wullie is back with his latest bi-annual – a collection of hilarious comic strips featured in The Sunday Post over the last two years.
Add a personalised touch to a traditional part of Christmas with this gifting option. Your chosen name will appear on the cover and the opening pages alongside a message for the chosen recipient.
8. Oor Wullie & The Broons 2023 Gift Book
Oor Wullie and Scotland's most famous family are back with their latest gift book! A collection of comic strips taken from archive, join these famous characters out and about Scotland.
9. Golf in Scotland in the Black & White era
In a year that saw the British Open reach a historic milestone at St Andrews, the spiritual home of golf, revisit golf in Scotland in the black and white era.
The 150th Open finished with Cameron Smith producing a fantastic final round to claim the famous Claret jug. With this new title, revisit other famous names to lift the trophy, explore legendary courses and see how the game has evolved into the global phenomenon we know today.
A stunning collection of archive photos, famous names including Nicklaus, Palmer, Thomson and Snead all make an appearance. Author Steve Finan also looks at the women's game and shows St Andrews as it stood in days gone by.
10. The Thirty-Nine Steps
Revisit the classic novel from John Buchan – The Thirty Nine Steps.
This thrilling tale centers around Richard Hannay who suddenly becomes a murder suspect and has to go on the run in his native Scotland.
Browse all Books