7 Essential Scottish Gifts for Christmas
---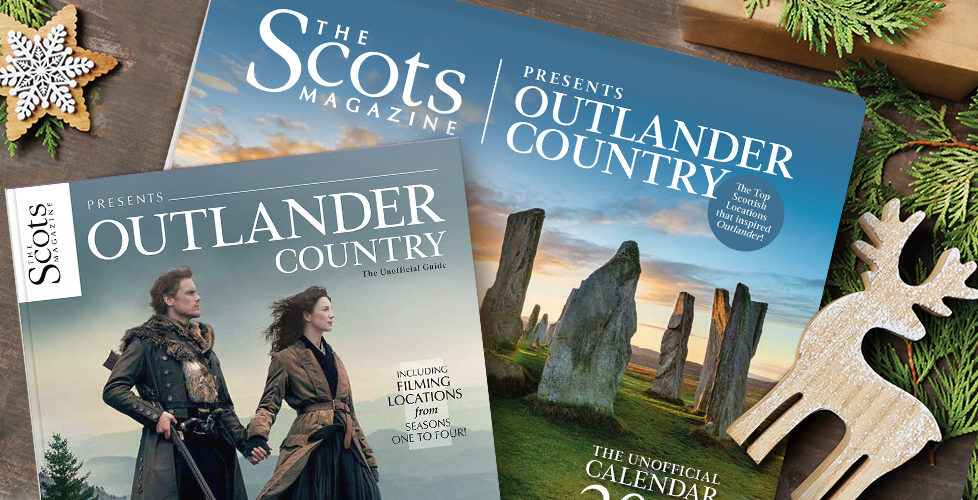 Outlander Country Pack - One of many ideal Scottish gifts to make our list.
Christmas around the corner, here are 7 excellent Scottish gift ideas, all available just in time for the fast-approaching festive season.
1. Scottish Books Pack
Bringing two books from the award-winning team behind The Scots Magazine, the Scottish Books Pack is the perfect gift to send to friends or loved ones.
Read about some of the great-unsung heroes from Scotland's past with our A-Z of Great Scots.
Whether learning about Agnes Randolph, who single-handedly defended a castle against an army of 20,000 centuries ago or William Kidd, the inspiration behind Treasure Island, our book celebrates the diversity of Scotland's people.
A collection of top trivia, discover some rather quirky facts about Scotland's culture, people and history in the second book, 500 Scottish Facts – packed with fun facts set to amuse and astonish!
2. The Broons & Oor Wullie Monopoly
Limited edition and exclusive to the DC Thomson Shop, tak' yersels around Auchenshoogle, hame o' Oor Wullie an' ower tae Auhentogle, where The Broons bide, in our The Broons and Oor Wullie Monopoly board.
Packed with laughs, this is the perfect gift to send to fans (old and new) and may just find itself making an appearance on Christmas Day!
3. The Scots Magazine Calendar 2021
Including a great spread of photographs from across Scotland, set someone up for the year ahead with The Scots Magazine Calendar.
Featuring some rather bonnie captures from a host of iconic locations including The Cairngorms, scenic islands, Ayrshire and Argyll, this is the perfect gift for those with a keen passion for Scotland.
4. Outlander Country Pack
Our unofficial guide to the hit US TV sensation coupled with a calendar featuring dazzling images from across Scotland, the Outlander Country Pack is a must-have.
Ideal for readers who are passionate followers of the show or simply looking to gain insight into some of the country's fascinating lore and legend, this is perfect, Scottish gift.
5. Dean's Steven Brown Art Collection
Adorned across three keepsake tins filled with Dean's original recipe shortbread, enjoy a true taste of Scotland whilst admiring the iconic, colourful designs of Scots artist, Steven Brown.
6. Rangers – In the Black & White Era
Discover Glasgow Rangers as you have never seen before!
A new book containing hundreds of never-before-seen photos, reminisce about famous past players including the likes of George Young, Jim Baxter, Ally McCoist, Willie Woodburn, Eric Caldow and Davie Cooper.
7. Celtic – In the Black & White Era
Featuring hundreds of previously unseen photos from the black and white era, discover the past glory days of Celtic.
Lain hidden in the DC Thomson archives, this book curates a fantastic reel of great events including the famous Lisbon Lions European Cup triumph in 1967, the Leeds United European tie of 1970 and Scotland's national football stadium, Hampden, in the sunshine!
Find the Perfect Gift