Top Scottish Gift Ideas
---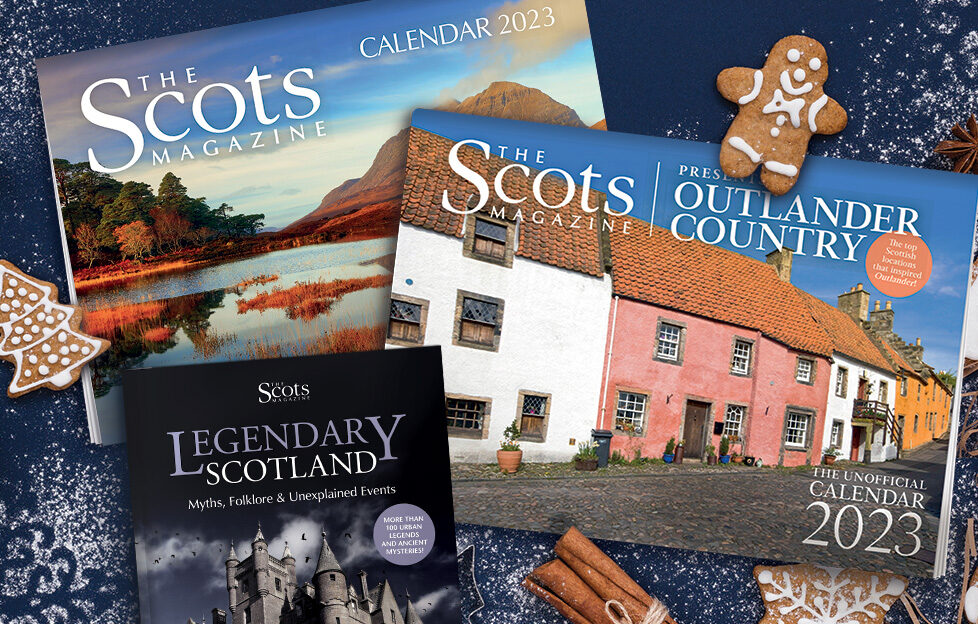 Find the perfect Scottish gifts with oor bonnie collection.
Discover excellent Scottish gift ideas, all available to order from our shop.
Featuring nostalgic books, great fitba' reads, delicious shortbread, and more, we start with a title exploring Scotland's ancient mysteries and urban legends!
Legendary Scotland – Myths, Folklore and Unexplained Events
From The Scots Magazine, Legendary Scotland digs deep into archives dating all the way back to 1739.
Throughout, readers will discover some of the strangest tales in Scottish history, taking a journey through Celtic mythology and local folklore.
Strange tales to look out for include Morag, said to be the Loch Ness monster's cousin, and Ballechin House, at one time the most haunted house in Scotland!
The Scots Magazine Calendar 2023
Celebrate the beauty of Scotland month-to-month with the latest Scots Magazine Calendar 2023!
Brought to you by the oldest magazine in the world still in publication, enjoy beautiful rural scenes and stunning urban photographs showing off the very best of Scotland.
Outlander Country Calendar 2023
Celebrating the secret locations of your favourite scenes, the Outlander Country calendar is back for 2023.
Brought to you by the team behind The Scots Magazine, admire beautiful locations around Scotland month-to-month, discovering their real life history.
The Scots Magazine Subscription Gift
Available to order as a great-value festive gift, a subscription to The Scots Magazine brings with it informative features exploring Scotland's people, beautiful places, culture and leisure.
From the great outdoors to Scotland's urban life, enjoy content from a talented team of writers and contributors including Jim Crumley, one of the finest wildlife writers in the UK, Cameron McNeish (outdoors expert) and Kenny MacAskill (exploring Scottish history).
Outlander Country – Myths, Legends and Locations
Outlander Country – Myths, Legends and Locations is the unofficial guide to the inspiration, filming locations, and mythology behind the hit US TV show.
Discover where key scenes were filmed, learn about Scotland's standing stones and soak up some fascinating facts throughout this essential guide fans will love.
500 Scottish Facts
A great introduction to the unique, sometimes quirky, history of the country, 500 Scottish Facts is a must for anyone who loves Scotland.
Read about the country's history, people, and unique culture with this wonderful collection of top Scottish trivia.
The Ultimate Guide To Robert Burns
Become a Burns expert with this ultimate guide exploring the life and works of Rabbie Burns himsel'.
Inside, you will learn how to host your own Burn's Supper, encounter famous poems (with translation) and read about the legendary bard's life from humble ploughman beginnings to becoming a Scottish icon.
A-Z Of Great Scots
The Scots Magazine brings you an excellent A-Z guide of some of Scotland's unsung heroes from throughout history.
From Agnes Randolph who fought an army of 20,000 to Andrew Watson, the first black person to play professional and international football, explore some of history (and Scotland's) notable figures.
Scottish Heroes
Scottish Heroes celebrates the remarkable men and women who helped shape Scotland and change the world!
Ranging from iconic athletes to royalty and science pioneers; learn about 25 amazing Scots from across centuries of history.
Explore the Munros
A fantastic guide to 50 of Scotland's most iconic mountains, Scots Mag Editor and outdoor expert Robert Wight's Explore the Munros is next.
Featuring beautiful photographs, tips, and facts with detailed information, this must-have guide will inspire your discovery of Scotland's most beautiful mountains.
Sam Heughan Collector Pack
Neatly presented in a card wallet, Outlander fans will love this new gift idea available to order just in time for Christmas.
A collector's pack of eight glossy photographs of Sam Heughan, you'll also receive a mini magazine all about Sam!
Mey Selections Luxury Smoked Salmon Hamper
Located at the head of Loch Fyne on the West Coast of Scotland, the salmon featured in our next hamper is renowned for its quality.
Exclusively sourced from Global G.A.P accredited farms located around the West Highlands and Islands of Scotland, the salmon is smoked using methods handed down through generations, then filleted and dry-cured by hand with a sea salt and brown sugar recipe, unique to the Mey Selections brand.
Glasgow Gin
A light, fresh and fruity gin made to a special recipe, Glasgow Gin follows a traditional recipe, no compromises made.
Redistilled using ten flavoursome botanicals, this is a gin of outstanding flavour and smoothness.
Scottish Artisan Fayre
A wonderful gift idea presented in a willow-themed gift box, this hamper idea shows off Scotland's rich heritage of producing delicious artisan fayre.
Cherry-picked treats include thin and crispy oatcakes (essential!), cherry cake, Mackies Honeycomb chocolate and a tasty raspberry preserve.
Wee Scottish Hamper
A wee treat filled with fine Scottish produce, tuck into delicious oatcakes, shortbread, blackcurrant preserve and more, with this great-value hamper.
Walker's Aberlour Hamper
Our list not complete without a little shortbread, the Aberlour Hamper is a must for fans of the iconic Scottish treat.
A collection of tasty nibbles, tuck into Petticoat tails, essential biscuits (for cheese), chocolate chip shortbread and more!
Golf in Scotland in the Black & White Era
Released this year just before the historic 150th British Open at the home of golf, St Andrews, take a nostalgic look back at golf in Scotland during the black and white era.
The result of years of work and research in the vast DC Thomson archives, revisit some of history's greatest golfers, famous moments and some of the world's best-known golf courses.
From the 'Big Three' to Jock Hutchison, the last St Andrews-born man to win at the Old Course, revisit Scottish golf in days gone by.
Lifted Over The Turnstiles Volume 2
Continuing his exploration of Scottish football grounds during the Black and White era, Steve Finan's Lifted Over The Turnstiles Volume 2 is now available.
Featuring a host of archive photos accompanied by an insightful foreword from former Scotland Manager Craig Brown, this is a nostalgic journey to remember.
Teams featured include Dundee United, Aberdeen, Rangers, and Motherwell. Steve also explores Hampden in days gone by and some aspects of Scottish football long forgotten.
Lifted Over The Turnstiles Volume 3
Completing the trilogy, Lifted Over The Turnstiles Volume 3 is a must-have companion to volume 2 (both available as a great-value pack).
Former Scotland international and student of the game, Leanne Crichton offers an excellent foreword before readers start their journey through decades of Scottish football history.
Featured teams include Hearts, Celtic, St Mirren, Dunfermline, and Morton. Steve also presents some wonderful photos of perhaps the greatest football match in history – the 1960 European Cup Final.
Real Madrid, with superstars Di Stefano and Ferenc Puskas, defeated a talented Eintracht Frankfurt side 7-3, lifting the cup in front of a packed Hampden crowd.
We Had A Dream – Scotland Internationals In The Black & White Era
Featuring hundreds of never-before-seen archive photos, We Had A Dream is the ultimate nostalgia trip charting the best of times and worst of times of "oor" national team.
Starting all the way back in the 1920s right through to the 1978 World Cup, readers go on a trip featuring great names, games, and performances still discussed to this day.
The perfect gift for a football person, this wonderful dip into football nostalgia recalls the days when fans when thrilled by the exploits of Bremner, Jordan, Johnstone, Law, and others.
Rangers – In the Black & White Era
Containing hundreds of never-before-seen photos, discover the history of one of the world's biggest football clubs – Glasgow Rangers.
Exploring decades of club history, this nostalgic trip down memory lane features a host of famous Rangers men including George Young, Ally McCoist, Eric Caldow, and Jim Baxter.
Celtic – In the Black & White Era
Discover decades of Celtic FC history with this ultimate nostalgia trip packed with incredible archive photos.
The Lisbon Lions, the "Battle of Britain" European cup tie against Leeds (1970), Stein, Johnstone, and Dalglish all make an appearance throughout.
Celtic – In the Black & White Era is a nostalgic look at one of the world's biggest football clubs.
Jim McLean – Dundee United Legend
A must for fans of Dundee United, discover the legend of the most successful manager to ever sit in the dugout at Tannadice – Jim McLean. 
Presented as a beautiful hardback packed with fantastic archive photos, read tributes from fans and former players, and more.
Walter Smith, Maurice Malpas, Ray McKinnon, and Chick Young all feature. We also hear from the McLean family, shedding light on Jim's life away from football.
The Red Army – Celebrating Dons Fans
A must for fans of Aberdeen, this is a look at the Red Army as you have never seen before. A record of the Dons fan experience, this book (with the help of nostalgic photographs) charts all those Cup Finals, European adventures, and celebrations.
Scottish Highlands Tea Towel
Showing a highland cow (one of the great symbols of Scotland) wandering majestic scenery the country is celebrated around the world for, this fine tea towel is an eye-catching and durable kitchen accessory.
Skye Neist Point Tea Towel
Travelling to the stunning Isle of Skye, this next tea towel depicts Neist Point and its famous lighthouse.
Standing on the most westerly tip of Skye, the lighthouse was first lit in 1909!
It Wasnae Me T-Shirt
Gift a little humour with our 'It Wasnae Me' t-shirt design, available in a selection of colours.
Munros in Colour T-shirt
Featuring a selection of Scotland's most famous Munros, this colourful design is a great gift for avid hill-baggers and readers who love the country's spectacular mountain scenery.
Munros and Corbetts Map Sweatshirt
Whether you are about to bag your first or already spend your weekends tackling Scotland's famous hills, this design is perfect for celebrating and keeping track of your hill-walking achievements.
Munros Map Sweatshirt
Showing every Munro dotted around Scotland, this is an ideal gift for the hill-baggers in your life.
Dark Blue Blood – Scottish Rugby In The Black & White Era
A reminder of how Scottish rugby used to be in decades gone by, Dark Blue Blood is a unique record of the sport's history in our country.
Featuring rare and fascinating photos of clubs, teams, famous matches and old foes, former Scotland international Doddie Weir provides the foreword to this essential gift for fans of the iconic sport.
Scotland Legends T-Shirt
Toast to some true icons of the Scottish game with our exclusive Scottish Legends t-shirt.
Billy Bremner, Denis Law and Graeme Souness are some of the greatest football players Scotland has ever produced.
Each making appearance on this colourful design, cheer on the latest generation with this patriotic (and stylish!) little number fans of the game will appreciate.
Oor Wullie Rebel T-Shirt
Auchenshoogle's finest, Oor Wullie transforms into a rock icon with this brilliant t-shirt.
Generating laughs for over 80 years, celebrate one of Scotland's great icons with a colourful design guaranteed to put a smile on anyone's face!
Oor Wullie Annual 2023
First published in 1936, Oor Wullie has entertained fans around the world for over eight, laughter-filled decades now! Join Wullie and his pals with his latest annual – a collection of close to 100 comic strips from the last two years.
The Broons and Oor Wullie Monopoly
Tak' yersels around Auchenshoogle, hame o' Oor Wullie an' ower tae Auhentogle, where The Broons bide, in our The Broons and Oor Wullie Monopoly Board.
Featuring a host of famous faces, familiar places and a few surprises along the way, this is jist' the game tae get you rollin' aboot as roll the dice!
Whaur's Oor Wullie & Kelpies Jigsaw Puzzle
Modern symbols of Scotland, Oor Wullie is oot an' aboot at the Kelpies! Just whaur is Wullie? Wha else can ye find?
Once completed, look oot for all your favourites, including the Broons; Maw, Paw, Granpaw, Hen, Joe, Maggie, Daphne, Horace, The Twins an' the Bairn.
Whaur's Oor Wullie in Edinburgh Jigsaw Puzzle
Wullie is oot and aboot in the "Auld Reekie". Piecing together the puzzle, keep an eye oot for Wullie and a host of famous characters from The Broons.
There are also 10 souvenir Scottish dollies, 11 Saltires, 10 statue busts an' 11 sticks o' Edinburgh rock tae spot!
Whaur's Oor Wullie in Aberdeen Jigsaw Puzzle
A colourful jigsaw celebrating the famous Granite City, Oor Wullie is oot an' aboot in Aberdeen. But just "whaur" is Wullie? Piece together the 1000-piece jigsaw to find "oot!"
Whaur's Oor Wullie in Dundee Jigsaw Puzzle
Travellin' tae Dundee, Wullie and famous comic characters are oor and about enjoying the city's waterfront.
Home to tae' V&A Dundee and RRS Discovery, keep an eye oot for Wullie and his pals with plenty mair fun to be had once you've pieced this jigsaw together!
Oor Wullie 1940 Annual Cover Print
A nostalgic nod to one of Scotland's most famous characters, this colourful and exclusive print takes artwork from Oor Wullie's 1940 annual.
Capturing the laddie from Auchenshoogle sitting on his famous bucket, this is a great gift idea for fans.
The Broons 1940 Annual Cover Canvas
A classic and colourful canvas featuring the cover from The Broons 1940 annual, this bright and cheery artwork is a must for fans of Scotland's most famous family.
St Andrews Open 1984 Print
Taken at the home of golf, St Andrews, during the 1984, this wonderful print captures the centuries-old Swilcan Bridge. One of golf's most famous locations, our print is available to order in a selection of sizes and frame options.
Bobby Jones Print
A nostalgic gift capturing one of the sport's most influential figures, Bobby Jones, teeing off at the British Open in 1927, own a piece of golf history with this great-value print.
Rediscovered in the archives, this photo shows Bobby on his way to a commanding six-shot victory and second Claret Jug.
Glasgow Memories
Featuring a treasure trove of archive photos, Glasgow Memories explores decades of the city's long and colourful history.
Take a journey to remember, ticking off Glasgow landmarks and much-loved traditions along the way.
Edinburgh Memories
Discover "Auld Reekie" through the decades with Edinburgh Memories. Packed with fascinating archive photos, the book journeys around the city, giving an intimate look at its people.
A great coffee table read, this celebration of Scotland's capital is a romantic look at a city that still captures the imagination of countless visitors to this day.
Perth Memories
Celebrating "The Fair City", Perth Memories lets readers step back in time, exploring a vibrant city and its much-loved traditions.
Featuring classic archive pictures of Perth's past, highlights include a day at the races and ice skating on the River Tay!
The Best Of The Dundonian Volume 3
Join us on a journey around Dundee, bringing the vibrant history of the city back to life with wonderful images carefully selected from the DC Thomson archive.
Featuring nostalgic photographs,  this is a great read for Dundonians and anyone who loves Scottish history.
The Best of The Aberdonian Vol. 2
Take a look at Aberdeen's lively past with The Best of The Aberdonian Vol. 2. Containing classic archive photos of Aberdeen's past, Volume 2 celebrates the best of the city at work and at play through the decades.
Browse all Scottish Gifts
9 Scottish Football Books Filled With Nostalgic Archive Photos