5 Scottish Sports Books to Gift this Christmas
---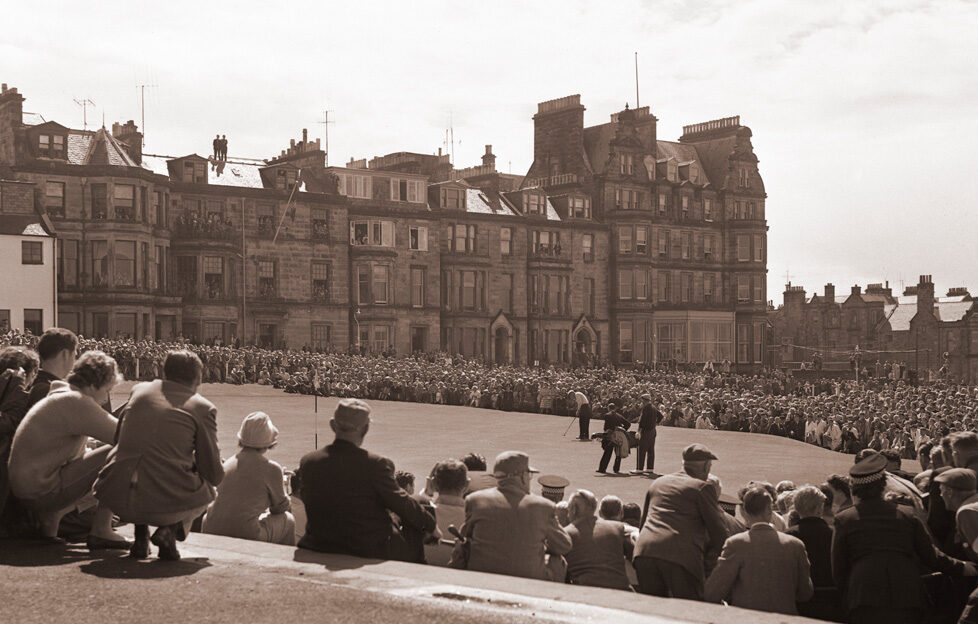 A huge crowd watches on during the 1960 Open at St Andrews. Photograph featured in Golf in Scotland in the Black & White Era.
Nostalgic stocking fillers for sports fans who enjoy taking a trip down memory lane, browse 5 Scottish sports books filled with archive photos.
Exploring classic football, golf and rugby history, browse our wee selection below.
1. Golf In Scotland In The Black & White Era
Released this year ahead of the historic 150th British Open at St Andrews, revisit decades of Scottish golf history with a book three years in the making.
Including legendary courses, features and icons, rediscovered photos look back at a sport that has transformed into a global game.
Including pre-and-post-war figures as well as heroes of the women's game, names making an appearance include Bobby Jones, Jack Nicklaus, Arnold Palmer and Babe Zaharias.
Wonderful archive photos show how St Andrews, the home of golf, and equipment has evolved through the decades. Readers will also notice a few cameos from some of history's most famous faces including 'Ol Blue Eyes' Frank Sinatra.
2. Lifted Over The Turnstiles Volume 2
The second entry in the popular Lifted Over The Turnstiles series, Volume 2 shows Scottish football grounds as they were meant to be experienced – full of fans cheering their heroes on.
A host of teams featured including Aberdeen, Hibernian, Rangers and Motherwell, author Steve Finan also highlights legendary lost grounds and aspects of Scottish fitba' long forgotten.
3. Dark Blue Blood – Scottish Rugby In The Black & White Era
Offering a unique record of Scottish rugby, Dark Blue Blood is a fantastic nostalgic trip looking back at the sport in days gone by.
Teams across the country all feature with the help of classic line-up snaps. Fans will also love uncovered photos of the national team competing against opponents from around the globe.
Featuring rare photos of clubs, favourite teams and old foes, this book is perfect for rugby obsessives.
4. Lifted Over The Turnstiles Volume 3
Completing the trilogy, Lifted Over The Turnstiles Volume 3 sees author Steve Finan continue his look at grounds up and down the country with fascinating archive photos.
Former Scotland international Leanne Crichton providing the foreword, Volume 3 includes teams such as Celtic, Hearts, St Mirren and Dundee FC.
Legendary names of the game featuring, football fans will appreciate a chapter dedicated to one of history's greatest matches – the 1960 European Cup Final.
Pitting Real Madrid against Eintracht Frankfurt in a ten-goal thriller, stars taking to the field that day included Ference Puskas, Alfredo Stéfano Di Stéfano and Gento!
5. We Had A Dream – Scotland Internationals In The Black & White Era
Capturing the highs and the lows of following the Scotland National team, We Had A Dream takes fans on a rollercoaster of emotion with the help of archive photos.
Rediscover stars of the game, past World Cup tournaments (the good and the bad), famous matches and managers.
Revisit famous names including King Kenny, Bremner, Gallacher, George Young and more with Ballon d'Or (and joint Scotland top-scorer!) Denis Law providing a fantastic foreword discussing his pride in pulling on the famous dark blue jersey.
Explore our full sports selection
All featured photographs – Supplied by DC Thomson