Scozzesi Hit The High Notes!
---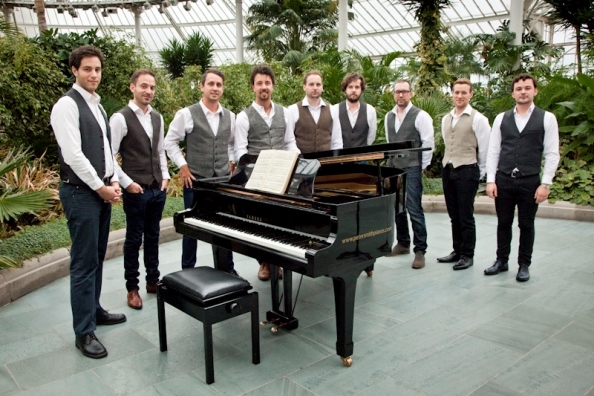 Scozzesi at their debut concert in the Winter Gardens. Photo by Robin Mitchell
What's the collective name for eight male opera singers? An assembly? A gathering? A school? As far as we know, it's none of the above but add two equally talented pianists and you have Scozzesi!
The group takes its name from the Italian for 'Scottish men' and the singers hail from Angus, Ayrshire, Fife, Lothian and Glasgow and include two brothers, Douglas and Christopher Nairne.
Scozzesi was the idea of Daisy Henderson, of Classical Musicians Scotland. "I first heard these men individually at auditions and was instantly struck by how beautifully they sang," says Daisy. "I wanted to bring them together because I thought hearing the quality and tone of their voices in four part harmony would be a powerful musical experience."
The group's official launch took place on September 25, when the ten Scottish men performed in front of a delighted audience of family, friends and members of the press.
Although all 10 of Scozzesi's musicians,  took to the stage for their debut concert, Daisy explained that they will normally perform as a quartet of singers plus pianist,  offering a mix of opera, operetta, songs from the shows, traditional Scots songs and some comic surprise.
For more information, contact Daisy on 07798 926508 / daisy@classicalmusiciansscotland.com