Historic Sites of Southern Scotland
---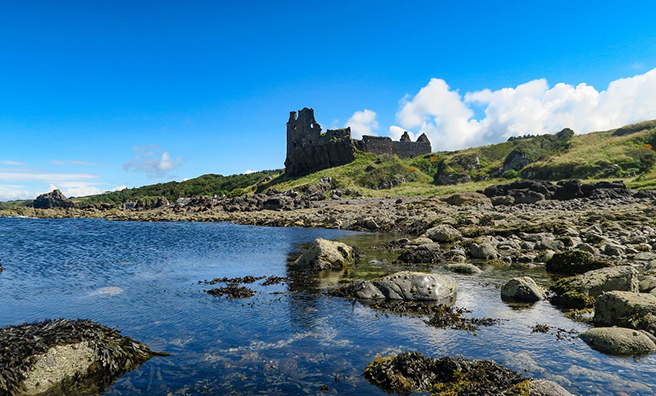 Neil Robertson steps off the beaten track to explore
the overlooked castles and towers of the south
Summer madness has subsided and all in Scotland's tourism industry are taking a deep breath as we reflect on another brilliant season.
Interest in our wee country is through the roof as our landscapes, ruins and culture receive worldwide credit. Despite the cause for celebration, however, the furore to get to some of our most popular rural spots has seen issues aplenty as the likes of Skye and the Outer Hebrides struggle to cope with the sheer numbers of visitors to their shores.
All the more reason for folk like me to spread the net wider and seek out more of our lesser-visited spots.
With this aim in mind, there's nowhere better than Southern Scotland. While the region as a whole is criminally ignored to a large extent by international visitors in particular, my search for a bit of peace and quiet sees me set about clocking up some historical highlights that even the more savvy Scots may never even have heard of…
Ayrshire
Bereft of much tourism fanfare outside of that concerning Burns and golf, Ayrshire is actually home to plenty of historical allure.
Culzean Castle is the obvious one, grandly sitting proud as it glares over the Firth of Clyde towards Arran and Kintyre, but I have another nearby coastal beauty in mind. Dunure Castle has that photogenic, dramatic appeal that the romantics amongst us love to love.
With origins in the 13th Century the cragged remains have a story or two within them. It was here in 1429 that representatives of the ever-feuding Campbell and Macdonald clans met for a clandestine discussion of terms. Only the Campbells left alive.
Its relatively unheard of status may be about to change with its appearance in Season 3 of Outlander – fans of the show will be watching out for this one with interest I suspect.
The Borders
While the majority of the focus in the region is quite rightly centred around the Borders Abbey Trail, there are numerous other little treats that are worthy of detouring off the well-trodden paths. Lonely and isolated Smailholm Tower is a case in point.
Dominating the flat and gentle landscapes of the surrounding Borders' terrain, the panoramic and far-reaching views from the Tower are magnificent. It's also a happy poser in front of the camera and a fabulous starting point for those looking to explore more of the region. And what a region it is! The primary victim of so much historical turbulence between Scotland and England, every site you visit has seen pillaging and destruction in spades. In short, a history lover's dream.
Dumfries & Galloway
Vast and diverse, D&G is another that's packed with ancient appeal.
Caerlaverock is maybe my favourite of all the great Scottish castles and Galloway Forest Park has seen plenty of pivotal moments in our long and troubled historical timeline.
My latest trip, however, saw a visit to little-known Morton Castle. With a placement to die for in the relative middle of nowhere and partially surrounded by Morton Loch, this was one of those jackpot moments! In the 90 minutes I spend stalking its various vantage points, not another soul came by to trouble me.
The flavour of the year this country might be, but it's nice to know some places in Scotland still have solitary appeal intact for those that need it.
---
More From Neil
You can catch more of Neil's adventures over on his travel blog


Travels with a Kilt

.