Ten Things You Cannae Miss… July 1 – 7
---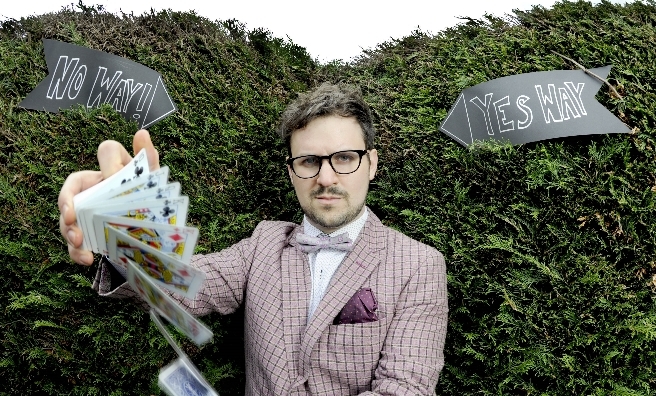 Amazing card tricks galore at Edinburgh International Magic Festival 2016. Pic by Colin Hattersley Photography
Our What's On guide to the most vibrant, most unusual and most unmissable events on offer this weekend and in the coming week

Spa In The City
Edinburgh's biggest free health and beauty festival, Spa in the City, runs July 2 – 3 offering visitors to the capital an indulgent one-stop-shop for looking and feeling fantastic in St Andrew Square Garden.


West End Beer Fest
…does what it says on the tin! Get ready for Glasgow's celebration of craft beer and real ale, featuring Scotland's best breweries, great food and live music at Hillhead Sports Club, July 1 – 3.

Wicked Women
Mary, Queen of Scots, will tour Edinburgh in her horse-drawn carriage on July 1 to open the Edinburgh Dungeon's new show Wicked Women on some of Scotland's most notorious women throughout history.

National Youth Theatre
The largest gathering of youth theatre comes to Glenrothes from all across Scotland between Friday, July 1, and Monday, July 4. Pop alongfor fun performances from the next generation of talented actors.

Scottish Game Fair
The Game & Wildlife Conservation Trust (GWCT), take over the grounds of Scone Palace, July 1 – 3, for Main Ring events, 'have a go' activities, and more food stalls than you could shake a stick at.

It's A Kind Of Magic
Edinburgh International Magic Festival celebrates its seventh magical year from July 1-8, and we'll be live-tweeting from the opening night on July 1! Follow us on Twitter for a sneak peek at what's on offer this year.

Highland Gathering
The Gairloch Highland Gathering takes place across July 1 and 2, with races, pipe bands, displays, classic cars, the Mortar Gun Dogs and a live set from Skerryvore on the Saturday night.

Where's Wullie
55 statues of Oor Wullie have sprung up in and around Dundee for the The Oor Wullie Bucket Trail. Download the trail map here to see the hand-painted statues' locations. One word of warning: finding them all becomes highly addictive.

Shetland Nature Fest
Scotland's most northerly nature festival kicks off on Saturday, July 2, for a week of guided walks, talks and more. It's your chance to see otters up close, spot killer whales off the coast and sit amongst the puffins!

Haddington Show
There's an agricultural show with horses, cattle, sheep and goats at East Fortune on Saturday, July 2. Expect trade stands, produce and crafts, children's entertainment and educational tent.