Walk The Queensferry Crossing
---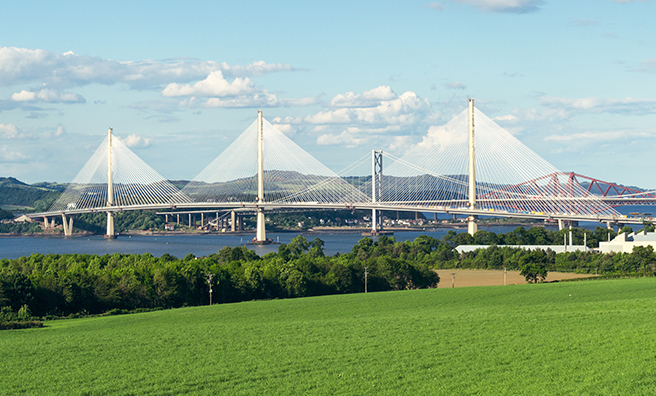 Opening date and procession announced for the
new Queensferry Crossing across the Forth
Economy Secretary Keith Brown has formally announced that the Queensferry Crossing will open this summer.
On August 30 the new bridge will be open to traffic for the first time, with an opening ceremony to be confirmed. On September, 2 and 3, however, it will close to traffic to allow members of the public the chance to walk across in the Queensferry Crossing Experience.
"Once In A Lifetime Chance"
"This Queensferry Crossing Experience will allow for up to 50,000 people to have the once in a lifetime chance to walk across the Queensferry Crossing before it becomes a motorway with no pedestrian access.
"This marks the beginning of the end of a 10 year process for this project. Starting with the early Forth Crossing studies, the Act of Parliament, design, procurement, through to work beginning on site in August 2011.
"Excitement and anticipation will build in the
months ahead as people prepare to walk and
drive over this bridge for the first time."
If you fancy the chance to walk across the bridge then enter the ballot at the Queensferry Crossing Experience website.
The ballot will close at noon on Wednesday July 5, 2017, and 50,000 entrants will be selected to walk the crossing on either September 2 or 3.
A Six-year Construction
Construction began on the Queensferry Crossing in August 2011, and the completion date has had to be moved back twice due to bad weather.
"The Queensferry Crossing is one of the world's great bridges," Michael Martin, Project Director "It's the largest bridge of its type and its fast track design and construction has presented many challenges."
You can watch a behind-the-scenes tour below, and more on the Queensferry Crossing's YouTube channel.