Ten Things You Cannae Miss … November 20 – 26
---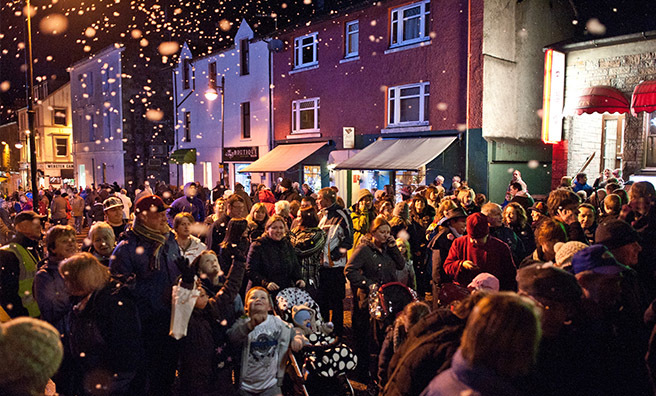 Our What's On guide to the most vibrant, most unusual and most unmissable events on offer this weekend, and in the coming week . . .

Perth for Chocolate!
The Christmas season in Perth official starts with the Light Switch-on on Saturday, November 21 featuring chart-toppers Lawson and a Chocolate Fest! Buy themed presents, taste some samples and watch demonstrations from from fine chocolatiers on both Saturday and Sunday.

Dine in the Dark
Aberdeen restaurant, The Courtyard, is hosting a charity night to give customers a sensory experience – dining blindfolded! The three-course dinner, for North East Sensory Services (NESS), allows diners to explore and enjoy the textures and flavours of their food more, while having a bit of fun, too! It takes place on Thursday, November 26. Contact info, here.

Falkirk Funduro
A new family-friendly mountain bike Enduro is being staged on the 17km network of trails at Callendar Estate, Falkirk, on Saturday, November 21. Places are still available on the children's courses, and all events are spectator-friendly, with hot food and drinks from Canada Wood Kitchen.

Spirits of Winters Past
From Friday, Nov 20 until Sunday, Nov 29, the town of Oban hosts its fifth annual Winter Festival, with the theme Spirits of Christmas Past. The extensive programme includes everything you'd expect from a Winter Festival – plus a Scottish Food & Craft Market, Haggisfest, St. Andrew's Day Tartan Dash and Ghost Walk!

A Darker Scotland
Thursday, Nov 26 sees an evening of conversation and readings with crime writer Denise Mina with tea/coffee and home baking at Makers' Gallery and Bistro, Alloa. As part of Book Week Scotland, Denise will tells tales of Scotland's dark world of crime. Click here for tickets.

History of the Saltire
On Thursday, November 26, in Dunbar, local expert Michael Turnbull from The Flag Heritage Trust will take visitors through the history of the Saltire flag and the fascinating story of how St. Andrew became our nation's patron saint. Free event, but must be booked in advance.

Into Realms of the Surreal
Lee Gershuny's Messages From A Mental Institution, stars director Corinne Harris with James Bryce, and returns to the stage at Edinburgh's Assembly Roxy. Raising questions about the nature of love, the surreal comedy is something a little different on the festive stage circuit.

Charity Christmas Craft
An array of Christmas stalls featuring festive gift ideas, cards, decorations and speciality foods will be set throughout Scone Palace on Monday, November 23 and Tuesday, 24, in aid of Cancer Research UK. Don't miss this chance to pick up unique presents – and all for charity.

Style Mile Carnival
Glasgow comes alive with the wonder of Christmas on Sunday, November 22 with over 400 festive performers throughout the city centre. Performances start in Nelson Mandela Square at 12.30pm, with the parade beginning at St Enoch Square at 2.30pm. Click here for more.


Scotland on Film
The Brunton Theatre in Musselburgh is hosting a Scotland on Film day on Thursday, November 26, perfect for a rainy day. Mrs Brown, Sunshine on Leith, and Whisky Galore will all be shown in Venue 1, with a discount high-tea menu and special 4 for 2 ticket offer!