Exclusive Offer: 3 Issues For Just $15!
Sign up now and save over 10%! That means you'll get 3 issues of The Scots Magazine for just $15! (£12.10 GBP) + browse our FREE Digital Sample Edition below!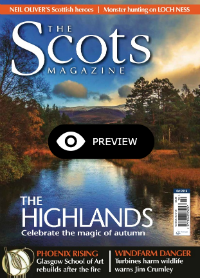 The Scots Magazine is your definitive passport to all things Scottish. Reconnect with your roots and delve into 132 pages packed with entertaining and informative features on Scotland's people, places, culture and leisure.
Every issue is a celebration of Scotland's diverse urban and rural life – from the great outdoors to the vibrant city scene; all complemented by stunning photography.
Subscribe today and join our devoted readership of more than 240,000 worldwide who choose The Scots Magazine as their window onto our rich heritage and culture.
—
T's&C's: *3 issues for $15 (£12.10 GBP) available to overseas recipients, 3 month term only. 10% discount based on standard subscription rate for 3 issues, normally $17.05 (£13.75 GBP). One year standard pre-pay annual subscription of $68.20 (£55 GBP). Advertised price correct at the time of going to print and may be subject to future changes in exchange rate. Offer ends 03/04/2018.
OFFER CODE: NYCTW