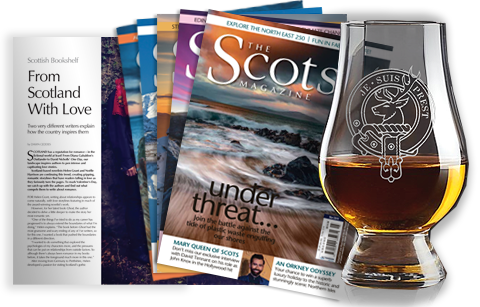 LOVE OUTLANDER?
You'll love this subscription offer
Here at The Scots Magazine we've teamed up with Glencairn Crystal to offer you this beautiful Outlander inspired whisky glass featuring the iconic clan Fraser crest "Je Suis Prest".
We've bundled this exclusive gift with a full year's subscription to The Scots Magazine (that's twelve issues!) bringing Scotland to life in all its glory every month, from the great outdoors to the vibrant city scene – for all who love Scotland, whoever and wherever you may be.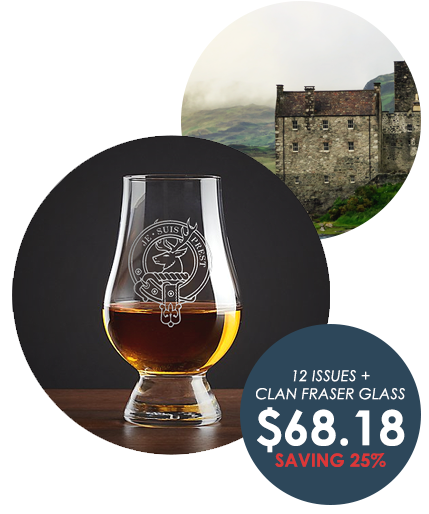 Twelve Issues PLUS Clan Fraser Glass For Only $68.18!
Starting to whet your appetite? You'll also save an incredible 25% on the shop price today with a full year's subscription from as little as $68.18 (RRP $77.73)*, PLUS you'll get each issue delivered direct to your door every month ensuring you never miss an issue!
Take a look at some of our subscription benefits below…
FREE Clan Fraser whisky glass

PROTECTION against future price rises

NEVER miss an issue

GUARANTEED best price direct from the publisher
Ready to cure your droughtlander? This offer expires on 08/31/19! Don't miss out!
*Please note: All equivalent prices in USD are based on the GBP exchange rate and are accurate at the time of this promotion going live. These exchange rates may fluctuate.



No problem, just phone +44(0)01382 575580 and quote promotion code SMOTL and we'll take care of it.
Mon-Fri 8am-6pm, Sat 9am-5pm (GMT)