Embrace The Highland Capital
---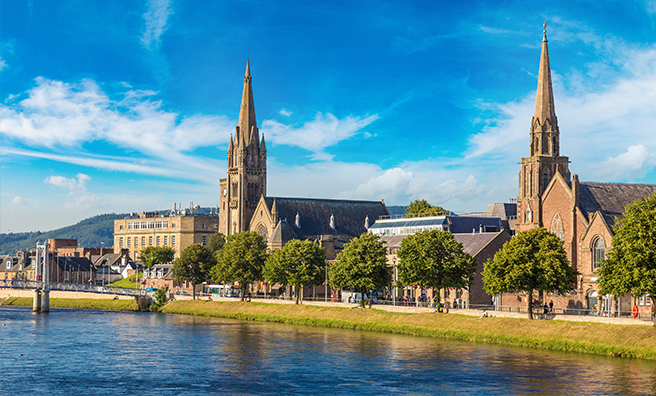 Laura Brown finds that there's something about Inverness that's simply spellbinding
With a river at its heart the setting of Inverness mirrors many larger Scottish towns, but the capital of the Highlands enjoys an outlook that to me seems rather unique. With snow-capped hills in the distance and the dolphin-filled Moray Firth on the horizon, the great outdoors is literally part of life in this city.
There's something in the air, and the laid-back attitude and lovely Highland lilt makes time pause in this place. Forget all notions of 'city life', everything seems to slow down up north. So if this introduction hasn't sold Inverness to you yet, I hope the rest of this blog will!
I've listed some of my favourite things to do both within the city boundaries and just outside it, which I hope makes up a rather nice weekend itinerary.
Eat Coffee & Cake at Velocity
Crown Avenue, Inverness (5 minute walk from city centre)
Although there are a handful of great cake pit stops en route north — looking at you, Mountain Café! — I'd never been sure where to go in Inverness itself. But after turning to the
Instagram community for their advice, we ended up in Velocity Café and Bicycle Workshop in the quaint Crown area of the city.
This is one of those cafés you could sit in all day. Comfy couches, moreish cakes, blooming marvellous coffee (from Papercup roasters) and the soundtrack of fingers tinkering
with bike parts…
It's warm, it's welcoming and your waistline won't thank you for it but hey – if you only do Inverness once, this is where to get your cake fix!
Look for Nessie at Dores Beach
20 minute drive or bus (14, Whitebridge) from city centre
From walking in Glen Affric to dolphin watching at Chanonry Point, there are a host of outdoor activities within your grasp if you're in Inverness for a short break. But one of my
favourites has to be the quick 20-minute drive south, ending in a beautiful vista down Loch Ness from Dores Beach.
You may know Dores from its festival past as backdrop to Rock Ness but — aside from the height of summer — it's now a still corner of the loch where you can simply enjoy the small
waves hitting the shore, stunning sunsets and even a pint of local ale at the adjacent Dores Inn. And for folklore fans, you'll even stumble upon the trailer of the famous Nessie Hunter…
Keep your eyes peeled!
Relax at the Floral Hall
30 minute walk or 5 minute drive from city centre
Small but perfectly formed, Inverness Botanic Gardens (formerly called the Floral Hall) is an oasis just 30 minutes' walk from the town buzz. With a tropical greenhouse, cactus room and carp pond, you can quite happily sit on a bench here for hours with a book and the calming background noise of the miniature waterfall. There's also a café in the adjacent building in case you need a hit of caffeine before your next stop.
Wander by the River Ness
20 minute walk from city centre
One of my favourite ways to end a stay in Inverness is to take a walk around Ness Islands.
This miniature archipelago is just a short walk from the shops and swarms of Inverness centre but, with the surrounding woodland and water, it feels miles away from modernity. Connected by a series of suspension bridges, you can stroll around these isles for hours, spotting resident birds and other wildlife in this slice of countryside just minutes from the city.
---
Any suggestions?
What are your favourite things to do in the Highland Capital?
Share your Inverness tips with Laura over on Twitter, and don't forget to check out our A-Z of Inverness