A Warm Welcome Awaits at Scottish International Storytelling Festival
---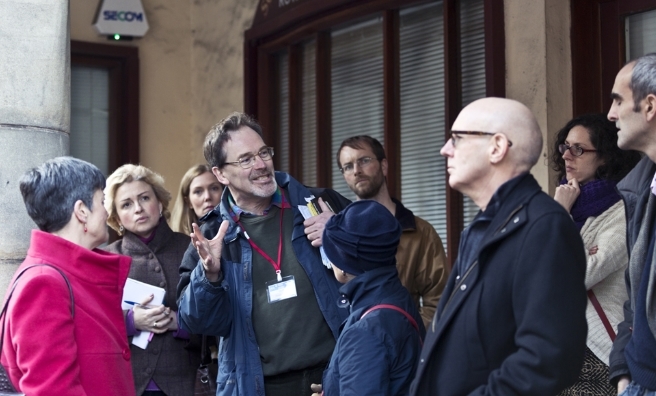 Stories being told in the Canongate. Photo by Solen Collet
The Scottish International Storytelling Festival, the world's largest celebration of live, traditional storytelling, takes place from October 23 until November 1, 2015.
This year, as well as taking place in Edinburgh, the Scottish International Storytelling Festival 2015 will reach out across the nation as Scottish tellers merge with guests from the Middle East, North Africa and Europe in a fantastic, ten-day celebration of oral traditions and cultural diversity, with over 70 events in Edinburgh and over 20 throughout Scotland, including mini-festivals in Orkney, Portskerra and Inverness.
'Stories without Borders'
This year's theme is 'Stories without Borders'  and sees local traditions intertwine with tales from Morocco, Iraq, Cyprus and beyond. "Storytelling connects across borders of culture, race, class, religion and politics," said Festival Director, Donald Smith. "This year's Festival shows what a connected kind of place Scotland is becoming, where nothing human is alien to us."
Let storyteller Rabeea Al Nasser and musician Tareq Al Nasser sweep you away to the Middle East in From Village to Village: A Journey through Jordan, or discover the riches of Syria's oral traditions in An Evening with the Hakawati, led by traditional storyteller Bassam Dawood.
A relaxed evening of ballads, folktales, myths and more
Throughout the week, the Festival's Open Table encourages visitors to indulge in food and stories from around the world, including a special reminiscence session for the older generation, while Open Hearth sessions sees storytellers from both near and far gather around for a relaxed evening of ballads, folktales, myths and more.
Themed sessions will explore ways of sharing through multiple artforms and platforms, from the merging of physical theatre, dance and poetry, such as writer-actor Philip Knight and virtuoso guitarist Michael Gosling re-tell the Greek myth of Prometheus.
During the Festival, there will be storytelling on boats, in gardens and even in a castle. Travel back to the days of Bonnie Prince Charlie in Jacobites: The 1715 Special! or hop aboard a Re-Union canal boat for an afternoon of swashbuckling stories in All Aboard!, both with the ever-wonderful Macastory.
A spooky afternoon of crafts and stories
And of course, October wouldn't be October without some Hallowe'en treats! Dress up and head to Lauriston Castle for a spooky afternoon of crafts and stories on Saturday, October 25, or come along on Hallowe'en itself to learn songs and poems before setting off on the Guisers Trail around Edinburgh's Old Town.
Experiencing Gardens is a series of free, inspiring talks in the gorgeous surroundings of the Royal Botanic Garden, Edinburgh, while back at the Storytelling Centre, there will be a fascinating discussion on how traditional stories can change the way we relate to nature, as well as a discussion on 'welcoming the stranger'.
Edinburgh's most fascinating tales
This year's Festival takes storytelling all over the capital as special walks uncover Edinburgh's most fascinating tales. Discover the Secrets of the Royal Mile on an expert-led walking tour of the historic Old Town or soak up the autumn colours as you learn the lore and legends of Scotland's woodlands in the Royal Botanic Garden, Edinburgh.
For more information, click here.
---
Share Your Story
For those with their own tales to tell, the Festival features four workshops designed to help keen storytellers develop their skills.
Entitled The Ties that Bind, the sessions focus on the ways in which stories can heal rifts and bring people together and are led by expert storytellers with experience working with communities in conflict around the world.
These include Shonaleigh, a drut'syla (storyteller) from Yiddish oral tradition, Michael Williams and Janet Dowling, who will draw on their experience with groups in Israel and Palestine, while Liz Weir examines ways communities can benefit from storytelling based on peace-building projects in Northern Ireland.
For more information, click here.