Action Medical Research Launches Tasty Fundraiser
---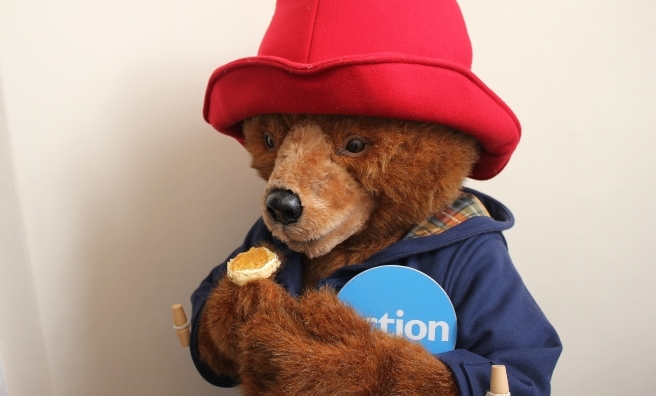 Action Medical Research mascot, Paddington Bear™, likes his scones piled high with marmalade
Children's charity Action Medical Research is calling on residents and businesses across Scotland to enjoy a cuppa as part of its annual fundraising Cream Teas in a Box campaign.
Wonderfully scrumptious and refreshing British cream teas will be delivered directly to workplaces, schools and colleges on Thursday 18 June 2015. This year, the perfect afternoon pick-me-up (which comes in a box priced just £6) will contain two freshly baked scones, two small jars of strawberry jam, Rodda's Cornish clotted cream and three strawberry crème chocolates, as well as the more traditional Yorkshire Tea, knife and serviette.
'Take a break!'
"Come on Scotland, take a break!" said Tracey Edwards, Action's Cream Tea Events Manager, who added that Action Medical Research is currently funding work around stillbirth, epilepsy, meningitis, cerebral palsy and brain cancer, as well as some rare and distressing conditions that severely affect children.
"Place the minimum order of 10 to bond over a brew with friends and colleagues and help raise funds for sick babies and children. The choice of scone topping is yours – jam and/or cream, or maybe 'tea with a twist' – banana and chocolate sprinkles!"
'Help raise vital funds for this children's charity'
Celebrity chef Lesley Waters is once again supporting the Action Cream Teas. Well known for her regular television appearances on Ready Steady Cook and This Morning, Lesley is also a former head tutor of Leith's School of Food & Wine, author of several cookery books and runs her own cookery school.
"I'm delighted to be supporting Action Medical Research's Cream Teas because, quite simply, they taste delicious," said Lesley. "Just put the kettle on, relax, have a chat and help raise vital funds for this children's charity."
Order online by 5 June 2015 by clicking here.
Celebrity chef Lesley Waters with her savoury scones with cheese and home-made tamarind, pear and date chutney
---
Recipe For Success!
Lesley's Tamarind, Pear and Date Chutney recipe, to be served with a savoury scone and cheese:-
25g (1oz) butter
1 onion, cut into chunky, wedge-like strips
85g light muscovado sugar
150mls (1/4 pint) beer
3 teaspoons tamarind
2 ripe dessert pears, cored and thickly sliced
170g (6oz) fresh dates, roughly chopped
In a large frying pan, heat the butter. Add the onion and cook for 10 minutes over a very low heat until softened.
Increase the heat, stir in the sugar and cook for 2-3 minutes until golden.
Stir in the beer, tamarind, pears and dates.
Cover and cook for 10-12 minutes until the pears and dates have softened.
Remove the lid and cook uncovered for a further 5 minutes until slightly reduced and chutney-like.