The Scots Magazine April Issue – Out Now!
---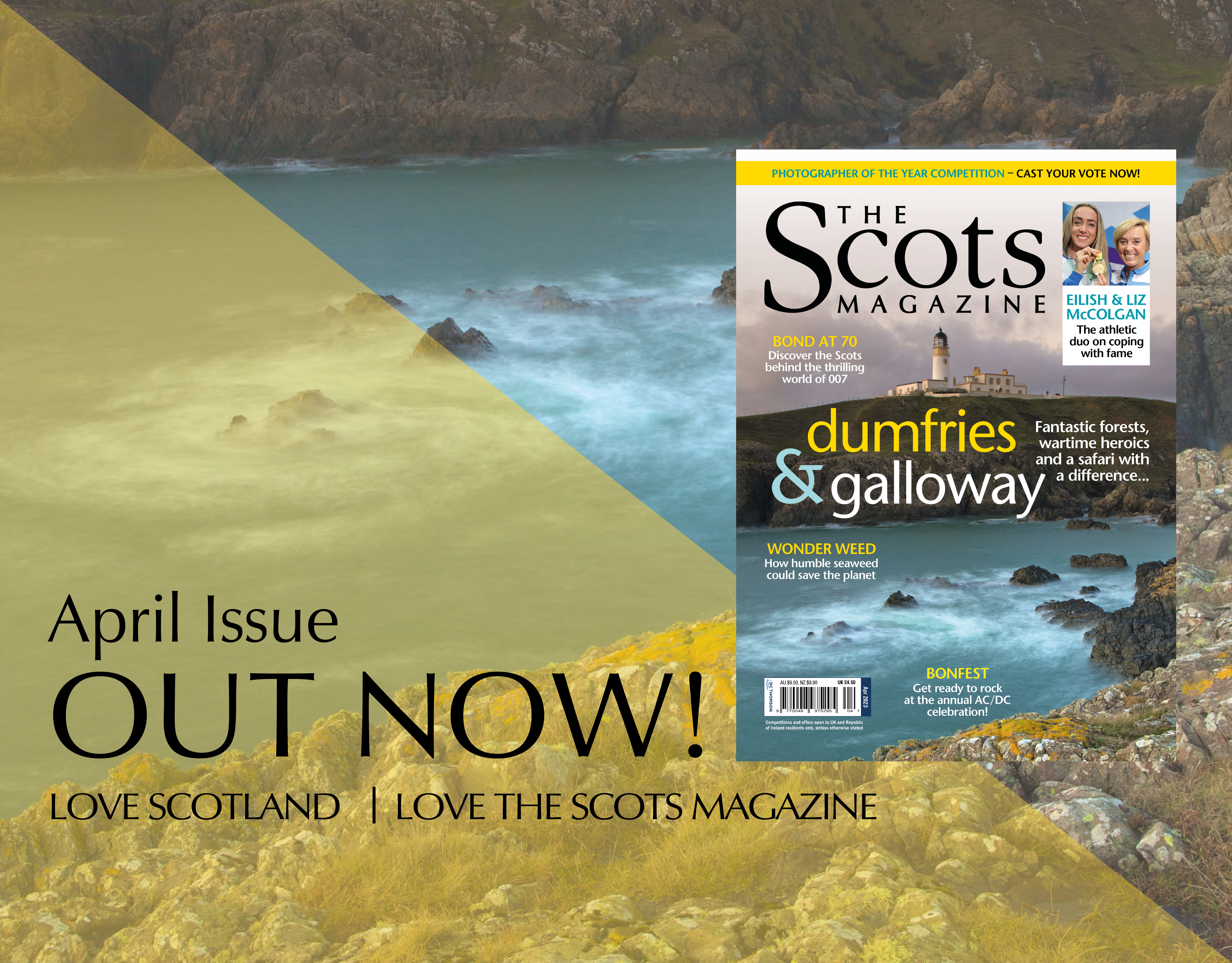 ---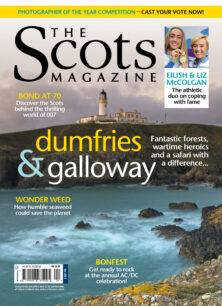 You can find your nearest stockist by entering 
your postcode here. 
Get it digitally to your smartphone or tablet, too
– just visit the app store, or get a digital subscription.
---
CONTENTS
Cover Story…
Tour Dumfries and Galloway with our 14-page special
 My Scotland Actor Colin McCredie takes you on a tour of his favourite Scots spots
#OutAndAboutScotland The best pics shared with us this month on social media
A Wee Blether With… Bruce Mouat, the Scottish men's Olympic curling team skip talks medals and media
In Seventh Heaven Melrose is the spiritual home of rugby sevens
Wonder Weed The scientists hoping to make the seaweed industry a Scottish success story
Secrets And Highs Jim Crumley ponders a swan's mysterious detour through a remote Scots mountain range
Enjoy an epic weekend of rock 'n' roll at Bonfest
The strange tale of Gregor MacGregor the Scots fraudster who invented a country
The Great Eight The Scots people and places that shaped the thrilling world of secret agent James Bond
From The Vault The monstrous skull dredged up from the deep
A-Z Of Great Scots The brave "Gretna Girls" stirring up the Devil's Porridge in wartime
Scottish Bookshelf The journalist who swapped fact for fiction, delving into a spooky Scots ghost story
Read our interview with the gold medal-winning mother and daughter duo Liz Eilish McColgan
Sound of Scotland Scots art-pop duo are aiming for the stars with a cosmic concept album
Slainte Mhath The community spirit behind an island distillery
Scottish Kitchen Celebrate Easter with a super Scotch egg recipe
Eat, sleep, drink… The Gailes Hotel, Irvine, and Wagamama, Glasgow
Grow Wild And Free Untidy gardens can help save our vital butterflies and bees
Join a sea-kayaking expedition on the scenic West Coast
Finding Freedom The handcyclist planning for a more inclusive community
Back To Basics Cameron McNeish enjoys the wonders of hot tents
Sun And Summits Running the Brothers and Sisters of Kintail
Raising The Barr How some clever marketing propelled IRN-BRU to success
Photographer Of The Year It's time for you to pick the winning Scottish image
---
Never Miss An Issue

Of The Scots Magazine.
Or find y

our nearest stockist

here

.