New Ayrshire Beach Yoga Experience!
---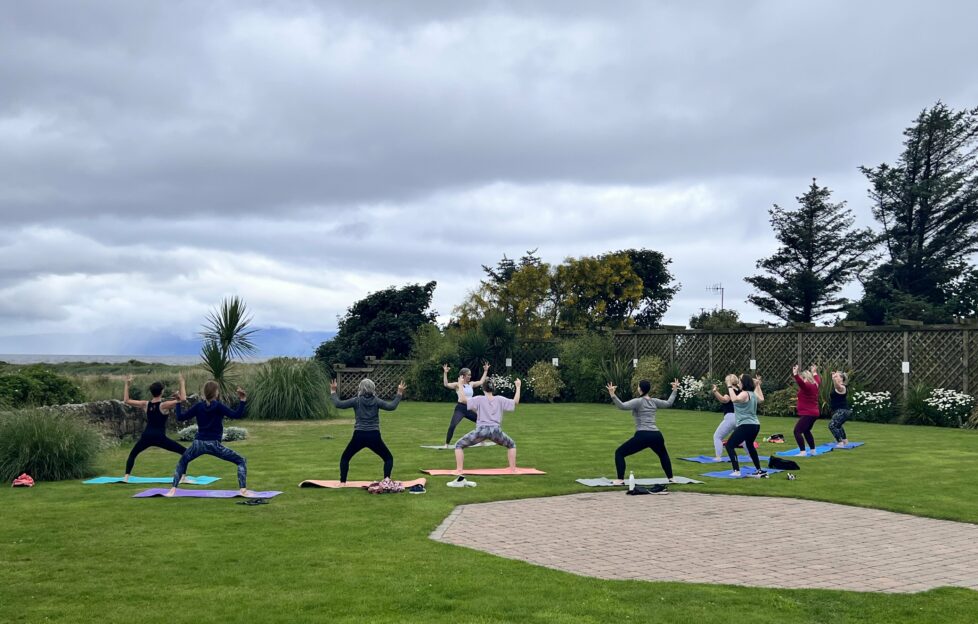 We were invited to The Waterside Hotel for a relaxing beach yoga session with instructor Vhairi Slaven…
It was a cloudy day but that didn't dampen the group spirit! We all arrived fully prepared to embrace all the elements and eagerly laid our mats on the outdoor lawn.
Panoramic views over the Firth of Clyde towards the Isle of Arran set the scene. With the sea breeze in my face and the sound waves crashing in my ears, each meditative moment and grounding sensation was made all the more impactful.
I'd say, it was the perfect morning stretch.
Led by yoga instructor, Vhairi Slaven, everyone felt included during the slow flow yoga practice. Vhairi's yoga style is compassion led, with a lot of guidance on creating stability within poses. Plenty of variation was demonstrated for those who may experience pain or difficulty with certain moves. This event is perfect for all ages and abilities.
When the clouds turned to drizzle, we headed inside to the peaceful Ailsa Lounge. Here, we enjoyed an ambient 10-minute, guided meditation all about self-compassion and kindness. I felt extremely calm and content upon re-opening my eyes.
Afterwards, we were refreshed and refuelled by a delicious breakfast buffet. The spread available can be browsed below.
We all socialised among ourselves before returning to the real world and our busy days.
Yoga instructor, Vhairi is based in Ayr and has seven years' experience as a qualified yoga instructor proving classes across Ayrshire. The Waterside Hotel event caters to mixed groups of up to 20 people.
The next and final beach yoga date is Wednesday, August 30 from 9.15am. This is priced at £20 per person, including breakfast.
For more information and to book a place, call The Waterside Hotel on 01294 824418 or email events@watersideayrshire.com
Yoga instructor, Vhairi Slaven, can also be found at www.vhairislavenyoga.com