'Beach Yoga' Makes Waves At Ayrshire Hotel
---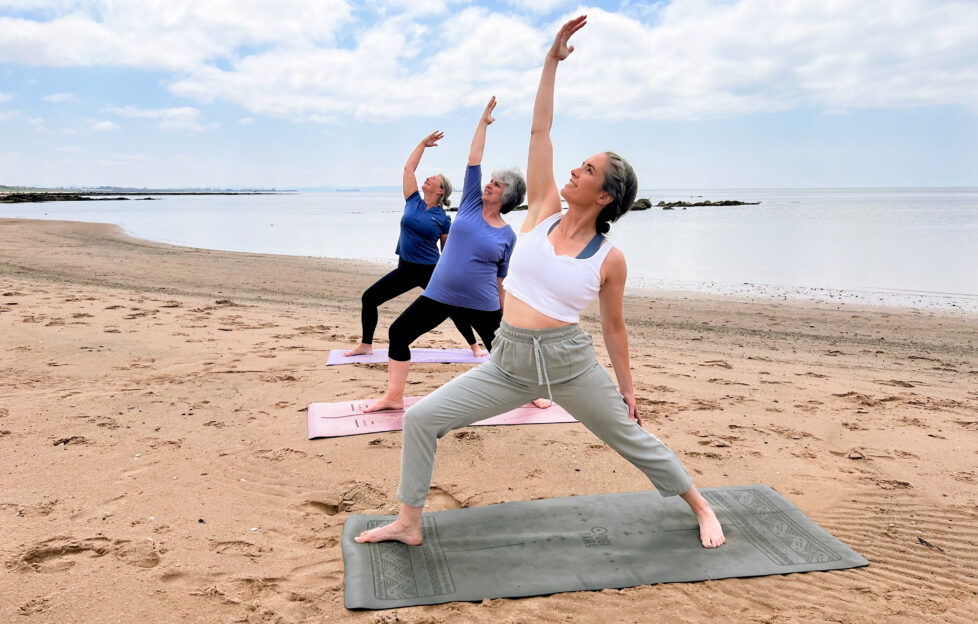 Ayrshire hotel makes waves with 'Beach Yoga' launch 
One of Ayrshire's leading coastal hotels is limbering up to launch a new Beach Yoga experience for guests and local residents in July and August.
As Scotland basks in long summer days, The Waterside Hotel at West Kilbride plans to turn its beachfront into a pop-up outdoor wellness destination with panoramic views over the Firth of Clyde towards the Isle of Arran. 
The beach sits directly opposite The Waterside and can be reached easily by guests and visitors along a private pathway through the hotel's gardens. 
Led by trained yoga instructor, Vhairi Slaven, mixed groups of up to 20 people will now be able to enjoy outdoor yoga in the fresh sea air with the sand between their toes on Tuesday, July 11 and Wednesday, August 30 from 9.15am. 
Open to overnight guests and local residents, the new one-hour Beach Yoga experience on the water's edge at The Waterside Hotel includes slow flow yoga for all ages and abilities, as well as a healthy breakfast after the activity. 
Vhairi from Ayr has seven years' experience as a qualified yoga instructor across Ayrshire. Commenting on the launch of the new Beach Yoga experience at The Waterside Hotel, Vhairi says, "I'm really excited to be working with SimpsInns and The Waterside Hotel to launch the new Beach Yoga experience this summer.
"We want to offer people of all ages and abilities a fun and energising way to take care of their health and wellbeing. Exercising outdoors really gets you close to nature. The fresh sea air and sound of the waves can have a meditative and calming effect, which is great for everyone.
"Situated just an hour from Glasgow, The Waterside Hotel and beachfront provides the perfect setting for a beach yoga experience with amazing views across the Firth of Clyde to Arran." 
The Waterside Hotel is owned and operated by the local, family-run hospitality group, SimpsInns. The Irvine-based Simpson family runs a collection of award-winning hotels, restaurants, bars, spa, golf, and leisure activities along the Ayrshire coast. 
Supporting around 280 local jobs, SimpsInns has recently invested over £3 million across its portfolio of venues along the Ayrshire coast to retain its high-quality product and service, and the overall visitor experience. Other visitor venues and experiences include The Gailes Hotel & Spa and The Potting Shed in Irvine; Gailes Golf: Leisure; and Old Loans Inn at Troon.
The new Beach Yoga experience at The Waterside Hotel is open to everyone and is priced at £20 per person, including a qualified yoga instructor and breakfast. 
The activity is weather dependent, and should it not be in favour, yoga will take place in the stunning Ailsa Lounge with views of the beach. 
---
For more information about the new Beach Yoga experience at SimpsInns' Waterside Hotel, to check suitability for the activity and to make a booking, call 01294 824418 or email events@watersideayrshire.com
Follow The Waterside Hotel on social media, including Facebook www.facebook.com/watersideayrshire and Instagram www.instagram.com/hotelwaterside