Calling All Peter Pan's Wendys!
---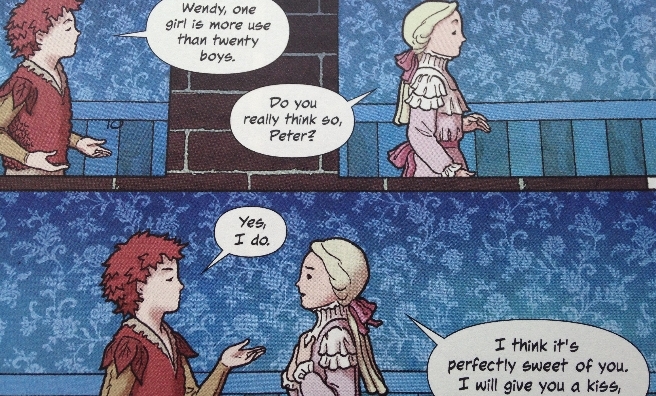 A scene from JM Barrie's Peter Pan; A Graphic Novel by Stevie White and Fin Cramb. Published by Birlinn
Last week, a call went out from The National Trust for Scotland asking for all Wendys to pop along to JM Barrie's birthplace, where the creator of Peter Pan was born, and sign a special visitor book on Saturday, August 22.
As you may imagine, there was no holding me back! Having loved the story of Peter Pan since I was tiny, written about JM Barrie several times, moved to Kirriemuir, the town where JM Barrie was born, cried at every film version ever made and fallen for more than my fair share of Lost Boys, I was determined to be first in the queue!
All Wendys sign a special visitor book
I was greeted by the Propery Manager, John McKenna, who explained that, over forty years ago, it was the tradition at JM Barrie's Birthplace that all Wendy's sign a special visitor book.
"This year, we have an expanded and refreshed exhibition and so it seemed like the perfect time to reintroduce this custom," said John, as he confirmed that I was indeed the first Wendy of the day to turn up at the highly-popular visitor attraction – a feat I'd managed by only living minutes away!
As well as receiving a certificate proclaiming that I've signed the Wendy Visitor Book – a memento which will be presented to all Wendys signing the book – I was lucky enough to be given a copy of a fabulous new graphic novel based on JM Barrie's more famous work.
The boy who never grew up
Illustrator Stevie White and colourist Fin Cramb were at JM Barrie's birthplace for the launch of J.M.Barrie's Peter Pan: A Graphic Novel (£12.99), which draws on original features from the locations that inspired JM Barrie to write his tale about the boy who never grew up.
"In this graphic novel Stephen White goes back to the very heart of Barrie's original tale to create a story that is dark, magical, charming and authentic," said Publishers Birlinn.
"The complexity of Barrie's original is drawn out in vibrant illustrations and engaging text to create a new vision of the tale for those familiar with it and to enchant a new generation of readers."
John McKenna added: "It is a great honour to have Stevie and Finn join us for the launch of their stunning adaptation of this classic tale. Their fresh take on the story, and stunning illustrations are tremendous."
To purchase a copy of the graphic novel, and to watch a behind-the-scenes video, click here!
---
The Wonder of Wendy
JM Barrie is widely credited with popularising the name Wendy after its use in Peter Pan. Apparently, he chose the name because of a nickname he was given by Margaret Henley – the daughter of his friend WE Henley.