Raiding The Scottish Borders
---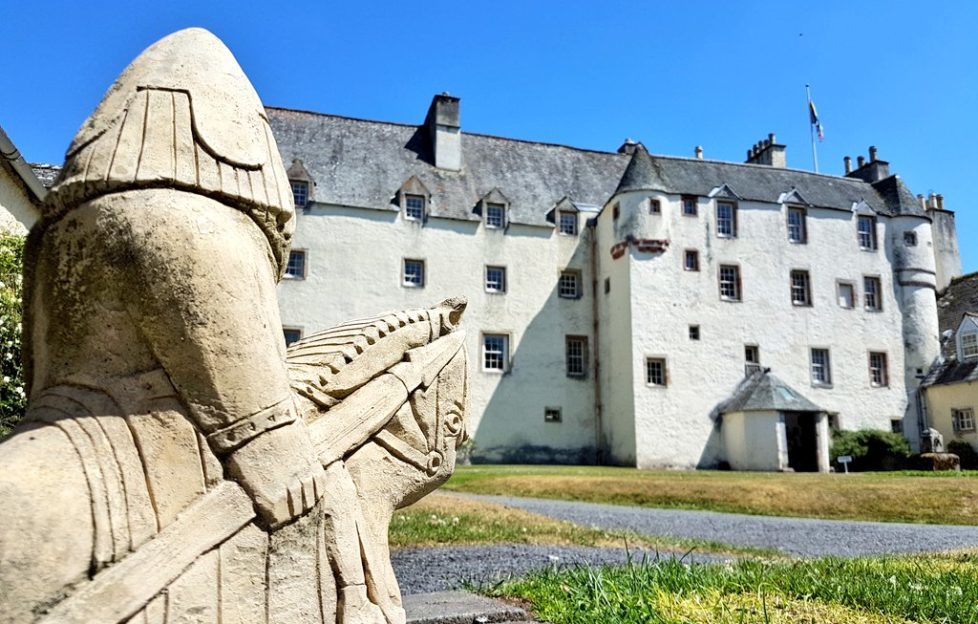 David Weinczok strikes south and discovers the ancient protectors of Border country
Most people sensibly stay in the shade during a heat wave. In the recent scorcher that hit Scotland, however, I was melting like the roof of Glasgow Science Centre on two cycle-powered raids into the depths of the Scottish Borders.
The haul was well worth braving the scorching sun for with more than twenty castles visited over four days. These included haunts of Merlin, and my favourite historical character of all, James 'the Black' Douglas'.
I call my journeys into the Borders 'raids' as a mischievous tribute to Sir Walter Scott. The romantic poet went on self-described raids into the area seeking inspiration. Unlike his reiving ancestors he didn't go to wreak havoc, but to gather the stories and traditions that made his name with The Minstrelsy of the Scottish Border.
It's always fun to think that while travelling in Scotland you're walking (or in this case cycling) the same paths that giants such as Scott, Burns, Stevenson and more took on their own ways to making history.
My raids covered more than 70 miles each, and took in nearly every castellated site in their respective areas. I'd meticulously identified these beforehand by consulting sources like Ordnance Survey maps, Martin Coventry's exhaustive The Castles of Scotland, and the Canmore online database. I'm a wee bit obsessive like that!
Here are a few of the must-see stops from those two sun-drenched days.
---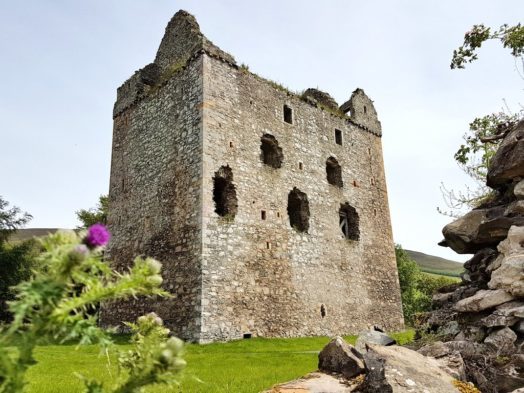 Newark Castle
Douglas-built castles almost always have a daunting feel about them, and Newark Castle near Selkirk is no exception.
This 15th century tower guarded the Ettrick Forest, a vast land of hills, valleys, woods and game. Knowing a good story or two beforehand always enhances the experience, and this was readily provided by Nigel Tranter in his novel The Black Douglas which opens with a grand and daring bull hunt on the grounds of the castle.
---
Dryhope Tower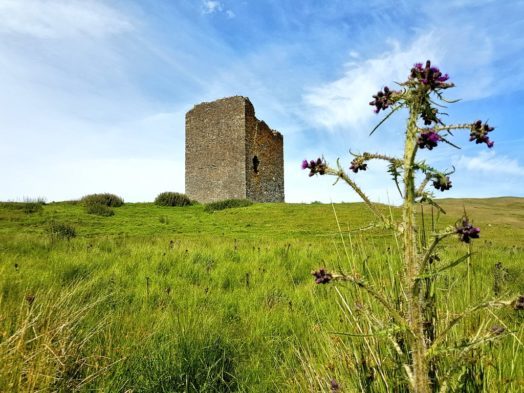 If ever a castle's name summed up how I felt when arriving at it, it's Dryhope – and hopefully not Fatlips Castle, which I visited here!
After a 20-mile ride in the full heat of the early afternoon I arrived at this lone sentinel, standing guard over St Mary's Loch. It was slighted (that is, destroyed to the point of being unusable) in 1592 after the The Scott family conspired against King James VI. It was then rebuilt some 250 years later.
You can go inside, which is always a treat, and a steep, spiralling metal stair leads to the roof where you get a view fit for a king.
---
Traquair House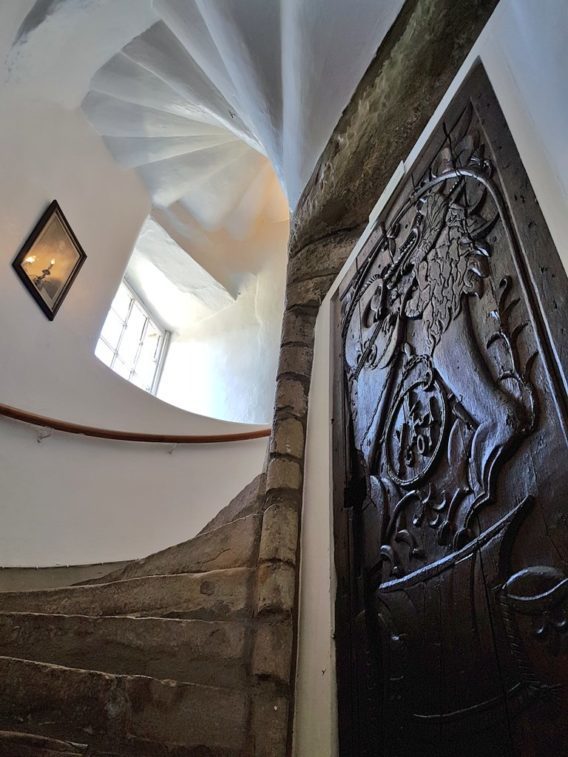 Traquair is the oldest continuously inhabited house in Scotland, going back to at least 1107.
There is so much more to it than that, though – the interior and grounds house a collection of wonders. From a challenging hedge maze to a remarkable 17th century door that depicts a unicorn skewering a lion with its horn. Some prefer to think that the horn is simply behind the lion in a perspective trick, but given Traquair's history of staunch loyalty to the Stewarts I think we all know what's really going on.
What I really loved about Traquair was that it encourages engagement and play as a way to learn. For instance, there's a Priest's Room that has a secret stair leading outside for times of trouble.
While most places would have it blocked off and heavily guarded against curious kids, Traquair lets you fire on down. At one point, a kid I had just seen in the Priest's Room not fifteen seconds before suddenly appeared, quite casually, in the garden outside.
I started questioning my sanity before remembering that stair. The kid's satisfaction with his sneaky escape could be read across his face. Brilliant – that's the kind of thing that makes memories and that historic sites should encourage wherever possible.
---
Tinnis Castle
Of all the places I saw over both raids, Tinnis Castle is the one that stopped me in my tracks. Although it was the most ruinous of the strongholds on my journey, the evidence of its former glory is breath-taking.
There are contenders for the crown of strongest hill fort in Scotland, and for now my money is on Tinnis. Looming hundreds of feet above the valley floor, it had an enviable panoramic vantage point. The ruins show a massive fortified complex from the Iron Age with earlier ruins of a castle in the middle. You can trace at least three lines of defence, and I pity anyone who ever had to test them.
It was in a field below Tinnis that Merlin met his end. He suffered a 'triple death' of bludgeoning, piercing, and drowning at the hands of men sent by Meldred, lord of the fort. Apparently Merlin had learned that Meldred's wife was having an affair…
True or not, this is the stuff of legends and Tinnis plays the part wonderfully. Be advised, the climb to the top is no joke and there's scant cover at the top. It's worth it, but be prepared to work for it.
---
Neidpath Castle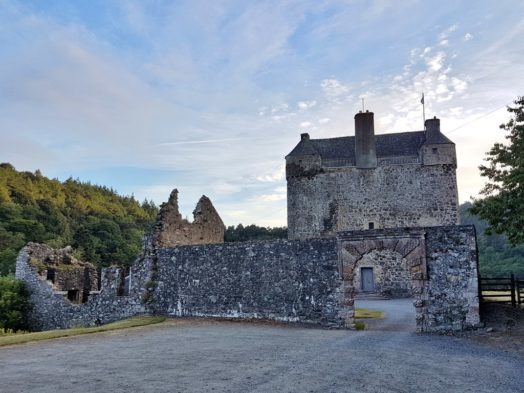 One of the strongest towers in the Scottish Borders, Neidpath was the seat of the Sheriff of Peebles. A castle stood on its site since the late 12th century. It was built by the Frasers – which my surprise you as they are a family typically associated with the Highlands.
The clan got their start in the Borders, however, and came to Scotland from Normandy. They claim ancestry from the mighty Dukes who took as their symbol the leaves of a strawberry, or fraise in French.
The 4th Duke of Queensberry oversaw a programme of deforestation and 'improvement' around Neidpath, earning the ire of the Romantics. Wordsworth refered to him in an odes as "Degenerate Douglas, O the unworthy lord!"
He admitted, however, that nature shrugged off such things in the grand scheme, and these days you'll find the grounds around Neidpath to be full of Romantic beauty once more.
---
Honourable Mentions
There were many more smaller towers, mottes, standing stones and other historic sites in the area worth seeing! If you're in the area, do take time to visit some of the hidden gems below.
Blackhouse Tower, a haunt of Robert Bruce's dreaded lieutenant James 'the Black' Douglas in the early 13th century.
To reach it you have to brave a long and rough track. You you may also be blockaded by cows along the way as I was!
Horsburgh Castle, on a path just off the A72 between Peebles and Innerleithen.
Incredibly picturesque at sunset, and a slightly newer tower called Nether Horsburgh is also nearby.
Yarrow standing stones, called Warrior's Rest, the Glebe Stone, and the Yarrow Stone. The latter is the grave marker of two princes of the Brythonic and early Christian kingdom of Strathclyde.
Wrae Tower is a crumbling slice of a castle standing in a field south of Rachan. This is really one for the very dedicated castle hunters out there. With a decent zoom lens, however, the views over to Tinnis Castle, clearly visible even with the naked eye, are jaw-dropping.
Next time you're looking for an adventure, do it Scott style! Go for a raid into the Borders to see places like these and many, many more. Thanks as always, and I'll return in a fortnight with more castellated adventures.
Discover more of David's favourite castles and
their history here on The Scots Magazine and
don't forget to check out his blog The Castle Hunter