Celebrate Your #ScotSpirit
---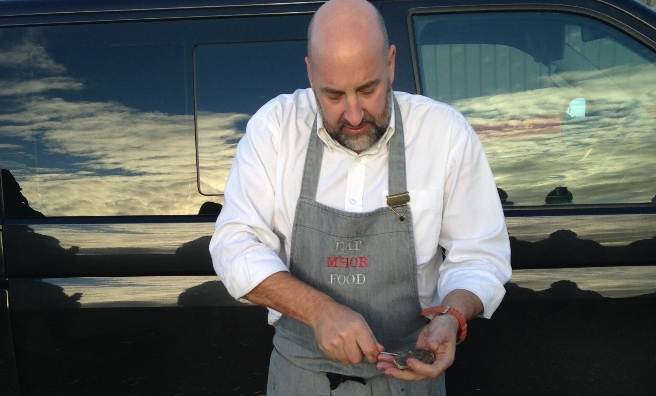 Monachyle Mhor's renowned chef, Tom Lewis, prepares oysters on the banks of a loch in Galloway Forest
VisitScotland's has just launched its first ever global campaign – 'Spirit of Scotland' – aka #ScotSpirit.
The campaign aims to raise the profile of Scotland to the highest it has ever been by evoking our emotions – and, judging by my tearful reaction to the new tv adverts, which feature a soundtrack composed by Giles Lamb and performed by the Royal Scottish National Orchestra, and a voiceover by Game of Thrones star Iain Glen, it's hitting all the right buttons!
As part of the campaign, an inspirational and interactive new website (www.visitscotland.com) has been launched to enable visitors to engage with Scotland in a whole new way, with cinematic imagery and information filtered by region and location – and become ambassadors for our country.
#ScotSpirit
In addition, people across the world are being asked to share their experience of the Spirit of Scotland through #ScotSpirit – and there was no shortage of special Scottish experiences at the UK press launch of 'Spirit of Scotland', which The Scots Magazine was invited to attend!
I won the draw for who would go along to the launch (no swicking involved!) and enjoyed a magical few hours in Dumfries and Galloway.
Scotch broth laced with an 18-year-old malt!
After travelling to a loch high in the Galloway Forest, the 30 journalists on the trip pulled on their new Hunter wellies (a very much appreciated gift from Hunter Boots) were treated to a very special dinner prepared by one of Scotland's top chefs – Tom Lewis from Monachyle Mhor. Beginning with outstanding oysters from Loch Ryan and ending with preserved brambles picked in local woodland, Tom's menu featured delicious produce from within a 30-mile radius, including venison, smoked haddock – and Scotch broth laced with an 18-year-old malt!
Once darkness fell, we went out into the now pitch black forest and went on a Nocturnal Wildlife Tour, the only experience of its kind in the UK. Next, star gazing in the Dark Sky Park, where we spotted all manner of stars, consellations and planets and even saw a shooting star. And finally, a night in the luxurious surroundings of Dumfries House, which proved well worth the journey to Ayrshire, especially on a beautiful frosty morning, with a skiff of snow on the ground and blue, blue skies above.
That was my first #ScotSpirit experience – but it won't be my last!
Celebrate #ScotSpirit
Other suggested ways to celebrate #ScotSpirit include:
• Stopping to take a picture at John O'Groats, a must-visit along the North Coast 500 route in the north Highlands which has been included in lists of the best drives in the world.
• Enjoying lunch on the Royal Deck tearoom aboard the Royal Yacht Britannia, named Scotland's Best Visitor Attraction for the last 10 years.
• Celebrating Scotland's 2016 Year of Innovation, Architecture and Design at various locations in Scotland, including St Peter's Seminary near Glasgow (to be reopened in March 2016 – read all about it in the March issue of The Scots Magazine) or during the Scotland-wide Festival of Architecture.
• Getting competitive at the first ever St Kilda Challenge yacht race in June 2016.
• Adventuring down the new scenic trail along the eastern side of the Cairngorms National Park (to be launched this year), from Glenshee to Grantown-on-Spey.
'Become ambassadors for the country'
"We want everyone who cares for Scotland to get behind this campaign by using #ScotSpirit and in doing so become ambassadors for the country," said Malcolm Roughead, Chief Executive of VisitScotland.
"Scotland is a unique place inhabited by a unique people – a combination that creates an inimitable spirit. You have to come to Scotland to experience it. But once you've felt it, our spirit will stay with you forever."
To find our more, click here.
---
Helping Scotland's Families
As part of the Spirit of Scotland campaign, VisitScotland is working with the UK charity Family Holiday Association and the tourism industry to create opportunities for struggling families in Scotland, many of whom will never have had a family holiday, to see more of their country.
The Family Holiday Association is the only national charity dedicated to providing seaside breaks and day trips for families struggling with some of the toughest challenges life can bring.