Celtic Connections Kicks Off
---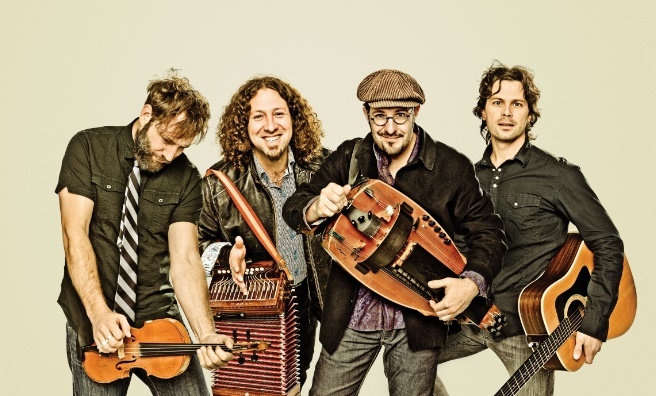 Le Vent Du Nord marked the start of Celtic Connections with an impromptu gig
January 15 was the opening day of Celtic Connections 2015, an occasion which was marked by Québécois quartet Le Vent du Nord entertaining passers by on the stairs of the Glasgow Royal Concert Hall.
With instrumentation including fiddle, accordion, hurdy-gurdy, mandolin, guitar, bass, foot percussion and jaw harp, the captivating foursome amused revellers with their boundless joie de vivre!
A towering landmark in Scottish music
Tonight's Opening Concert is a much anticipated live world première of Martyn Bennett's final masterpiece Grit, originally released in 2003 and widely recognised as a towering landmark in contemporary Scottish music.
The 2015 festival coincides with 10th anniversary of Bennett's passing and the performance will be of an almost entirely studio-created album that has been lovingly reconstructed by violinist and composer Greg Lawson for an orchestra of folk, jazz and classical musicians.
During the concert, an array of fantastic surprise guest singers will be accompanied by well known folk musicians, including James Mackintosh, Ross Ainslie, Ali Hutton, Catriona McKay, David McGuinness, Calum MacCrimmon and Fraser Fifield.
Raising the roof of the Concert Hall
The next 18 days will be a smorgasbord of musical performances. From African diva Angélique Kidjo raising the roof of the Concert Hall with the backing of the Royal Scottish National Orchestra to Hollywood's most sought after composer Craig Armstrong playing well-loved hits from scores he's composed for The Great Gatsby and Moulin Rouge, to the extraordinary Congolese band Konono No.1 who will be making music from salvaged car parts and other junkyard finds.
"We can't wait to showcase the very best of Scotland's traditional music alongside a huge array of eclectic international acts," said Donald Shaw, Artistic Director of Celtic Connection.
"This year we are also recognising some of the great traditional music revolutionaries such as Martyn Bennett and Ewan MacColl and there will also be a number of concerts that celebrate the amazing stories behind the making of hand-made instruments."
A sanctuary from those January blues
Councillor Archie Graham, Chair of Glasgow Life, said: "By the look of this year's programme, Celtic Connections looks set to once again firmly place Glasgow on the world music map.
"Year on year, the festival attracts visitors to our city to enjoy world-class music and offers a sanctuary from those January blues."
---
Celtic Connections 2015
Celtic Connections 2015 runs from January 15 – February 1 and comprises a wealth of concerts, ceilidhs, workshops, free events and late night sessions.
Various venues play host  to events during Celtic Connections 2015, including the Main Auditorium and newly-reopened Strathclyde Suite in the Glasgow Royal Concert Hall, O2 ABC, The Tron, Òran Mór, The Mitchell Theatre, City Halls, St Andrews in the Square, The Arches, The Mackintosh Church, Platform, Tramway, Glasgow Art Club and the Old Fruitmarket
For more information or to book tickets click here or call 0141 353 800.