Saving Lives Across Scotland
---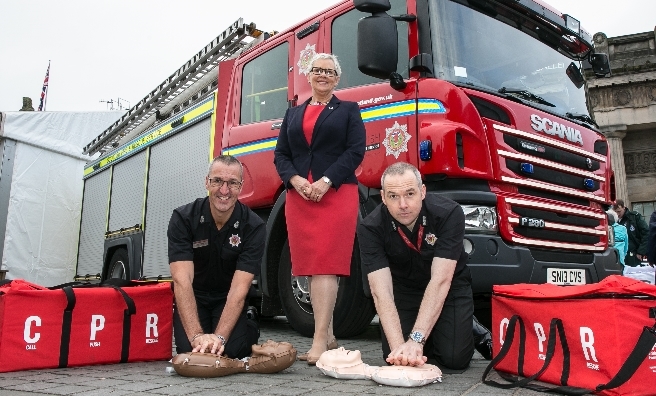 BHF's Catherine Kelly with Dave Boyle, Assistant Chief Officer/Director of Service Delivery, SFRS, and John Miller, station manager at Tollcross fire station
Every Scottish community is to be equipped with life saving skills thanks to a unique partnership between British Heart Foundation (BHF) Scotland and Scottish Fire and Rescue Service (SFRS).
BHF Scotland has placed its Call Push Rescue CPR training kit in each of Scotland's 356 fire stations. It takes just 30 minutes to learn CPR using the Call Push Rescue kit.
Potentially save someone's life
Each station will now act as a base for local people to learn vital cardiopulmonary resuscitation (CPR) skills and potentially save someone's life if they go into cardiac arrest outside of hospital.
From now on, community groups and members of the public will be able to contact their local fire station, both full-time and retained, to arrange a mutually agreeable time to go to a station, watch the DVD and practice with the kit.
According to the Scottish Government, around 3,500 people in Scotland have an attempted resuscitation each year because they have suffered a cardiac arrest outside of hospital, but only 175 people (5%) survive.
Performing immediate CPR can keep oxygen circulating
When someone goes into cardiac arrest, every second counts – and performing immediate CPR can keep oxygen circulating around the body until the arrival of medical professionals or a defibrillator.
"BHF Scotland and the SFRS are passionate about saving lives," said Catherine Kelly, Director of Prevention, Survival and Support at the BHF. "We firmly believe that bringing life saving CPR skills to every Scottish community will mean fewer families will experience the devastation of losing a loved one."
The skills to deliver life-saving assistance
Assistant Chief Officer and Director of Service Delivery for SFRS, Dave Boyle, said: "This training will empower people and give them the skills they need to deliver life-saving assistance to anyone suffering from cardiac arrest.
"We are extremely grateful to the BHF for providing the CPR kits and we hope this initiative will save hundreds of lives in the weeks, months and years to come."
Members of the public learn CPR from Scottish Fire and Rescue Service at the Save a Life for Scotland CPR event in Edinburgh
BHF's Catherine Kelly with Dave Boyle, Assistant Chief Officer/Director of Service Delivery, SFRS, and John Miller, station manager at Tollcross fire station
---
BHF Scotland
Coronary heart disease is Scotland's single biggest killer.
For over 50 year, BHF Scotland has pioneered research that's transformed the lives of people living with heart and circulatory conditions and has been central to the discoveries of vital treatments that are changing the fight against heart disease.
To find out how to support BHF Scotland, click here.
---
Call Push Rescue
Call Push Rescue is part of the BHF's ambition to create a Nation of Lifesavers across the UK, where everyone will have the skills to help save a life when someone goes into cardiac arrest.
To find out more about the Nation of Lifesavers, click here.