Dippy The Diplodocus To Take Up Residence at Kelvingrove
---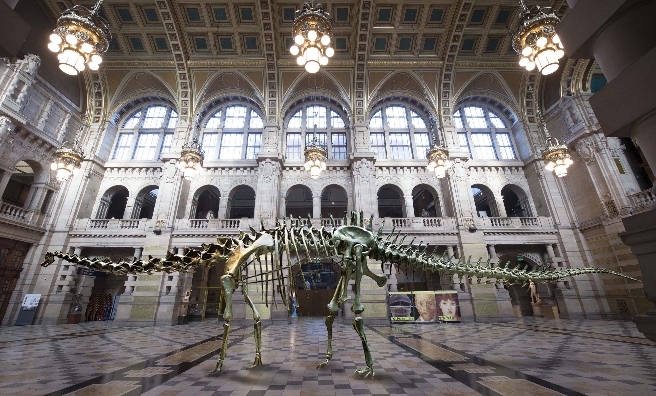 An image of Dippy superimposed into the Centre Hall at Kelvingrove Art Gallery and Museum @Glasgow Museums
Dippy, the Natural History Museum's famous diplodocus is going on tour!
Never before on public display outside of London, from early 2018 to late 2020, Dippy the Diplodocus will travel the length and breadth of the country, stopping off at Kelvingrove Museum for a very special First Foot in January 2019.
The Natural History Museum's 'Dippy on Tour'
"We're absolutely thrilled that Dippy The Diplodocus will be visiting Kelvingrove Museum as part of the Natural History Museum's 'Dippy on Tour'" said Chair of Glasgow Life, Councillor Archie Graham.
"As one of only eight venues selected across the UK, and the only one in Scotland, we're already counting down the months until Dippy makes his grand appearance in our Centre Hall.
"Over 1 million people visit Kelvingrove Museum every year and we are proud that like all Glasgow Museums it remains free to visit.  A great many of these visitors will be excited and delighted to learn the spectacular 111-year-old dinosaur cast is coming to Glasgow and that they will have the opportunity to see the incredible creature up close."
Dippy has delighted visitors since he arrived in London in 1905 and the national tour has been made possible thanks to support from the Garfield Weston Foundation.
'Dippy's spectacular presence'
"Generations of children have been awestruck by Dippy's spectacular presence at the heart of the Natural History Museum," said Philippa Charles, Director of the Garfield Weston Foundation. "We hope he continues to inspire the nation to rediscover nature as he works his way round the UK."
For more information, click here.
An image of Dippy superimposed into the Centre Hall at Kelvingrove Art Gallery and Museum @Glasgow Museums
---
Dippy Stats
The full skeleton of Dippy the Diplodocus in his display pose is an impressive 21.3 metres long, 4.3 metres wide and 4.25 metres high.
Kelvingrove Art Gallery and Museum is located on Argyle Street, Glasgow G3 8AG Tel: 0141 276 9599.  Open Monday to Thursday and Saturday 10am to 5pm and Friday and Sunday 11am to 5pm.