Discover The Lost Tomb Of Robert The Bruce
---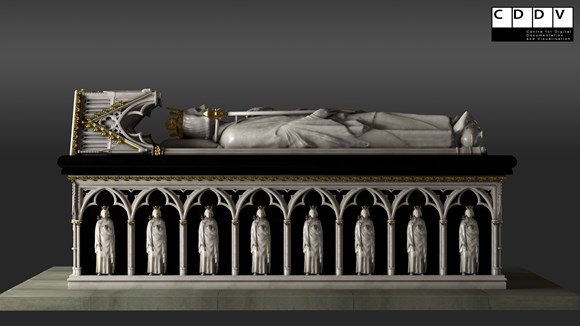 The Lost Tomb of Robert the Bruce. Pic credit: CDDV a partnership between Historic Environment Scotland and the Glasgow School of Art' Tomb.
An amazing 3D reconstruction of the tomb of Robert the Bruce is now on display at Dunfermline Abbey Church!
THE Lost Tomb of Robert the Bruce is a collaborative project between Historic Environment Scotland (HES) and the Centre for Digital Documentation and Visualisation (CDDV). Over the past six years, they've worked together to recreate the tomb from remaining fragments. And Dunfermline Abbey Church now houses the complete reconstruction.
The original tomb fragments, however, are held with National Museums Scotland, Abbotsford House, Hunterian Museum and Dunfermline Museum.
How did they do it?
A 3D laser scanned and printed the tomb's 19 surviving fragments. Then, an advisory board of experts studied the pieces. It's worth noting, their work was largely based on the forms of contemporary French royal tombs. This, therefore, informed the creation of a half-scale 3D digital model.
"I'm delighted," said Dr Iain Fraser, Archives Manager at HES. "This project was among the first of its kind in Scotland to use cutting edge 3D scanning. The public can now see what Robert the Bruce's tomb would've looked like, alongside his final resting place."
Why was it in ruins?
The Reformation of Dunfermline Abbey Church destroyed Bruce's tomb. In 1817, tomb rubble and Bruce's remains were discovered. And by 1818, his excavated skeletal remains were, once again, beneath Dunfermline Abbey Church. A thick layer of molten bitumen now protects and seals the grave.
Reverend Maryann Rennie, Minister at Dunfermline Abbey Church said, "It is exciting for the congregation here to receive the model of the Lost Tomb of Robert the Bruce. It allows those visiting to connect the 19th century brass plaque to the more ancient burial cask of Robert the Bruce.

"We hope those visiting also experience why this site was important to Robert the Bruce and to the many pilgrims who have travelled here looking for a sense of peace and rest."
Interested in more Robert the Bruce trivia? Historian, David Weinzcok, gives us the run down of other historical sites linked with The Outlaw King!