Echoes and Traces Across Scotland
---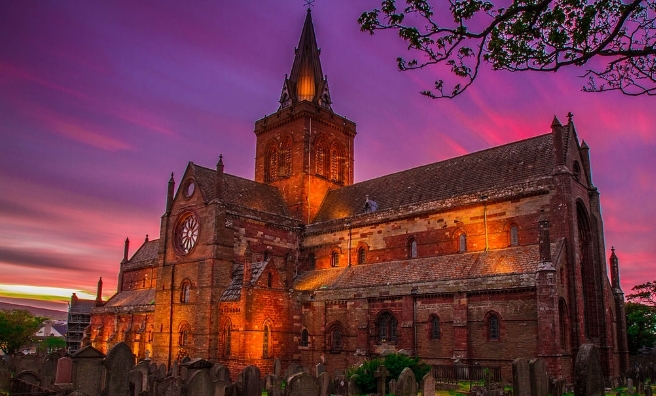 The atmospheric St Magnus Cathedral, Orkney
The world premiere concert tour of Echoes and Traces is about to bring a 900- year-old plain-song fragment from Orkney back to life with eight new choral works by eight inspired Scottish composers.

Echoes and Traces, which is on tour from August 30 until September 8 2016, was developed in response to Nobilis Humilis, which celebrates St Magnus – and, fittingly, St Magnus Cathedral in Kirkwall will be one of the concert tour's venues.
Scotland's most stunning historic venues and sites
The tour will feature world-renowned choral group Cappella Nova performing seven concerts in, thanks to the support of Historic Environment Scotland, some of Scotland's most stunning historic venues and sites. Echoes and Traces will be performed at Dunfermline Abbey, Stirling Castle, Glasgow Cathedral, Duff House and Iona Abbey, as well as Greyfriar's Kirk in Edinburgh and St Magnus Cathedral, Orkney.
To best represent the wealth of compositional talent currently in Scotland, the commissioned composers includes those working within contemporary classical, folk, electronica and world-music genres – Sally Beamish, Rory Boyle, Stuart MacRae, Savourna Stevenson, Aidan O'Rourke, Ailie Robertson, Matthew Whiteside and Hanna Tuulikki.     
Scotland's brightest and best composers 
"We are so privileged to live in a country with an enormous wealth of music, both past and present," said Ailie Robertson, Artistic Director of Echoes and Traces and one of Scotland's leading young composers.
"We are thrilled to bring Scotland's brightest and best composers to the fore with this project, and to bring innovative new choral music to the length and breadth of the country."
To find out more, click here.
---
Concert Dates
31 Aug: Dunfermline Abbey (Nave) – 19:30
1 Sept:Stirling Castle –20:00
2 Sept: Glasgow Cathedral – 19:30
4 Sept: Duff House –13:00
5 Sept: St Magnus Cathedral – 19:30
7 Sept: Iona Abbey – 15:00
8 Sept: Greyfriar's Kirk, Edinburgh – 19:30
Tickets range from £10-£15, with a 10% discount for Historic Scotland members. Tickets are available to buy on the door at every concert.
For more information, and to book tickets, click here.