Edinburgh Festivals 2016
---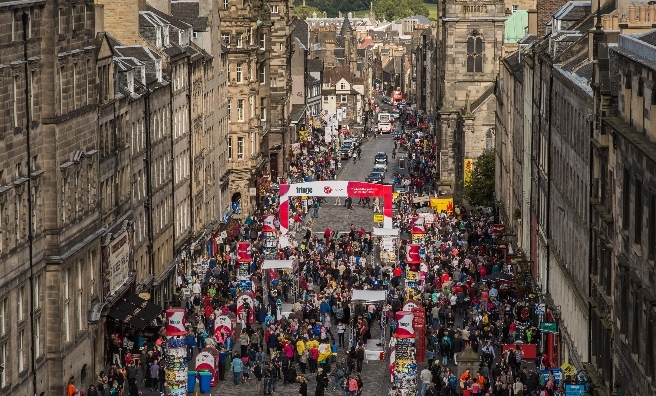 The Royal Mile's the place to be during the Edinburgh Festivals
Back in the office after a week exploring the best of the Edinburgh Festivals, where we had some fabulous experiences – and made some elementary mistakes.
If you're planning a visit this August, follow our top tips to beat the crowds, discover some hidden gems and pick up a bargain or two.
BB-See
The new BBC at the Edinburgh Festivals home at George Heriot's School on Lauriston Place is a great place to hang out. Although most of the online ballots for live and recorded TV and radio shows are closed, they release more tickets at the base at 11am every morning and then you can often pick up standby tickets just before the show itself (all free). There are children's activities from 11am till 9pm plus open-air bands and shows.
PS: This is one of the best places in town to view the Tattoo fireworks – just after 10.30 Monday to Friday.
For more information, click here.
Lose yourself…
…In the entertainment but not the labyrinthine Edinburgh streets! Don't be like your Scots Magazine correspondent who found herself at the C-Venue in Chambers Street when she should have been at the C-Venue in Stockbridge – a 45-minute walk away even when the pavements aren't packed with bemused visitors. Collect maps, check tickets, double-check tickets – go!
Bargains galore
With thousands of performances across the city, this is a buyers' market so discounted tickets are pretty easy to find.
The Half Price Hut outside the Art Galleries on the Mound offers great deals for Edinburgh Fringe shows to see the same day. Best availability is generally on a Monday or Tuesday when you can choose from a wide variety of music, theatre, circus and even top name funny people off the telly. Buy in person or download the fabulous official Fringe app to your phone so you can purchase tickets on the move and pick them up at one of the many collection points throughout the city.
Escape the crowds
Fed up queuing for your dinner or even a quick coffee? In need of a little break after the 20th person in one day has stood on your foot or poked you with an umbrella? Hop on a No 16 bus and 15-minutes will see you at The Shore in Leith or Newhaven Harbour for a more relaxed break in picturesque surroundings. You'll be spoilt for choice with cafes, bars, restaurants and even a market on Saturday morning.
Talking of buses…
Yes, the trams get all the headlines but Lothian Buses are the real wonder of Edinburgh transport.
Download the Transport for Edinburgh app for your smartphone to plot your way around the city. Any single journey costs £1.60 (you must have the right money – they don't give change) or you can buy a day ticket for £4 that gives unlimited trips. Night buses after midnight cost £3 but are much less frequent so a taxi might be a better option if you've been to a late show.
Book bonus
Unbound is the Book Festival's late night gem. Drop in to the Charlotte Square Gardens Spiegeltent between 9 and 11pm for music from the like of the Hazey Janes and Roddy Woomble, poetry from Scotland and around the world, comic capers and more. It's all free!
There's always gin
At festival time, you can take your pick from gin terraces, gardens, stages and more from Summerhall to Lothian Road to St Andrew Square.
We popped in to the newest one, Caorunn Artists' Garden in the grounds of the RBS building next to Harvey Nicholls on St Andrew Street. Don't be distracted by the friendly folk selling G&T outside, though. Head inside and sign up for the spoken word event. That way, for the price of your gin, you can discover the history of this beautiful old building and hear some very moving performances, too. The headline price is £7 but even on a Saturday evening we found they were offering half price entry (including a drink) for £3.50.
For more information about Edinburgh Festivals, click here.