Elixir: On the Road
---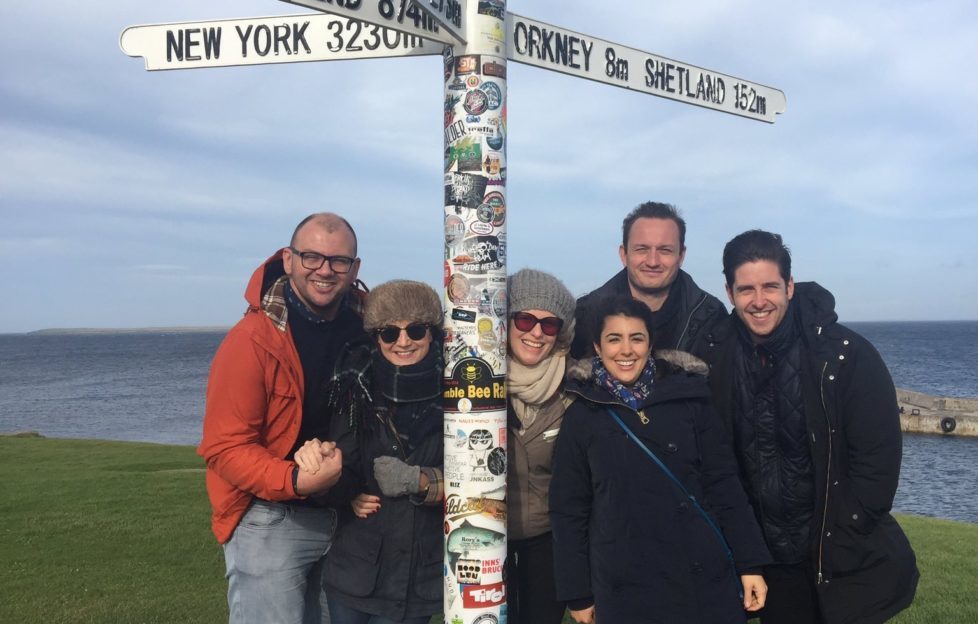 Elgan Llyr Thomas gives us an insight into what Scottish Opera's cast and crew of Elixir get up to in their spare time.
Phew! Well, so far we have visited:
Elgin – Elgin Cathedral
Ullapool – Meall Mor
Stornoway – Callanish Standing Stones
Thurso – Dunnet Head and John O'Groats
Having not travelled further north than Edinburgh prior to this tour, I was very excited to see the Highlands and I have not been disappointed.
Five shows later and many miles covered, we're nearing the half way point of our tour of The Elixir of Love with Scottish Opera.
I've toured with smaller companies in the past, but nothing comes close to this. I've been struck by one thing in particular that touring brings to a production: how important it is to have a happy and positive atmosphere between cast, crew and creative staff.
That's certainly what we have with The Elixir of Love.
Elgan or Elgin?
After commuting to the first two venues, Motherwell and Stirling, we hopped aboard the tour bus and waved goodbye to Glasgow for two weeks in the Highlands. Our first stop was Elgin. I know what you're thinking – Elgin and Elgan are very similar…
When I meet new people, I spend at least twenty seconds having to clear up the confusion. There are some people that never fully understood and to this day call me Elgin. This has led to a strange affection for the place.
We headed straight to The Drouthy Cobbler for a lovely meal and some drinks. After a good night's sleep, a few of us went out for a stroll and we came across the beautiful ruins of Elgin Cathedral.
I would've loved to have seen it in all its glory in 1224, but nevertheless, it is an impressive feature of the town. Following the fun and frolics of show three in Elgin Town Hall, we set off for Ullapool.
The Long and Winding Roads
The bus journey to Ullapool was long and winding, very winding (perhaps you'd like to play The Beatles' song 'The Long and Winding Road' for a little reading ambience). Whilst trying to tackle travel sickness I did manage to glance out of the bus windows a couple of times.
We were immersed in the sheer beauty of the highlands; rolling hills, high peaks and lochs were all we could see. It was simply stunning. As beautiful as the scenery was, the few of us who had green faces were very happy to see the welcome sign for Ullapool.
Although we didn't get the best weather in Ullapool, it wasn't difficult to see the beauty of it and the surrounding area. The next morning, after a hearty breakfast, a large group of us made for the hills, kitted in our hiking boots and waterproofs.
Following our trusty guide, Ellie Laugharne (singing the role of Adina in Elixir), we made our way to the peak of Meall Mor. It was a fairly short but steep walk that provided us with panoramic views over Ullapool, Loch Broom and Loch Achall.
It was very wet and cold, but that didn't stop us from having a great time and stopping to take numerous photos.
After returning to Ullapool we had one thing on our minds: food. Most of the group went for the chowder but I had a deep hankering for mussels – delicious.
We ended the day with a friendly card game in the hotel bar. After the long walk, an early night was definitely needed so we could put on the best show possible for the Ullapoolians the following evening.
The ferry ride over to Stornoway (another green faced journey) provided more spectacular views. On the return journey, we even spotted some seals, dolphins and what we optimistically decided was a Minke Whale!
We visited Callanish Standing Stones, which was a great opportunity to get out of the town and really take in some of the scenery on the Isle of Lewis.
After another great show, we decided we had time to venture along the coast for a wee walk. Some gorgeous views were to be had, some that looked like we were on the med!
It would have been great to have had more time on Lewis but the tour schedule is tight and Thurso was calling.
We are now in Thurso and I'm about to start warming up for tonight's performance. This morning we took the opportunity to visit tourist favourites Dunnet Head and John O'Groats. The views of the cliffside coast and of the nearby island of Stroma were fabulous.
And the prize goes to…
It's difficult to choose a favourite location as they have all been so much fun and so diverse in what they offer, but I think Ullapool wins for that stunning walk up Meall Mor (and of course the mussels!).
This may all change as we still have eleven performances after Thurso and many more towns to visit.
---
Book Tickets!
Catch Scottish Opera's Elixir on tour now!
To book tickets click here.