Famous Footsteps in Perthshire
---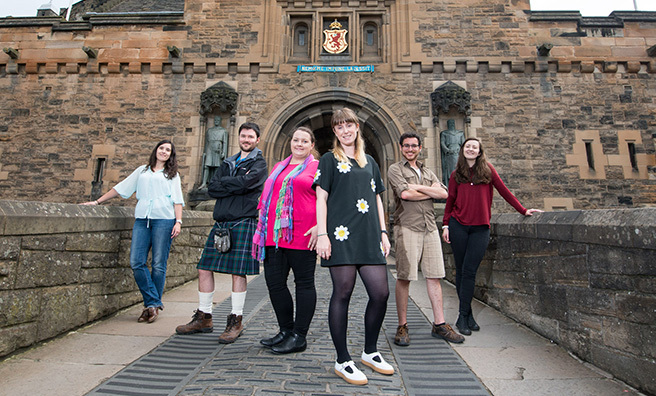 Nicola from the Scotlanders discovers walks for every ability in Perthshire – an area that has inspired some of our greatest writers
Walking in Scotland at any time of the year can be spectacular if you
find the right spot.
Autumn brings crunchy leaves underfoot and a palette of oranges and brown. Summer brings an array of colourful flowers and luscious greenery. Winter caps the surrounding mountains with a layer of white.
Each season changes the landscape dramatically and now spring has arrived the fields, forests, villages and hills are shaking off their winter coats and stepping into the sun with blinking eyes. Spring flowers such as daffodils, tulips and bluebells are tentatively emerging and grand houses and castles are opening their doors.
In Big Tree Country
Perthshire is easily one of my favourite areas of Scotland simply because of its sheer beauty. There are over 2000 square miles of pretty villages, lush green fields, forests, waterfalls, rivers, castles and forts.
Having spent some time in the area over the last few weeks I've discovered some fantastic walks and hikes, and what better time of the year to get out and stretch those winter-weary legs. Ranging from a little stroll through a forest canopy of birch, oak and ash trees to a strenuous hike up a Munro for panoramic views of "Big Tree Country" Perthshire is perfect for venturing outdoors and exploring not only Scotland's awe-inspiring countryside but also areas made famous throughout history by characters, both real and fictional, such as Robert Burns, Macbeth and Bonnie Prince Charlie.
"The fairest portion of the Northern Kingdom"
–Sir Walter Scott
For a gentle stroll…
Kinnoull Hill Woodland Park (3/4 – 2 1/2 miles)
A picturesque walk though this park offers panoramic views over Scotland's newest city of Perth, across to Ben Ledi in the west and the Carse of Gowrie in the east. A short loop (3/4 mile) takes you through an avenue of beech and pine and is a gentle relaxed walk. For those wanting to push themselves further a more strenuous 2 1/2 mile walk involves some steep slopes but is worth it for the views. In the park you can find a part of the coronation road, which the Scottish Kings used after being crowned at Scone Palace to travel to Falkland Palace in Fife.
Birnam Path (3 miles)
This walk heads along the banks of the River Tay, over Dunkeld Bridge and through the village itself. An easy, relatively flat stroll it's best known for the famous Birnam Oak. Thought to be the last surviving tree from the Birnam Wood named in Shakespeare's Macbeth, It's said Macbeth was told, as he was crowned at Scone Palace, that he would remain King until Birnam Wood reached Dunsinane Hill.
Macbeth shall never vanquish'd be until
Great Birnam Wood to high Dunsinane Hill
Shall come against him
A little further on is a cream coloured house called Eastwood where a letter penned in 1893 later became A Tale of Beatrix Potter! The tales of Jeremy Fisher and Mrs Tiggy Winkle are also thought to have been written here, with the author basing their characters on the people she encountered in the area.
For a little more effort…
Birks of Aberfeldy (2 1/2 miles)
This walk begins and ends in the upper part of Birks car park. Although short, the first half, as you make your way to the top of the falls, is steep and rough underfoot. It's manageable though and extremely popular with dog walkers and families. Once you reach the falls you can see for miles from the footbridge and the second mile is all downhill.
Robert Burns is said to have sat here on a seat made naturally from the rock (look out for the sign after the smaller waterfall) It is this atmospheric spot, with the thundering noise of the falling water and the tall trees surrounding you like a cosy blanket, keeping you in what seems like a world of your own, that he penned one of his most famous songs, The Birks of Aberfeldy:
Now simmer blinks on flowery braes,
And o'er the crystal streamlets plays;
Come let us spend the lightsome days,
In the Birks of Aberfeldy.

The Falls of Bruar (1 1/2 miles)
It seems Rabbie Burns was a fan of steep climbs and waterfalls as this walk is another short but steep affair. He visited in 1787 and after seeing the bare surroundings he petitioned the 4th Duke of Atholl to plant trees.
The Humble Petition of Briar Water
 Would then my noble master please
To grant my highest wished,
He'll shade my banks wi' tow'ring trees,
And bonie spreading bushes.
Delighted doubly then, my lord,
You'll wander on my banks,
And listen mony a grateful bird
Return you tuneful thanks.
From behind the House of Bruar take the path to the left and make your way under the railway and up the steep climb, taking in the stunning views from the stone bridges and picnic area. It's possible to continue further, too, if you're feeling up to it – the path continues through the forest up to the high bridge.
Famous trails to properly stretch the legs…
The Cateran Trail (64 miles)
In the heart of Perthshire this trail lets long distance walkers experience many different aspects of the Scottish landscape, including areas relatively unexplored, while walking in footsteps of the caterans.
The caterans were feared cattle thieves who made their living in lawless regions of the Highlands until the 17th century, particularly favouring the land in Glenshee and Glen Isla where they would sneak into the cattle sheds and fields in the dark of night and steal the cattle before the owners awoke.
This circular route can be started anywhere along the route but most walkers begin in Blairgowrie. Well way marked with red hearts and never far from the nearest village this trail takes you through forests, moors and farmlands.
Rob Roy Way (77/94 miles)
Beginning in Drymen on the West Highland Way, past Aberfoyle, Callander, Killin and Aberfeldy to the burgh of Pitlochry, this walk can be completed in 7 days.
You can get some exercise while walking in the steps of Scotland's most notorious outlaw, Rob Roy MacGregor. See the lands where he lived, fought and travelled. See Ben Lawers and Ben Ledi as well as pass the beautiful Lochs of Venachar, Lubnaig and Tay.
"Where is the coward that would not dare,
to fight for such a land as Scotland?"
Sir Walter Scott
Next up from the Scotlanders is Kay Gillespie, who'll be writing for us on April 6. Catch all of their travel logs for us on Scotlanders' Corner here.
---
Nicola online…
Subscribe to my blog to follow my journey around more of Scotland's trials. Complete the wee form in the right hand column at
www.funkyellastravel.com to subscribe – and be in with a chance of winning a stunning Fraser tartan tote bag from Dunmore Scotland!
You can also follow me for up-to-date adventures, on Twitter, Facebook and Instagram.