Our February Issue 2015
---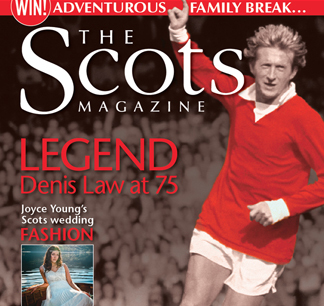 On sale now!
Our latest issue is in the shops now and features living legend Denis Law. Don't miss it!
We meet motorcycle racer John McPhee as he aims to take his career into the fast lane.
 This month we focus on The Cairngorms with a visit to Ruthven Barracks, the Highland Wildlife Park, Glenmore Lodge and the funicular railway.
 We speak to Manchester United and Scotttish legend, Denis Law, who is 75 years young this month.
 "It's gey foostie." We explore – and translate – some classic Scots sayings.
 Wildcat versus lynx – save from extinction or reintroduce? Jim Crumley gives his opinion.
 We reveal the winner of our Photographer of the Year 2015 competition.
 We visit Gleneagles and meet golf professional Fraser Dunlop, who shares his insider knowledge of the courses.
 Polly Pullar takes the plunge at Deep Sea World and swims with the sharks!
 Cameron McNeish returns to one of his first Munros, Stob Ghabhar, while Nick Drainey enjoys Ben Chonzie, the Munro at the head of Glen Turret.
 John McKendrick gets on his bike to enjoy riding the Rhins of Galloway.
 Editor, Robert Wight, tries out the world's biggest indoor ice-climbing arena.
 Broadcaster Sally Magnusson talks about her late mother's illness and why it changed everything.
 Scots Mag chef, Carina Contini shares a lovely recipe for Haddock & Leek Fishcakes.
 Whisky expert Euan Duguid savours the Dalmore experience – and finds out more about the Scottish gin phenomenon.