Further Funding For Hinterland
---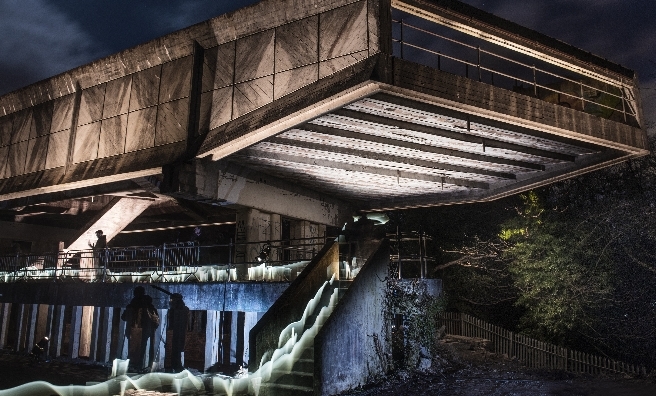 Special lighting gave the deserted and desolate building new life. Photo by Alaisdair Smith
Following the success of NVA's Hinterland, the large scale light and music night-time event held at the St Peter's Seminary near Helensburgh from March 18-27, final funding has now been secured to restore the abandoned modernist masterpiece.
With significant public partnerships and goodwill already in place, together with private and trust funding pledges in the region of £2.5 million, on March 22, 2016, Stage 2 Lottery bid to Heritage Lottery Fund for £3.8 million and Creative Scotland capital funding of £400,000 was granted to NVA to transform St Peter's Seminary and its surrounding landscape into Hinterland.
An international platform for public art
NVA's vision is to rescue, restore and reclaim this outstanding example of 20th century architecture and bring it back into productive use as an international platform for public art and multi-purpose arts and heritage venue.
"After the overwhelming response to Hinterland, our first major animation of the site and the new name for Kilmahew/St Peter's, we have real hope that our vision for progressive, socially-focussed art will connect strongly with people," said Angus Farquhar, Creative Director of NVA. "Together, we will forge a new place for public art and its significance in the world."
A 600-capacity, fully enclosed and heated venue
The scheme will renovate the upper and lower ground spaces of the main Seminary building. The former chapel / sanctuary will be restored to create a 600-capacity venue for performance, public art events and external hires. This space will be fully enclosed and heated, and will incorporate a full recreation of the pyramidal 'ziggurat' rooflight over the altar, including the reinstatement of the original beams.
The rest of the upper ground floor – the former refectory – will be re-roofed but will remain open around the majority of its perimeter, creating a space for more informal events and performances, which will blend and blur the semi-enclosed 'inside' with the surrounding landscape.
The lower ground floor will contain the staff and performer ancillary spaces such as office accommodation, performer prep/dressing rooms, storage and technical spaces.  The former sacristy and crypt on the lower ground floor will be focal points for exhibitions.
'St Peter's will have new life breathed into it'
"At last, St Peter's will have new life breathed into it after all these years of lying derelict," said Tahira Nasim, Director of Kilmahew / St Peter's Limited and local Cardross resident. "This combination of retaining the links to the past yet adding a modern touch is true to the character of the building and a wonderfully exciting time in its development."
To find out more about Hinterland and the work underway at St Peter's Seminary near Cardross, click here.
---
Hinterland – Review
To highlight the possibilities the restored and re-imagined St Peter's Seminary will provide, Hinterland's inaugural event launched the Festival of Architecture 2016 and was a key highlight of Scotland's Year of Innovation, Architecture and Design.
After previewing Hinterland in the March issue of The Scots Magazine, I was keen to see the building in all its modernist glory – and it didn't let me down.
Hinterland's audiences were taken to the secluded woodland site in a convoy of buses and we arrived just as dusk was falling. The sound of dista, where a team of helpful volunteers showed us the way up the stairs and into the Seminary, with its walls covered in graffitti – some more artistic than others.
But we were soon distracted by lights dancing off the walls, an incense burner whirling over a large lake before the altar and mysterious figures re-enacting rituals. By now, the specially-commissioned music was all around, providing a further reminder of the building's original purpose – a place of worship, contemplation and learning.
This awesome, if slightly un-nerving, event provided a fabulous begining to the Seminary's new purpose – a national platform for progressive public art.