Highland Chocolatier – Chocolate Tasting Flights
---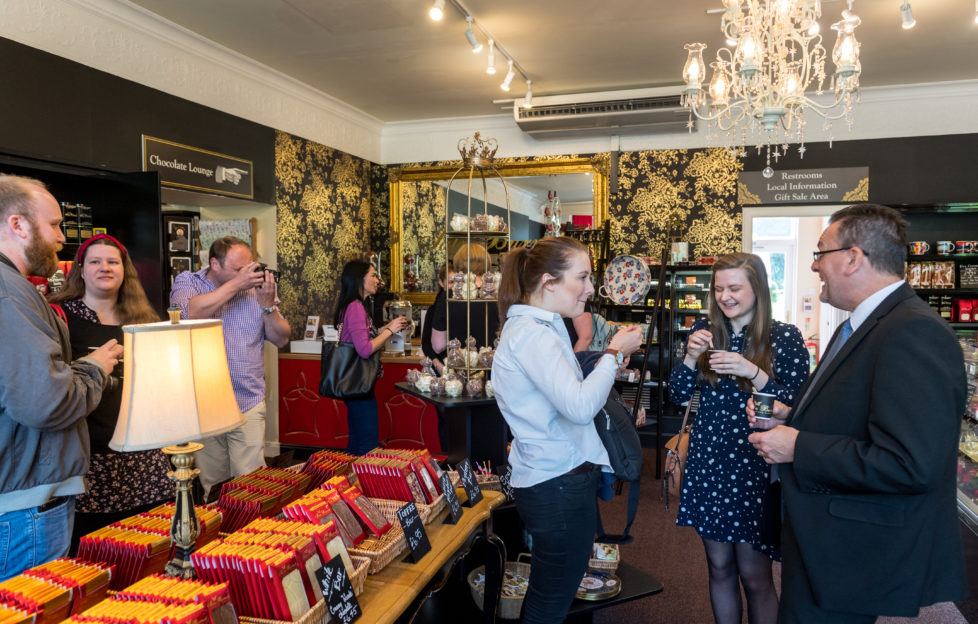 Iain Burnett, The Highland Chocolatier, offical launch of the Chocolate Tasting Flight at the business premises in Grandtully, Perthshire, Scotland. 29th May 2019 Photography by Fergus Burnett Accreditation required with all use - 'fergusburnett.com'
Chocolate for breakfast, lunch and to go! We had a brilliant day at the launch of Chocolate Tasting Flights, a next level sugar-high
BETWEEN the rolling hills of Aberfeldy and the woodlands of Pitlochry, nestled in the small hamlet of Grantully, sits one of the best chocolate houses in the world.
Having received over 40 awards, including twice the 'Best Truffle in the World', Iain Burnett Highland Chocolatier's Chocolate Lounge is truly one of a kind.
And now, Master Chocolatier, Iain Burnett, has developed a unique new range of interactive, audio-guided tastings as an introduction to his award-winning range of handmade chocolate truffles. This experience is the first of its kind in the UK, and, this week, The Scots Magazine got on board a tasty test flight.
We must say, we were not disappointed.
It was a mouthful of flavourful surprise and delicious insight into the craft of artisan truffles. They may look small and simple, but within each soft bite are layers of fruit and spice to tingle your taste-buds. Bursting with complexity and delicately balanced ingredients, Iain Burnett's chocolates are a real experience. Throughout the 'flight', Iain takes you on a journey of discovery as he talks you through his chocolate-making process, and the reason behind each and every injection of flavour.
Behind The Chocolate
"It's all about sharing and showing more people what goes into chocolate-making. It's not just 'ooo some yummy chocolates', we want to show you why we made this," says Iain. "And it's a very interesting way to get feedback. Everyone essentially tastes the same thing, they just use their own language to describe it. Some will say I'm getting lemongrass and lime, while others say it tastes lemony. I taste passion fruit and mango, or it's fruity."
Thanks to his background in Product Engineering and his time spent training in Japan, the only mould Iain ensures his chocolate fits into is science. With a keen eye for detail and a bank of patience and resilience, Iain possesses the qualities vital to the creation of fresh, natural artisan chocolate.
"The way I work with chocolate would drive some people mad." He laughs.
"A lot of chefs would hate to spend hours and hours on something so small and finite. Whereas my character fits very well as I enjoy the micro science behind it. It's enjoyable, but it's challenging.
"I find truffles the most interesting. Making a fantastic ganache is very awkward and very difficult. To make a really fresh, natural ganache is even harder without understanding the science behind it. That's why not a lot of people make them up here without injecting additives and preservatives like sorbitol and glucose.
"Spending three years making a particular recipe is okay with me. I'd rather take the time to create a recipe and process that will produce 100 perfect chocolates – we probably lose about three or four a batch, really – than produce a bulk of okay chocolate that includes just a few great pieces."
Scottish Ingredients
In fact, using all natural ingredients results in a very unique product. One which is well-sought after by Michellan Star Chefs.
And Iain even manages to use local produce: "The main Scottish ingredient we use is cream. Fresh dairy cream. Apiaries are really good up and down this valley as well, so I use local honey when I can. I have used local fruit, too. But I don't use local produce because I'm trying to be Scottish. I use it ingredient because it's the the best. Yeah, it comes from Scotland and I'm really glad about that. But it's actually the flavour that counts, and the flavours here are fantastic."
Iain's shop in Grantully is a small, family-run business with staff either of relation or from surrounding villages. Founded in 2005, the shop has gone from strength to strength in 14 years.
At Highland Chocolatier you get a real sense of community and passion. And with a reception as warm and colourful as each and every truffle filling, you leave the Chocolate Lounge feeling both full and fully satisfied.
If you're ever passing through Aberfeldy or Pitlochry, visiting this chocolate wonderland is well worth the detour.
For more information and to watch the master at work, check out the video below.