Island Life
---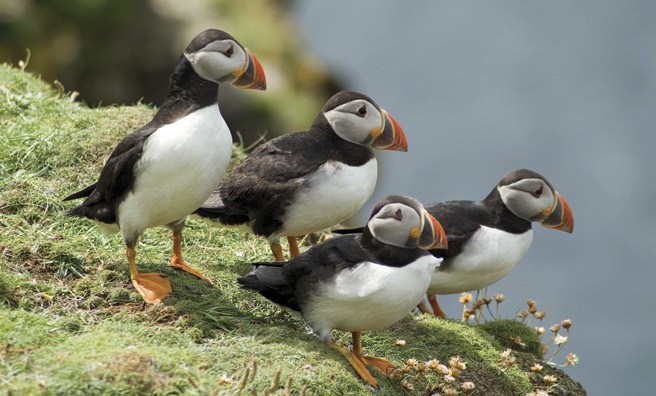 A puffin colony on a grassy clifftop
A questing heron stalks the furthest edge of wrack-strewn rocks, working the falling tide on a Skye shore.
Two otters clamber onto a scrap of a skerry near Ord, just above the highest thrust of a rising tide; one shakes itself and a splintered halo of pale gold is ignited by low sunlight.
A puffin homes in on Lunga in the Treshnish Isles, lands six feet from me beside its burrow on a grassy, buttercup-spangled clifftop. A herring gull drifts towards the summit of Dun I, lands beside me and pleads for a share of my lunch while a sea of Iona blue envelops the Treshnish Isles over its shoulder.
The Treshnish Isles themselves crop up in different configurations every mile of the tortuous road up the west coast of Mull, from Iona to the summit of Cruachan Treshnish.
A cloud like an eagle with wings held high lingers across the lowering sun for an evening hour, exploring all the shades of gold above a flat sea streaked in pastel shades.
Such is the nature of islands as the wild year advances towards the high water mark of midsummer's day. None of Scotland's moods is more seductive than this.
I sometimes think I would have made a good islander
I get on well with islands. I sometimes think I would have made a good islander. I like the self-containment. I like working within nature's confines. And islands have been good to me. I have travelled more or less addictively among Scotland's islands: walked stripped to the waist across Hermaness on Unst en route to Muckle Flugga one breathless day in April; camped for two weeks on St Kilda wrestling with the enormity of my first book; swam in the sea on Mingulay (and saw my first sea eagle there); fell asleep to the lullaby of two red-throated divers on Raasay; had a Guinness under a palm tree on Gigha; diced with the Witch's Step on Arran; tracked corncrakes on Iona and been kept awake for four nights by them on Pabbay…
And then there is Skye. Skye and I have known each other for more than forty years, which means I have been there well over a hundred times, which suggests to me that there is nowhere else I would rather spend time in nature's company.
Mull is at the end of the highway that runs through my life
Except perhaps Mull. Mull is at the end of the highway that runs through my life, a line of latitude that crosses Scotland from Dundee where my life began. I have reached out to Mull more often in recent years, and of course, from its north-facing headlands there is the distant, unmistakable profile of that masterpiece of the Hebrides – the Skye Cuillin. The two islands are like homes from home. Both offer myriad possibilities and occasional glimpses of the Promised Land.
Between the two, the alluring clutch of the Small Isles hatches out its array of moody magic. It accommodated the cradle of the sea eagle reintroduction project on Rum, whose consequences are readily witnessed on Mull and Skye, and invigorated all nature there.
Wildlife is more relaxed on islands
I find it easier to get close to wildlife in the islands, and I am satisfied that most wildlife is more relaxed on islands than on the mainland. The same is true of myself.
Rummaging through the decades of wildlife encounters on Skye and Mull and their satellite islands, I searched for epitomes, moments that symbolised Skye and Mull in my mind, moments to which I return again and again. Almost twenty years ago I wrote a little book called The Heart of Skye that attempted to articulate my relationship with the place. Its companion volume, The Heart of Mull, appeared two years later. Both are long out of print, yet I still have a soft spot for them. Among the moments those books encapsulated were the following (much paraphrased and edited from the original):
Loch Suardal, near Dunvegan, Skye: I was watching twenty whooper swans aligned in singled file on a narrow spit of land, all of them curled up and dozing apart from one sentry bird which kept an eye on the car where I sat, about fifty feet above them. It was a moment of quite sublime island tranquillity. Then all hell broke loose.
First a solitary widgeon whistled, a shrill ricochet like the second part of a wolf whistle. It had been still, and suddenly it was swimming flat out. Then it flew, and the reed beds fired salvoes of more widgeon, mallard, goldeneye and teal into the chaotic air. A heron came charging down the burn that empties in the loch, apparently in pursuit of the first widgeon, and it screamed as it flew.
In English, it means "what the…?"
By now, every swan neck was high, a straight line of twenty swivelling heads. The heron changed direction, and headed for the swans, lunged at the first one causing it to duck in self-defence. One by one, it lunged at every swan in the row, with identical results. As the heron passed, each collapsed swan neck straightened again and each head uttered an astonished "woop?" In English, it means "what the…?"
Between first swan and last, the heron rasped three oaths, then flew on through the chaos of circling ducks. I was still trying to make sense of all this when I saw, above the wood on the loch's far shore, the huge ebony shape of a cruising sea eagle. So my theory goes like this:
The heron had been fishing upstream, may even have caught a fish that it was having some trouble with on the bank. The eagle took a pot-shot at it, and being the victim of a sea eagle pot-shot is a moment for a heron to reckon with. It fled downstream where its highest of dudgeon met the widgeon (I missed a poem there, didn't I?), which fled downstream ahead of the heron, and being faster than the heron offered no outlet for its fury, whereas the coconut shy of swans' heads did just that. I can only assume it aimed to miss them all.
Traigh na Cille, Kilninian, Mull: I had been wandering the shore half the morning. I stood on a raised bank and stared at the movements of weed and water, willing one of them to be an otter. None had surfaced. This one also proved not to be an otter. It was two otters, swimming nose to tail so they cut a single furrow. They were heading my way. I was about to descend from the bank so that my silhouette would not be against the sky when the lead otter stopped in the shallows, stood on its hind legs and said "Haah!" – that hoarse, back-of-the-throat monosyllable symptomatic of otter curiosity. It should be written "Haah?"
Then the second otter stood and they pronounced their curiosity in unison:
"Haah?" only twice as loud. Then the second otter back-flipped and rolled away into the wrack where it was instantly invisible. But the first otter still stood, still "Haah?"-ing at me every few seconds while I stood and tried to mimic the sound and offer it back. This technique occasionally works with otters, their stoat and weasel cousins, whooper swans and tawny owls, and if it does they usually come closer until they realise they're being had, or I realise that I am.
The second otter was back, swimming all around what I now judged to be the female, trying to lure her away from her flirtatious interest in the shoreline intruder which, for all its otter noises, was plainly no otter. He rolled in the water, she turned on him in a leathery swirl, but at once she resurfaced and stood up again on her hind legs, challenging me with her monosyllables, and I, not wanting the thing to end, spoke back.
Again and again she coiled back into the water, cavorted through whirlpools of her own making in response to the dog otter's persistence. In the flowing of the otters and the sucking and surging of the water and the waving of the wrack, nature contrived mesmerism from turmoil, a mobile jigsaw puzzle in which all the pieces moved all the time but none was ever out of place, the puzzle never incomplete. I love this kind of interaction with nature, but when it happens at all I insist that it happens on nature's terms. I have never been one for luring animals into a position where they will "perform". Many people – fine people as well as fine naturalists, photographers, writers – have achieved spectacular results with lures of one kind or another, but it's not my way.
I played my part, calling back time and time again
The otter had made the choice here, not me. I saw her squirm along a ledge and vanish behind a rock, her tail the last of her to vanish. Seconds later, her head appeared where her tail had vanished, and she said "Haah?" again. She reversed out of sight. Then she inched forward into view and said "Haah?" again. This was now an otter game. So I played my part, calling back time and time again, until the inevitable happened and she got bored.
She leaped from the rock, a thing I had never seen an otter do before, and I still have the image of her in my mind now, frozen in mid-air, her four legs spread wide, her tail straight, her jaws wide open. In that attitude she hit the water, and two otters rolled away from the enormous splash.
My nature writer's year insists on two or three islands at least. Orkney and Skye (twice) in 2013, Skye and Mull and Lismore last year. Such is the nature of islands.
---
Nature facts
Skye has around 30 pairs of golden eagles and 16 pairs of white-tailed sea eagles
Mull is home to the elusive Eurasian otter