Jackie The Musical – On Tour
---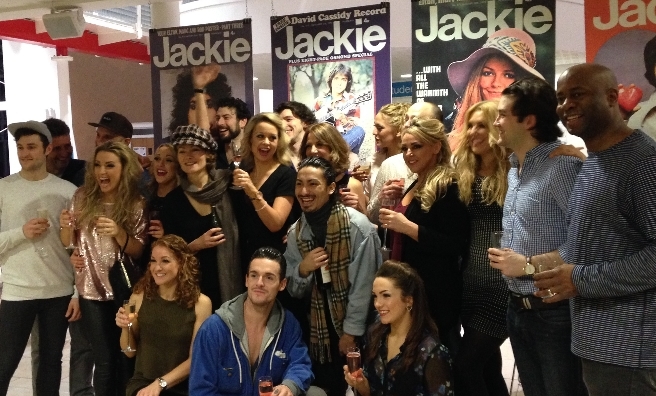 A few of the members of the cast of Jackie The Musical, including Janet Dibly (Jackie) and Nicholas Bailey (Max)
Look out your platforms, girls – Jackie The Musical is going on a UK tour, with Scottish performances in Dundee, Inverness, Perth, Edinburgh, Aberdeen and The King's Theatre in Glasgow
I was lucky enough to be invited to the opening night of Jackie The Musical at the Gardyne Theatre in Dundee – and I'd happily go again tonight and tomorrow night if there were any tickets left (the Dundee shows are almost entirely sold out).
Everything about this show is utterly fabulous – music, dancing, cast, plot, costumes…! And if you're a Jackie Girl (as 95% of the audience most certainly were), you'll instantly be transported back to the days when you were 15 and Jackie provided the answer to make-up dilemmas, what-to-wear, how to kiss and even just why it was so important that your boyfriend's nose was just the right shape!
At the musical we laughed, sang along, had a wee greet for lost loves (even those who a Facebook search proves were always destined to be lost) and had a boogie!
This feel-good musical is definitely not to be missed!
In a nutshell…
Written by Mike James, with choreography by Arlene Phillips and directed by Anna Linstrum, Jackie The Musical revisits those heady days before mobile phones, apps, texts, e-mails and twitter – but we did have David Essex, The Osmonds, Marc Bolan and David Cassidy!
Those were the days when we waited with bated breath by the letterbox for our weekly issue of Jackie magazine…unless our big sisters (or, as happened in my house, little brother!) got there first!
Supported by Jackie (and Scots Magazine) publishers DC Thomson, Jackie The Musical tells the story of a fifty-something divorcée who revisits her stash of well-thumbed Jackie magazines for the same reason she first read them nearly forty years ago – advice on the opposite sex.
The dizzy world of the ultimate teen bible
The quizzes, the fashion tips, the 'do's and don'ts on a first date' and above all the Cathy and Claire problem pages are all devoured eagerly by our plucky heroine as she revisits the dizzy world of the ultimate teen bible.
With her ex and a handsome new guy both on the scene, the valuable lessons she learnt as a girl begin to influence her future and Jackie discovers there's only one person in control of her life… Her.
Janet Dibley, who co-starred with Nicholas Lyndhurst in ITV's The Two of Us, plays 'Jackie'. Nicholas Bailey, best known as 'Anthony Trueman' in EastEnders,is Max (dishy new man) and Graham Bickley, AKA 'Joey Boswell' in Bread, is Jackie's ex.
A whirlwind tour of Planet Seventies and a fabulous night out!
Funny and feisty, with a sound track featuring the era's most beloved and memorable hits, the show promises a whirlwind tour of Planet Seventies and a fabulous night out!
You can see the list of tour dates on the right, and for more information click here.
Look out for our feature about Jackie The Musical in the March issue of The Scots Magazine.
To order your copy, click here!
---
The Tour
11-12 March: Dundee – Gardyne Theatre (sold out!)
15-19 March: Coventry – Belgrade Theatre
22-26 March: Bromley – Churchill Theatre
29 March-2 April: Bradford – The Alhambra Theatre
5-9 April: Brighton – Theatre Royal
12-16 April: Edinburgh – Kings Theatre
19-23 April: Blackpool – The Grand Theatre
26-30 April: Perth – Concert Hall
10-14 May: Wycombe – Swan
17-21 May: Manchester – Opera House
24-28 May: Birmingham – Alexandra Theatre
7-11 June: Wimbledon – New Theatre
14-18 June: Dartford – The Orchard Theatre
21-25 June: Malvern – Festival Theatre
28 June-2 July: Liverpool – Empire
12-16 July: Inverness – Eden Court
19-23 July: Aberdeen – His Majesty's Theatre 
26-30 July: Glasgow – King's Theatre