Joanna and David Help Recreate Neverland at Moat Brae
---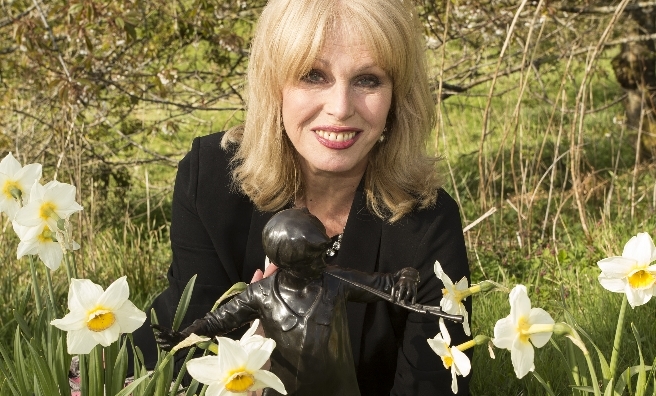 Joanna Lumley and Peter Pan in Moat Brae Garden. Photo by Allan Devlin
David Walliams and Joanna Lumley are to appear in special event to support the Peter Pan Moat Brae Trust Trust to create an enchanted land of children's stories.
Award-winning and internationally successful children's author David Walliams has teamed up with Joanna Lumley to support her charity – The Peter Pan Moat Brae Trust – in a special event for families at Cadogan Hall, London at 10.30am on Saturday, March 19.
A hilarious, interactive morning of tall tales and quirky questions
The two stars promise a hilarious, interactive morning of tall tales and quirky questions, when they will share their comic chemistry and love of stories with a theatre full of young fans and avid readers of David's incredibly popular books. And every ticket-holder will also receive a copy of Grandpa's Great Escape, which they can have signed by author David Walliams himself!
The lucky audience will be treated to a marvellous peek into the world of one of the biggest selling children's authors who has captured the imaginations of a whole new generation and is encouraging more and more children to read.
His books, including Awful Auntie, Gangsta Granny and The Boy in the Dress, which are all published by HarperCollins Children's Books, have been translated into over 46 languages and sold millions of copies worldwide.
The new 'Roald Dahl'
Often referred to as the new 'Roald Dahl', David Walliams is the perfect partner to help highlight the work of the Peter Pan Moat Brae Trust, of which Joanna Lumley is Patron.
The event at Cadogan Hall in central London is suitable for everyone aged 4 and over. Tickets priced £25 are on sale from Cadogan Hall – click here to book.
---
Peter Pan Moat Brae Trust
The Peter Pan Moat Brae Trust was set up in 2009 to save Moat Brae House and garden from demolition and to celebrate its international literary connection as 'The Birthplace of Peter Pan' by creating a National Centre for Children's Literature and Storytelling in the 'enchanted land' that first inspired JM Barrie, author of Peter Pan, as a child in the 1870's.
The Historic Moat Brae house and garden in Dumfries, Scotland, where the young Barrie played pirate games will be restored to create a unique visitor attraction, due to open in 2018.
Children from across the globe will be able to play, discover and let their imaginations take flight in a magical Neverland Discovery Garden, with the Centre offering a year-round programme of creative events and activities celebrating storytelling across eras, genres and cultures.
More information can be found here.