Lost Glasgow – More Than Just Memories
---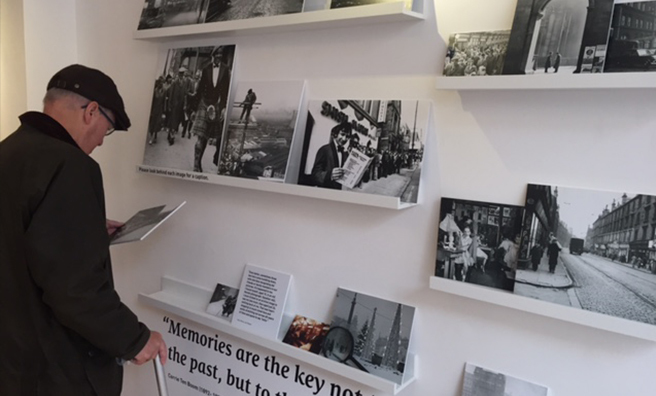 The internet sensation of forgotten Glasgow images
has a new pop-up exhibition in the city
Photographic exhibitions can be fascinating, informative and breath-taking – but I've never before experienced one as joyful as the Lost Glasgow display currently pulling in the crowds at Glasgow City Heritage Trust. Step inside and you are struck by the hubbub of excited conversations as visitors travel back in time to the Glasgow of yesteryear.
Born from the popular Lost Glasgow Facebook page which has attracted a 135,000-strong global following, the display encourages visitors to interact with photos and stories that illustrate the city's architectural and social history.
Keeping The Past Alive
The images have been sourced from countless personal collections – some saved from destruction by Lost Glasgow's administrators – as well as the archives of The Herald, The Scotsman and The Daily Record. The black and white images of times gone by are printed on loose boards that visitors can pick up and handle. This means the display is constantly changing as people move the photos around and read the stories printed on the reverse.
The genius of this small but perfectly formed event is the way the voices of Glasgow's people shape and develop the story. Each photograph is paired with the comments followers posted when it first appeared on the Lost Glasgow Facebook page.
One gem is Betty Skelton's tale of her first ever curry at the Shish in Gibson Street. Her beau thought he would order a very hot curry to impress her – against the waiter's advice.
"It was like watching a cartoon figure with steam coming out his ears!" Comedy genius, Betty.
Add Your Own Stories!
A memory wall allows visitors to share their own recollections, adding yet more colour and depth to these marvellous Glaswegian tales. Treats from Skinners the bakers, romances begun at the dancing, trips 'doon the watter' to Rothesay all come flooding back to the excited visitors.
And then the buzz reaches fever pitch as Lost Glasgow's main man, Norry Wilson, makes one of his regular visits to the exhibition. Journalist, tale-teller and (whisper it) Paisley Buddy, Norry's encyclopedic knowledge of the city has seen Lost Glasgow branching out into talks, tours and print.
Judging by the reaction to this 'pure dead brilliant' wee exhibition, there's much more to come from these guardians of Glasgow's pictorial past.
The Lost Glasgow exhibition is on at the Glasgow City Heritage Trust, Bell Street, Glasgow until August 31 and is free to attend.