Rediscover Lost Glasgow
---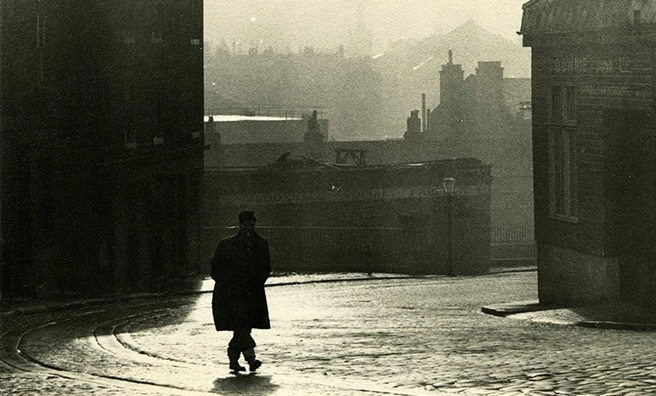 Uncovering snapshots of the city's forgotten past…
If the growth in attendance at Doors Open events across our towns and cities is anything to go by, huge numbers of Scots are inveterate snoopers! The proliferation of nostalgic photo sites suggests an awful lot of us are keen reminiscers, too.
We were delighted to combine the two at Lost And Found, a hugely entertaining talk and slideshow by Norry Wilson, hosted by Glasgow's Doors Open Day in the former Linen Bank in the city's High Street.
Norry is one of the driving forces behind the Lost Glasgow Facebook phenomenon, along with David McLean, who also launched Lost Edinburgh, and Susan Casey. The online collection of forgotten photographs of the city has become incredibly popular, and after a hugely entertaining evening of slides and stories, we caught up with Norry to discuss the collection's impact.
Do you have favourites among the many photos you've shared?
"My favourites have to be those of the late Hugh Jamieson, simply because of how they came to us. Hugh, a city schoolteacher and amateur snapper, took some sensational images.
"Sadly, when he died, with no immediate family, his flat was cleared and his entire archive, which ran from the 1930s up to the 1970s, was dumped in a skip. Luckily for us, and for Glasgow, a neighbour, Stan, rescued as many of the images as he could.
"Hugh's pictures, spooky, dreamlike and almost devoid of people, are enthralling, and were so nearly lost! Now a city gallery is interested in staging an exhibition of his work. We wonder what Mr Jamieson would make of that?"
You can see a selection of Hugh Jamieson's images in the gallery on the right, and many more on Lost Glasgow's Facebook Page.
What's the best "story behind the photo"?
"When we posted a story about Wilson's Zoo, a menagerie which once occupied a now-vanished church in Oswald Street, we heard possibly the most bizarre story we've ever been sent. The star of the 'zoo', which used to house laughing hyenas, baboons, and all sorts of other animals, was a lion, which lived in a cage at the top of the building.
"Two site fans got in touch to say that the lion had in fact been their grandfather's pet, and had once lived with his family, in a tenement flat in Dennistoun!
"The king of the savannah had been adopted, as a cub, by their grandfather when he served on a Royal Navy ship during WWI. The beast became the ship's mascot and, when the war ended, their grandpa took it home to Glasgow; where he would walk it on a leash along Alexandra Parade.
"This, as you can imagine, struck terror into the locals and, soon enough, the polis called at his door.
"Their offer was blunt: either the lion goes to a zoo, or we have it shot!
"So, off went the lion to Oswald Street.
"Lion and former owner stayed in touch; with grandpa terrifying zoo visitors every Saturday, when he would visit, stick his hand through the cage bars, pat the lion and feed it a few tasty morsels."
Do you know who your followers are?
"Although over half of the site's 68,000 followers live in Glasgow, we have, thanks to historical emigration, a huge following among the Scots diaspora, particularly in Canada, The States, Australia and New Zealand. We even have one fan in Patagonia!
"Google analytics allows us to see that pretty well anywhere in the world where there's a Glasgow ex-pat, we have a fan.
"Strangely, we are also now picking up followers all over the world who have no obvious connection to the city; they simply love to look at old photos and hear the stories behind them."
What do you think drives them to Lost Glasgow?
"The whole LG phenomena has via word-of-mouth recommendations. We've never advertised.
"Almost all the images we share are already freely available in online archives. Trouble is, most folk don't have the time or the inclination to go looking for them. On Facebook, our postings pop up in their newsfeed, with no need to go hunting!
"On LG, we give the basic historical facts on any picture we post but, then spice it up with stories, jokes, personal reminiscence. The important thing, and what's so good about operating on the Facebook platform, is that we then invite the site's fans to add their own family stories and memories; it's very much a two-way street, a conversational model.
"We like to think we offer a voice for the city, a digital 'public square', where folk can share their stories, their interests, or just let off steam."
What's next for Lost Glasgow?
"Going forward, we have big plans for the site. What began as a bedroom hobby has, almost overnight, become the 'go-to' site for Glasgow history/heritage fans.
"While we're delighted – and slightly shocked – to be outperforming almost all the official, publicly-funded channels, with that, and our huge audience, comes a certain responsibility. The one thing we don't want to lose is our slightly maverick, mix-and-match appeal. Because we essentially do this for our own interest and entertainment, we have no 'bosses' to please, or targets to hit.
"We currently have a queue of talented city artists, artisans and photographers who are all eager to sell their Glasgow-related work through the site, with LG taking a sales commission. We also plan to publish our own LG calendar. I'd also be interested in taking on more writing/speaking/broadcasting commissions.
"If, via that business model (ghastly management speak!) I could escape the 9-to-5 grind to devote myself full-time to LG, well, that would be the icing on the cake!"
For more Lost Glasgow images and stories, visit their Facebook page.