Making a NOISE!
---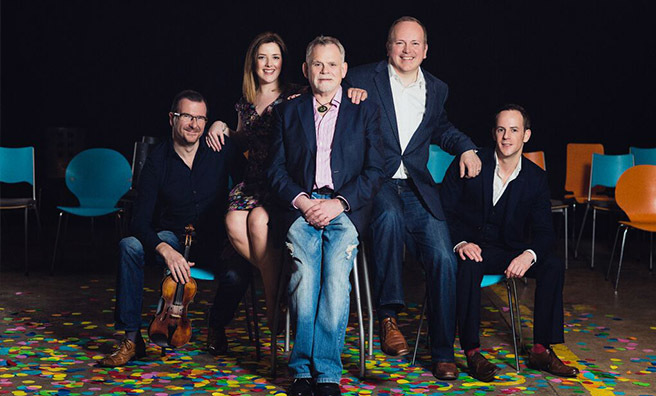 An exciting new opera experience is about to hit the Scottish stage
Hirda is a new opera for Shetland commissioned and produced by New Opera In Scotland Events and involves a collaboration between Shetland fiddler, Chris Stout, and Gareth Williams – a classical composer who primarily focuses on opera.
Its creation follows a period of research and development in Shetland in line with NOISE's wish to make operas for particular communities. Inspiration comes from specific places, their history and the stories of people connected to them.
A Shetland-centred opera
The opera uses Shetland words and dialect – "hirda" is a Shetland word meaning chaos or extreme untidiness – to tell the story of a once-successful actor, Alistair, who returns to his island home for his brother's wedding. Everyone's world is turned upside down when the Alastair and his sister-in-law develop a strong attraction to each other.
"When Robert Carson, director of NOISE, asked if I was interested in doing an opera based in Shetland, I said yes," says Chris. "I had never written an opera before but it also gave me the opportunity to work with Gareth, who is an old friend of mine.
"It is unusual for two composers to work together unless it is a very unique kind of relationship. It was good that we knew each other so well which meant there was no awkwardness. It was simply two composers working together to create something. I couldn't have done something of this scale without somebody like Gareth. I was proud and passionate about everything I brought to the table but he was able to ease me through the parts that were missing.
"I never thought I'd be
working on an opera!"
"I relished the opportunity to challenge myself musically and what I learnt has helped to keep my music fresh. I never thought that one day I'd be working on an opera and really loving it and immersing myself in it!"
If it was something of a challenge to Chris, Dougy Nairne – who plays the part of Alastair – was equally tested. His operatic experience certainly stood him in good stead, as did prior performances with NOISE, but the whole experience was somewhat daunting.
"I had worked with Gareth several times, but this was my first experience with Chris," he says. "It was terrific watching him work things out as we went along and trying to encompass everyone's ideas into the piece.
"Getting a handle on the dialect was tricky and one of the biggest challenges in preparing Hirda. As is the case with singing in an entirely different language, you have to think it rather than mimic it. I have been listening to poetry read in the Shetland dialect to help myself into that sound world. When we are performing in Shetland in front of a very knowledgeable audience, there will be no place to hide!"
Chris is confident that the opera will be a success, especially in Shetland.
"People there are very clear about what they like and dislike," he says. "What we have is something completely different which will capture people's imagination. I'm sure they will be slightly tickled by seemingly high art performed in a Shetland dialect."
---
See it live!
The opera is premiering in the Mareel Arts centre in Lerwick on November 26, before touring to three community halls on the Shetlands (Haroldswick, Nov 27; Vidlin, Nov 28 and Sandwick, Nov 30).
Following that there will be performances in the Queens Hall, Edinburgh (Dec 3 and 4) and the Drygate Craft Brewery, Glasgow (Dec 7 and 8).
For more information, click here.